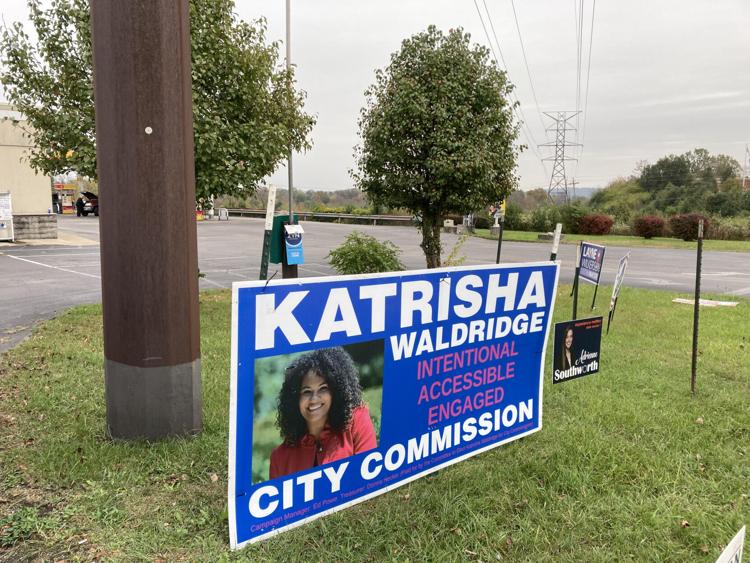 In the latest, and potentially last, installment of a longstanding feud between the two City Commissioners running for reelection, Eric Whisman has filed a campaign finance violation complaint against Katrisha Waldridge.
Waldridge has previously alleged that Whisman, who has an address in the city, lives outside city limits and refuted many of his statements during Commission meetings. Whisman has characterized Waldridge as "divisive" and once called her the city's "resident liar in chief."
Now Whisman says in his complaint, filed to Kentucky Registry for Election Finance (KREF) and sent to The State Journal on Thursday, that he believes Waldridge violated campaign finance laws three times this election cycle.
Whisman says that Waldridge has been late to file most of her finance reports, improperly used signs that listed her 2018 campaign manager and treasurer, and committed a violation in paying for people's meals at a campaign event held at the Chicken Koup restaurant on East Main Street.
"I was informed by a patron and others that Katrisha Waldridge not only purchased meals for those patronizing the Chicken Koup without formally organizing or promoting an event, but in doing so those meals were instead given for free with Katrisha Waldridge's campaign materials passed along with them," Whisman wrote.
Waldridge called Whisman's complaint a "last-ditch" political dig in an ongoing feud between the two. She also questioned Whisman's timing, given that the Nov. 3 election ends in five days and KREF would not be due to respond to the complaint until well after the official election results are in on Nov. 10.
"This is a last ditch effort for Eric trying to throw me under the bus or put me in a negative light to try and win some last-second votes," Waldridge said. "This is so immature, and frankly just petty of him, to do this… I feel sorry for him that this is what he feels he needs to do to try and get this in the paper at the last minute."
Late reports
Waldridge admits to filing her reports late, but pointed out that candidates across the state have had difficulty in filing their reports using a new system and fines have not been assessed for lateness.
The State Journal has previously spoken with KREF Executive Director John Steffen about the issue, and he confirmed that it is quite normal given the organization's new system for candidates to file their reports late. He also said that he has not been assessing fines for those who file late.
The State Journal did not hear back from Steffen or KREF Legal Counsel Leslie Saunders, who both Whisman and Waldridge said they spoke with on Thursday.
Whisman said that his previous discussions with Saunders led him to file the complaint, while Waldridge said she spoke with Saunders on thursda
Whisman said that he filed an intent to spend less than $3,000 — therefore he has not had to post his receipts or expenditures.
"Yes, I have filed late reports," Waldridge said. "I'm a single mom, I'm very busy, and I work a full-time job — and I'm dealing with the city. I've been late on some of them, but I get them done."
Campaign signs
Waldridge says that Whisman's complaint against her using signs from her 2018 campaign is a non-starter.
She said that she received the OK from KREF representatives to reuse those signs, which bear the names of her former campaign manager Ed Powe and treasurer Donna Hecker. Waldridge said that KREF told her the use of those signs would be permitted if she got permission from those two, which Waldridge said she did.
Chicken Koup Event
Whisman said that he first learned of the event held at the restaurant through a patron who alerted him of a potential infraction.
On Waldridge's campaign finance expenditure report, she listed the event as being held on Oct. 1, though it appears to have been held on Oct. 9, according to a Facebook post by Anthony Robinson, who organized the event. Whisman cites the post as evidence in his complaint.
"As you know the Chicken Koup wanted to do something for those running for office to show their gratitude," Robinson wrote. "Commissioner Waldridge took that opportunity to PAY IT FORWARD. So for about an hour she sat, congregated and sweated her edges out and paid for other people's meals that came during that timeframe."
Whisman said that it's proof of a violation.
"According to my research, it is a violation," Whisman said. "I've been fairly exhaustive in consulting several parties to see whether this was or not, and all my advisors have agreed that they thought it was a violation."
When asked if she thought the event was a violation or if it was unethical, Waldridge said she didn't think it was.
"I don't see any issue with it," Waldridge said. "… I provided food for people to eat if they came by and spoke with me. That was out of my own money. I think I was doing the right thing for people in my community and I was doing the right thing for our businesses."
Whisman drew parallels to past examples of "buying votes" in reasserting his belief that Waldridge violated campaign finance law.
"It's no different than buying bottles of bourbon near the election center and passing out your campaign materials with them," Whisman said.
When asked about the ongoing back-and-forth between himself and Waldridge, Whisman placed the blame on her for any vitriol.
"I don't have any feud with Katrisha, but it's apparent that her attitude is one of divisiveness," Whisman said. "… I think it's more about tactical politics than anything else. I think any perceived feud is one that is intentionally created for political reasons and a continued reality show."
Waldridge, in defending her campaign and service as commissioner, said that he has always tried to be transparent in her actions.
"I'm one of only candidates to be very up front about my expenditures," Waldridge. "I'm showing that I'm trying to be very transparent... everything's out there."