When Quenton Brownlee graduated from Franklin County High School in 2014, he had plans to play Div. I baseball at Eastern Kentucky.
That changed after his freshman year at EKU, when he transferred to Spalding University.
"I was going to walk on, but I found out that wasn't going to work," Brownlee said about EKU. "I missed it (baseball), so I talked to some friends at Spalding to see if they had any openings."
They did, and that resulted in a four-year career with the Golden Eagles.
"I didn't play a lot my first two years," Brownlee said. "There were some older guys in front of me, but I knew my time would come. It wasn't bad. At times it was a little frustrating, but I knew I'd get there eventually."
During his first two years at Spalding, Brownlee appeared in a total of 15 games with 20 at-bats.
His time came last season when Brownlee, an outfielder, appeared in 43 games with 42 starts. 
He hit .333 and was named third team all-conference by the St. Louis Intercollegiate Athletic Conference.
This year was even better as he hit .371 and led Spalding and the SLIAC with 48 runs batted in. Brownlee was fifth in the conference with 22 stolen bases.
He was named first team all-conference this season and was a unanimous choice for the All-Central Region first team by both D3baseball.com and the American Baseball Coaches Association.
In the conference tournament, Brownlee hit a walk-off single in Spalding's opener, driving in the winning run in the Golden Eagles' 3-2 victory over Westminster.
"I'd been in that situation with them before," he said. "It was a game during the regular season, and I got a walk-off hit in that game, too.
"Eric (Meyer) was in front of me, and it was pitch to him or pitch to me. It was a tough decision because we were both hitting pretty well."
Brownlee graduates Saturday with a degree in business management and a minor in marketing.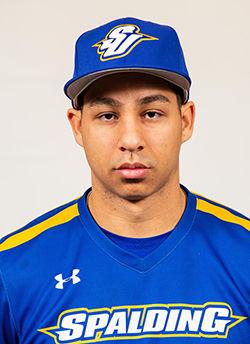 "I'm probably going to get a part-time job for the summer so I can spend more time with my daughter and my fiancé," he said, "and I'll look for a full-time job in the fall."
Spalding went 31-12 this season, the second year in a row it posted at least 30 wins, and came out of the consolation bracket of the conference tournament to reach the final, won by Webster. 
"I don't have any regrets," Brownlee said. "I got to meet a lot of guys who became good friends, and I got to play really good baseball. It went pretty well."