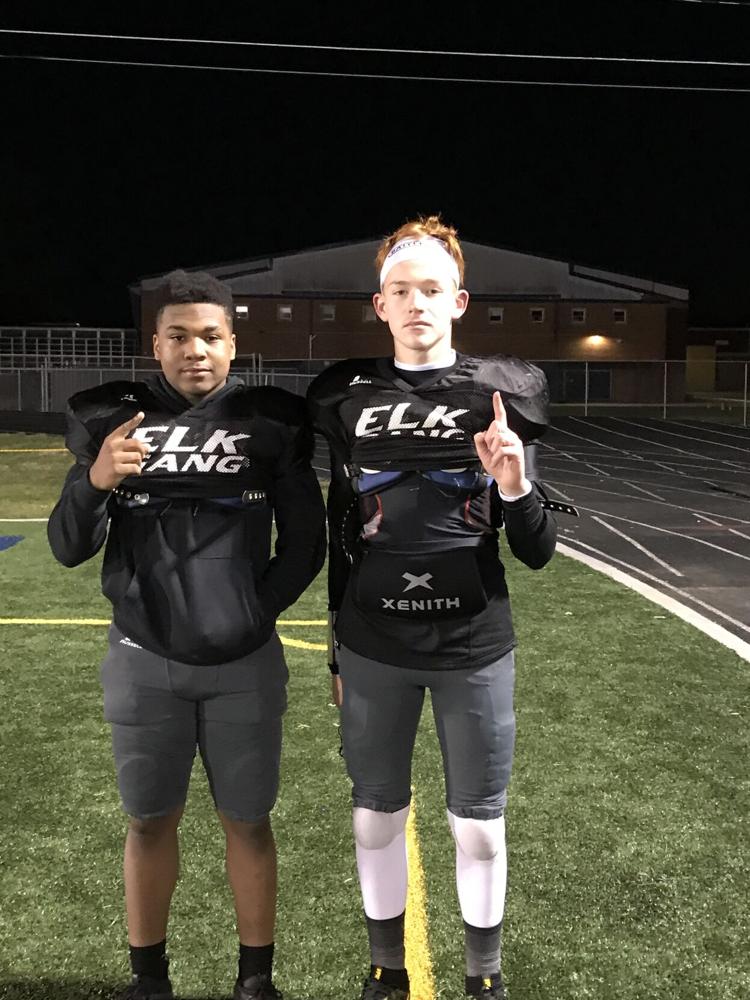 After an appearance in the state championship game last year, Elkhorn Middle School's football team was looking to return this season.
The Elks have done just that.
Elkhorn's eighth-grade team will play in the Kentucky Middle School Football Association's Division I championship game Saturday against Bowling Green.
The game will kick off at 4 p.m. at the Taylor County High School field in Campbellsville.
"With everyone we had coming back and transfers we had coming in, there were expectations of going to state," Elkhorn quarterback Kaden Campbell said.
EMS (10-2) got a quick wake-up call in its first game of the season, losing to the Union Raiders of Northern Kentucky by a touchdown.
The Elks returned the favor last week in the state semifinals, beating Union 60-26 at Franklin County's Benny Watkins Field.
"We knew we had to practice hard," Campbell said. "It wasn't going to be given to us. We had to work hard for it."
In last week's win over Union, Elkhorn's Kalen Washington rushed 17 times for 457 yards, an average of nearly 27 yards per carry, and seven touchdowns.
He has been named the Region Player of the Year in Division I. Elkhorn competes in Region 3.
"It was the blocking," Washington said about his success last week. "I only had to beat the linebacker because the line's blocking was really good."
That points to an improvement Washington saw in the team beginning around the third game of the season.
"It was coming together as one," he said. "At the beginning of the season we were all individuals. It was all about me, and now it's all about each other.
"We're all pushing each other to be the best."
Phil Smith has led the Elks to their second straight state championship game in his third year as head coach. They lost last year to North Laurel.
"I knew the potential we had with kids coming back and some new players," he said. "I knew we had a really good team.
"We've improved on defense, we've improved our team chemistry, our work ethic. We have some guys on offense who can do anything, receiving and running the ball.
"It helps when you have a huge line," he added. "Every kid (on the line) is over 6 feet tall and over 260 pounds."
The Elks avenged their only other loss in the playoffs. EMS defeated Scott County in the regular season and lost to Scott County in the conference tournament championship game.
Elkhorn was victorious in the quarterfinal of the state playoffs, beating Scott County 30-20.
Elkhorn's seventh- and eighth-grade teams were both regular-season conference champions. The seventh-grade team missed the conference tournament because they were in quarantine due to COVID-19.
The seventh-grade Elks came back strong in the state playoffs, reaching the semifinals before losing to the Union Raiders 16-0.
The seventh- and eighth-grade teams at Elkhorn have a combined 62 players on their roster.
Smith said which division a team plays in is determined by enrollment, and while EMS feeds into Class 4A Franklin County, most of the other teams in Division I feed into Class 5A and Class 6A schools.
While the Elks had expectations of reaching the state final, they're not letting the game add any pressure.
"It doesn't feel any different to us," Campbell said. "We take it one game at a time."