Jacob Cook, a junior on Kentucky's golf team, will be one of 29 UK student-athletes inducted into the Frank G. Ham Society of Character Wednesday at a dinner prior to the men's basketball game against Vanderbilt at Rupp Arena.
The game tips off at 6:30 p.m., and the inductees will be recognized on the court at halftime of the game.
The Society of Character annually honors Wildcats who have shown an extraordinary commitment to academic excellence, athletic participation, personal development, career preparation and serving as a role model.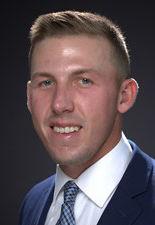 Cook, a graduate of Franklin County, has appeared in 11 events during his three-year career with his low round, low tournament score and best tournament finish coming during the 2019 fall season.
He is pursuing a degree in management and has been a three-time Academic All-SEC selection.
Cook serves as the men's golf representative for the Student Athletic Advisory Committee and is heavily involved in the Fellowship of Christian Athletes.
He served on a mission trip to Nicaragua, and his other service projects include Habitat for Humanity, Ronald McDonald House, Special Olympics, God's Pantry and Salvation Army.