Coming into Friday's game with two regular-season district games left, Franklin County's boys basketball team had some work to do.
The Flyers took care of business, beating Western Hills 54-42 at FCHS.
"Through some strange circumstances we didn't play Tuesday (at Thomas Nelson)," FCHS coach Tony Wise said. "That gave us three days of practice for this game, and our practices Wednesday and Thursday were the best by far we've had all season.
"The way we practiced the last two days is the way we played tonight."
The game was tied 15-15 at the end of the first quarter, but the Wolverines scored two points in the second quarter as FCHS took a 29-17 lead at halftime.
The Flyers took advantage of offensive rebounds to build its advantage.
"We've emphasized that the last few days," Wise said. "On defense we wanted them to be more aggressive, and to move on defense.
"We held them to nine points for two quarters, the second and third. I know Eric Gabbard getting in early foul trouble hurt them, but you still have to watch out for others, (Rafael) Papi Ruiz and Zach Semones.
"When you play a team like Western Hills, you have to pay attention all the time."
Gabbard picked up two fouls in the first quarter.
"Eric with two fouls in the first minute and a half changed everything," WHHS coach Geoff Cody said.
But that wasn't the Wolverines' only problem.
"(Phillip) Peiffer deserves to be MVP of this game," Cody said of the Flyers' junior inside player. "He played his heart out and was the 'X' factor. We didn't have one person who could guard him.
"He battled, got offensive rebounds. He did whatever it took to get the job done."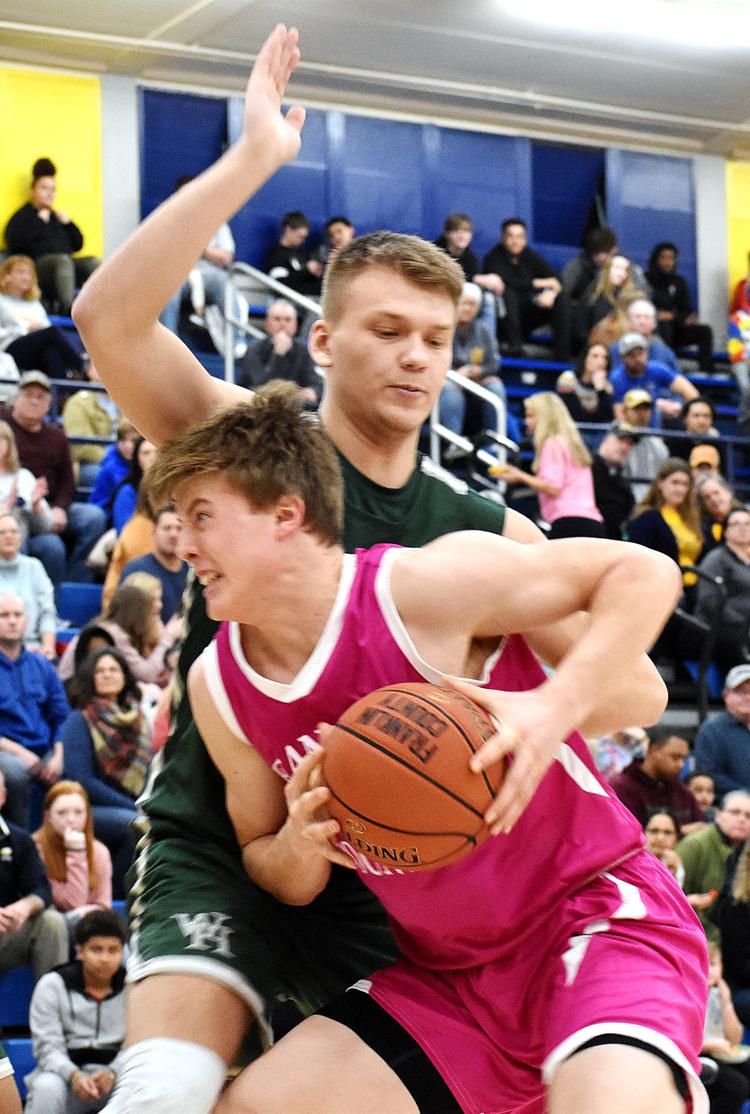 FCHS led 38-24 at the end of the third quarter and was ahead by 19, 45-26, with 6 minutes left in the game. WHHS didn't get closer than the final margin.
"We did a really bad job of running our offense," Cody said. "We only had two points in the second quarter.
"Franklin County's kids played their hearts out, and they deserved to win. They beat us in every facet of the game."
Zac Cox led the Flyers with 15 points, followed by Peiffer with 13 and Joe Meador with 10.
"This was a total team effort," Wise said. "They played as hard and were as focused as they've been all year."
Ruiz was Western Hills' top scorer with 18 points.
FCHS and WHHS are both now 10-10 overall and 3-3 in the district, and the both have one district game remaining. The Wolverines play at Frankfort Wednesday, and Franklin County hosts Frankfort Friday.
Franklin County and Western Hills are playing in the Gary Moore Classic today at FCHS with the Wolverines playing Powell County at 12:30 p.m. and the Flyers taking on Model at 4 p.m.
WESTERN HILLS (42) — Rafael Ruiz 18, Noah Smith 1, DJ Outlaw 2, Matson Wainwright 2, Zach Semones 5, Walter Campbell 7, Eric Gabbard 7.
FRANKLIN CO. (54) — Derrick King 3, Cameron Phelps 8, Phillip Peiffer 13, Jacob Lewis 2, Jayden Mattison 1, Joe Meador 10, Jake Thomas 2, Zac Cox 15.