Franklin County will take on a familiar opponent Friday night in Paintsville.
The Flyers, who defeated Johnson Central 20-12 in last year's Class 4A semi-final, will travel to Eagle Field with hopes of punching its ticket for the state championship game to be played at Kroger Field on the University of Kentucky campus.
Unlike the 2020 matchup when Johnson Central was favored, Franklin County is no longer a sleeper team and coach Eddie James said he isn't making any major changes to his game plan.
"This time of year it is about perfecting what we've done all year and it's just a matter of executing," James told The State Journal.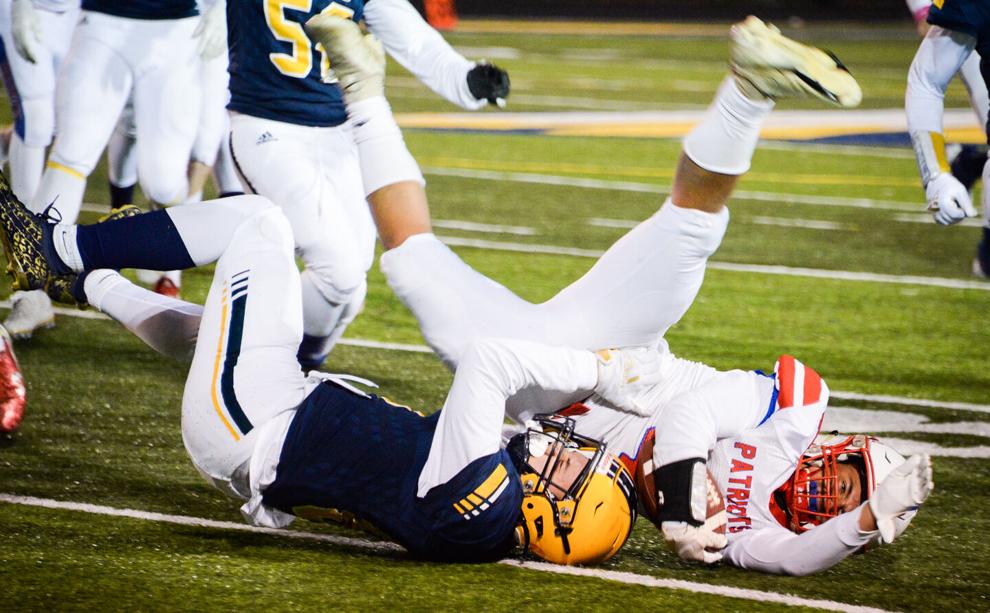 The Flyers, who beat County-Scottsville 49-12 last Friday bring a 10-3 record. The Eagles, who are 11-2, ousted undefeated Corbin 34-13 on the road and racked up nearly 500 yards on the ground.
Corbin is the only common opponent both teams have faced this season. The Redhounds hosted Franklin County in early September and handed the team its first loss 27-7.
Johnson Central leads Class 4A in scoring with 43.5 points per game. FCHS is fourth with an average of 36.3 points per game. JCHS wins by an average of 28.5 points per game — good enough for third in the state. FCHS is fourth and wins by an average of 24.8 points a game.
The Eagles are a run-heavy team often lining up with three backs in the backfield. In fact, the team leads Class 4A with an average of 355 yards on the ground per game. Franklin County is 10th with 214 rushing yards a game.
James said one key to the game will be matching the Eagles physicality and home field advantage.
"We need to play physical and fast, withstand the storm and play our brand of football," the coach explained. "Any hesitation will get us beat."
In Johnson Central's win over Corbin RB Matt Crum led all back with 124 yards and a TD. Chase Price added 119 yards and two touchdowns and Zack McCoart contributed 97 yards on the ground and two TDs.
Both JCHS and the Flyers have a solid ground game with studs at running back. With 13 games under his belt, FCHS' Kaden Moorman averages 102 yards on the ground per game and 8.2 yards per carry. Johnson Central's Zack McCoart racks up 98 yards a game and 9.9 yards per carry over 10 games.
Heading into the matchup, Moorman has a total of 1,328 yards and averages 13.7 points per game. McCoart has amassed 977 yards and scores roughly 9 points a game.
James has the utmost confidence in his team and likes their chances.
"At one point we had a losing record. We were 2-3 in September," he added, saying the team could have given up at that point but they didn't.
"That's a testament to the hard work our kids have put in. They continue to put on their hardhats and are 48 minutes away from getting back to the state championship game."
The difference in the game may come at the quarterback position. The Flyers are led by Gavin Hurst, who has one of the highest completion rates in Class 4A. He is 80-for-122 on the season and completes 65.6% of his passes. Hurst has thrown for 1,056 yards, 11 touchdowns and has only six interceptions on the season. He averages 134 passing yards a game.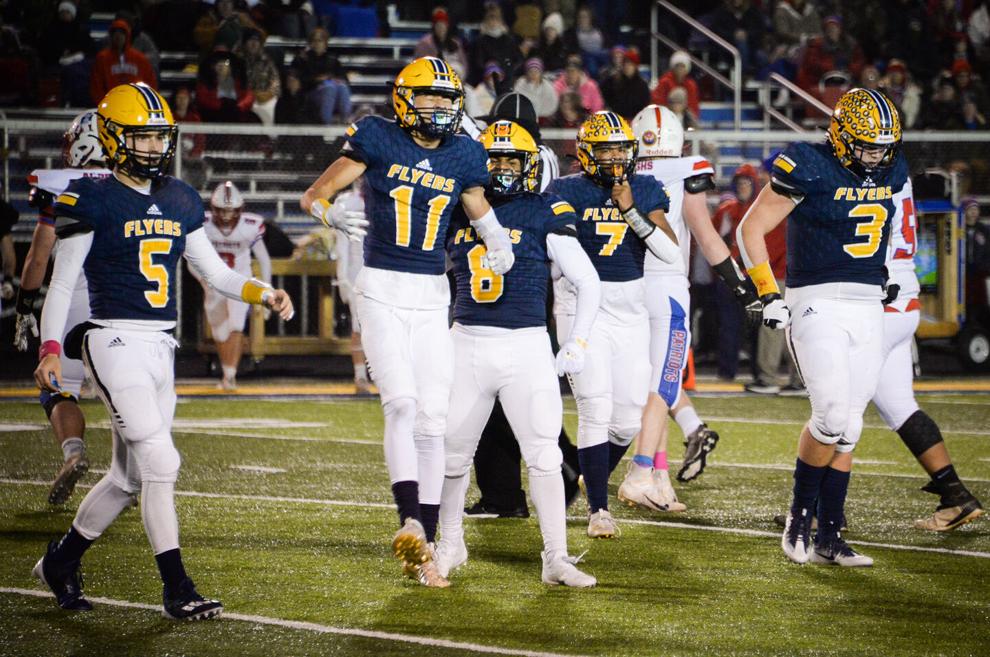 Wide receiver Zach Claudio is one of Hurst's favorite targets. Heading into the state semifinal matchup, Claudio has 43 receptions for 594 yards and 5 TDs. He is averaging 13.8 yards per catch.
The Flyers are allowing the least amount of points per game in Class 4A with 11.5. The Eagles are seventh in the class with 15 points per game allowed.
Franklin County also has a reliable kicker Easton Powell who has made 59 of 60 point-after attempts and two of three field goals this season.
Defensively Franklin County's Brenton Sears leads the team in tackles and is averaging 9 per game. He has a total of 117, including 42 solo tackles, 75 assisted tackles and nine tackles for loss.
The Flyers' Christian Moore and Kenneth Aitken are tied with a total of 4.5 sacks in 13 games and the team averages roughly 2.4 sacks per game.
FCHS gets after the ball on defense, forcing approximately 1 fumble a game. Three players — Blair Tate, Keaton Lee and Peyton Ledford — are tied with two forced fumbles. Tate and Lee each have one fumble recovery apiece.
Franklin County leads Class 4A in interceptions with 18 on the season and 1.4 per game. Jayden Mattison, Hurst and Claudio each have four interceptions this season and Hurst has run two of his INTs back for touchdowns.
On defense, JCHS allows approximately 74 yards rushing and 122 yards passing per game, while FCHS allows 84 yards on the ground and 87 yards through the air.
Mason Lemaster is Johnson Central's leading tackler with a total of 93, including 26 solo tackles, 67 assisted tackles and 6.5 tackles for loss. Jesse McCoy has 5 defensive sacks on the year and team averages 2 sacks per game.
Franklin County is planning to send the team off in style and is asking supporters and fans to line East Main Street in front of the school and Versailles Road. The team bus will depart from the school at 1:30 p.m. Friday.
"It's been fun to see the community support for our program," James stated. "People are excited about our team and the success we've had."
Based on RPI, Boyle County is the one seed. Johnson Central is the two seed. FCHS is the three seed and Logan County is the four seed.
The winner of the FCHS-JCHS game will play the winner of the Logan County-Boyle County matchup.
The Class 4A state championship game is slated for 8 p.m. on Friday, Dec. 3, at the University of Kentucky's Kroger Field in Lexington.