Neither team was at full strength for the wrestling City Championships Wednesday, but it was Franklin County that came away with the 47-36 win over Western Hills at FCHS.
"Coming into this, I wasn't feeling very confident," FCHS coach JJ Townsend said. "We're a little beat up. Nathaniel (Lawrence) hasn't wrestled in three weeks. He's been injured.
"John Lowe was out, and we had a couple of others hurt. We had to pull some middle school kids up, and we pulled it out at the end. I'm proud of them."
Lawrence, wrestling at 160 pounds, was one of four Flyers to win their matches. The others were Emmanuel Smith (132), Jalen Wideman (138) and Lamarques Summerour (220).
WHHS also won four matches, with Thomas Powell (126), Ethan Franklin (145), Richard Greenwell (182) and Colin O'Brien (195) posting victories, but the Wolverines forfeited four matches while FCHS forfeited two.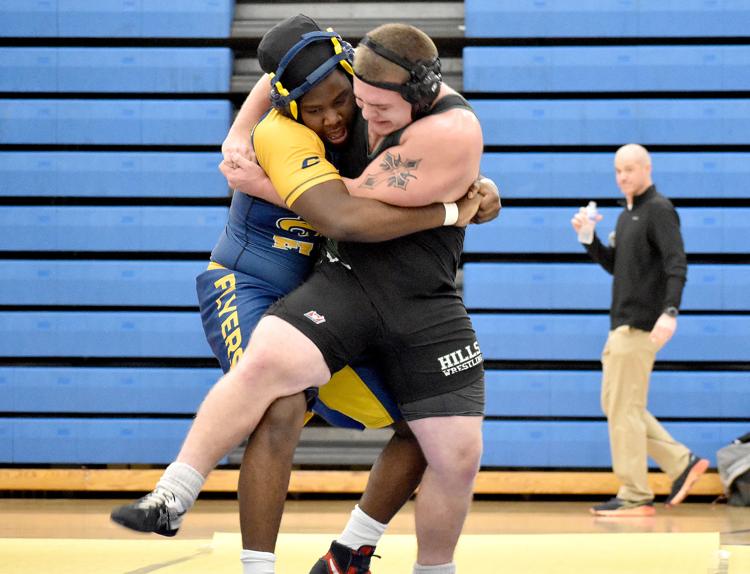 "We had two out with the flu, at 106 and 113," WHHS coach Sean Wilkins said. "Cameron (Purvis) was out with a shoulder injury at 220, but I'm very proud of some of our young ones who stepped up and got wins we were not expecting.
"Thomas Powell at 126 stepped up for a win, and Ethan Franklin at 145 stepped up big time. Richard Greenwell moved up a whole weight class and got a big win for us.
"We had kids who made a lot of sacrifices, moving out of their comfort zones because of the flu and injuries."
Franklin County is hosting the Capital City Classic Saturday with wrestling expected to start between 9:30-10 a.m.
"Coming in, we knew both teams were less than 100%," Townsend said. "To still come out the win, we're pleased."