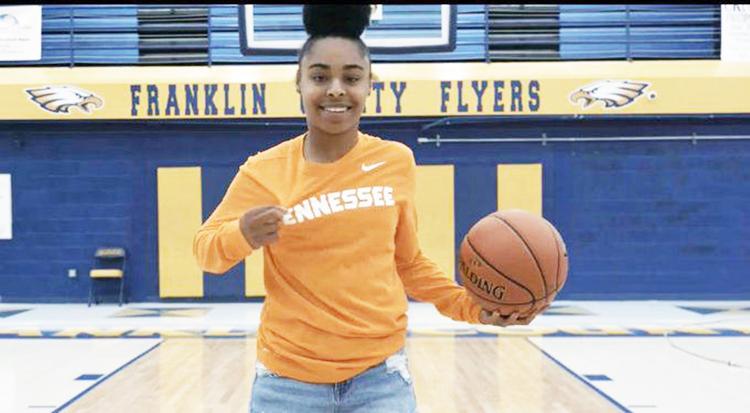 There was no signing ceremony, no large group of friends and family to witness the event.
But on Wednesday, Franklin County senior Brooklynn Miles made it official, signing a national letter of intent to play basketball at Tennessee.
"A lot of pressure is off," she said, "but it was more excitement than nervousness."
Miles, who verbally committed to Tennessee in July, had a virtual signing Wednesday by signing documents online because of COVID-19.
She is the daughter of Gordon Miles and Rachel Holt.
Miles was one of four players to sign with Tennessee Wednesday. The group included Kaiya Wynn, one of Miles' AAU teammates.
According to Collegiate Girls' Basketball Report, Tennessee has the nation's fifth best class of the early signing period.
"I'm excited about just getting there and getting to know all my teammates," Miles said. "The others who signed, we know each other pretty well.
"I can't wait to get up there and get worked, get worked by Coach (Kellie) Harper and her staff and work to prove myself."
Miles, a guard, finished last season averaging 21.5 points, 4.9 assists, 4.1 steals and 3.8 rebounds as the Lady Flyers went 27-8 and advanced to the Sweet Sixteen.
"This is a perfect conclusion to the work she has put in for a very long time," FCHS head girls basketball coach Joey Thacker said. "We are hopeful for a productive season so we can prove that she deserves to be Miss Basketball for 2021."
FCHS is scheduled to open its season at home Nov. 24 against Madison Southern, and with recruiting wrapped up Miles has one less distraction.
"I could have focused on both," she said, "but I'm super focused on Franklin County. I really think we have a good team this year."