It says a lot about Melinda Lewis that when the time came for the first Melinda's Mixer, a tennis event and fundraiser for the Melinda Lewis Memorial Scholarship, and rain meant no one could play tennis, people still showed up.
"We ended up having a reception at the country club, and a lot of people came," said Julie Williams, one of the event's organizers. "We didn't have as much money from registration, but people wrote checks and donated money, and we had more than enough money for the scholarship.
"She knew a lot of people. She never met a stranger."
Lewis passed away last July from complications of Crohn's disease at the age of 46. She loved tennis, having served on the board for the Frankfort Tennis Association and as the girls tennis coach at Franklin County, and she loved getting people involved with the sport.
"Tennis meant the world to Melinda," said her mother, Linda Nickel. "She was very competitive and realized she was limited in the type of movement and exercise she could do.
"Tennis worked her body, but also her mind. She wanted to bring tennis to the Frankfort community and pushed to make that happen."
Williams was one of the beneficiaries of that push.
"In the early days of the USTA working with the FTA, Melinda worked getting people to play tennis," Williams said. "She's the reason I play tennis, and she's the reason my daughter became enamored with tennis
"She saw me goofing off on a court and said, 'I need you. I need you to play on my team,'" Williams said. "They're a group of women I'm honored to call my friends, women from different walks of life and different stages of life, but we bonded."
And that bond fueled a desire to remember Lewis' legacy and what she meant to the local tennis community.
"Last year at Melinda's funeral, or sometime thereabouts, I said to Katie Hedden we need to create a tennis event for Melinda, for the community, like the Ben Moore Cup," Williams said.
Hedden, president of the FTA, got the organization involved with the event.
"Julie Williams and I talked about it, and I was honored to do it, honored to do it for Melinda," Hedden said.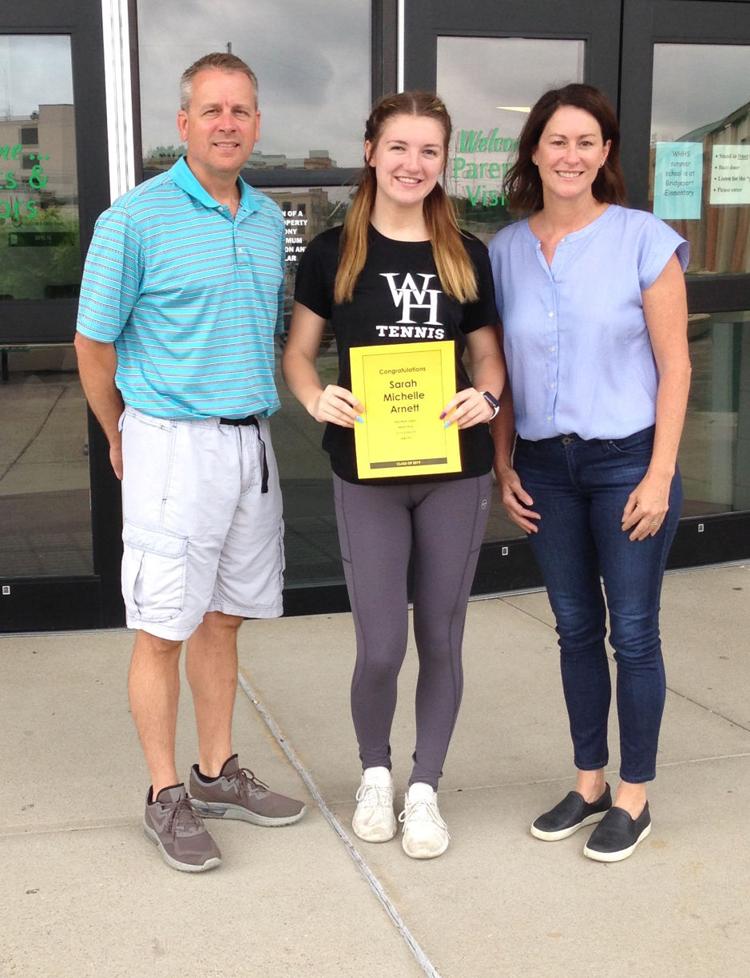 Melinda's Mixer was scheduled for May 9 at the Frankfort Country Club. Players of all ages were encouraged to come and play a doubles format where players rotated courts and partners, and proceeds would fund the Melinda Lewis Memorial Scholarship.
"Last year Melinda passed away on July 26," said Charlie Lewis, her husband. "Everything was kind of fuzzy for awhile, but after the holidays there was talk about getting together to do something. That was something her family and I had talked about, and what Julie and Katie had in mind was spot-on, and we went with it."
It was an event that fit with what was important to Melinda.
"She was a very competitive person, and it gave her some purpose, some drive," Charlie Lewis said about tennis. "She could go out and take out some of that frustration she had about the disease.
"She met a lot of people, and she and her girlfriends would play doubles, singles, they went on tennis trips together. When Franklin County needed a coach her body was wearing down and she couldn't play as much, but that kept her in tennis.
"She met a lot of people and made some very good friends who went to college. When they'd come back they'd check on her, and she was always very appreciative of that."
The Melinda Lewis Memorial Scholarship is open to a graduating senior female tennis player from any of the high schools in Frankfort.
This year's recipient is Western Hills graduate Sarah Arnett, daughter of Kristen and Larry "Moe" Arnett.
Plans are for Melinda's Mixer to be an annual event, held the Thursday before Mother's Day, and the scholarship will also be annual.
Melinda Lewis worked in insurance sales until she became too ill for the travel the job entailed.
"She battled it hard; she battled it for 32 years," Charlie Lewis said of Crohn's disease. "She was diagnosed in high school when she was 14 years old. She had a lot of surgeries, but she found a way to make it work. She wasn't supposed to have children. Her first Crohn's doctor told her it would mess with her insides too much, but lo and behold, we had Nicholas and Jacob, and that's super, super cool."
Hedden played on tennis teams with Melinda Lewis, and her husband, Mike, graduated with Melinda from Western Hills in 1989.
"Frankfort is a small community, and we knew she was sick," Hedden said. "She coached kids, and she loved being there for them on the court, watching them play."
"Some of her happiest moments were on the tennis courts," Nickel said. "She loved the women who played tennis with her. She pushed so many of her friends to play tennis, too. Her tennis friends stood by her in some of her hardest times."
And they're keeping the memory alive for a friend who meant so much to them.
"She was full of life," Williams said. "When she was down, she was down, but if she could go, she'd go."