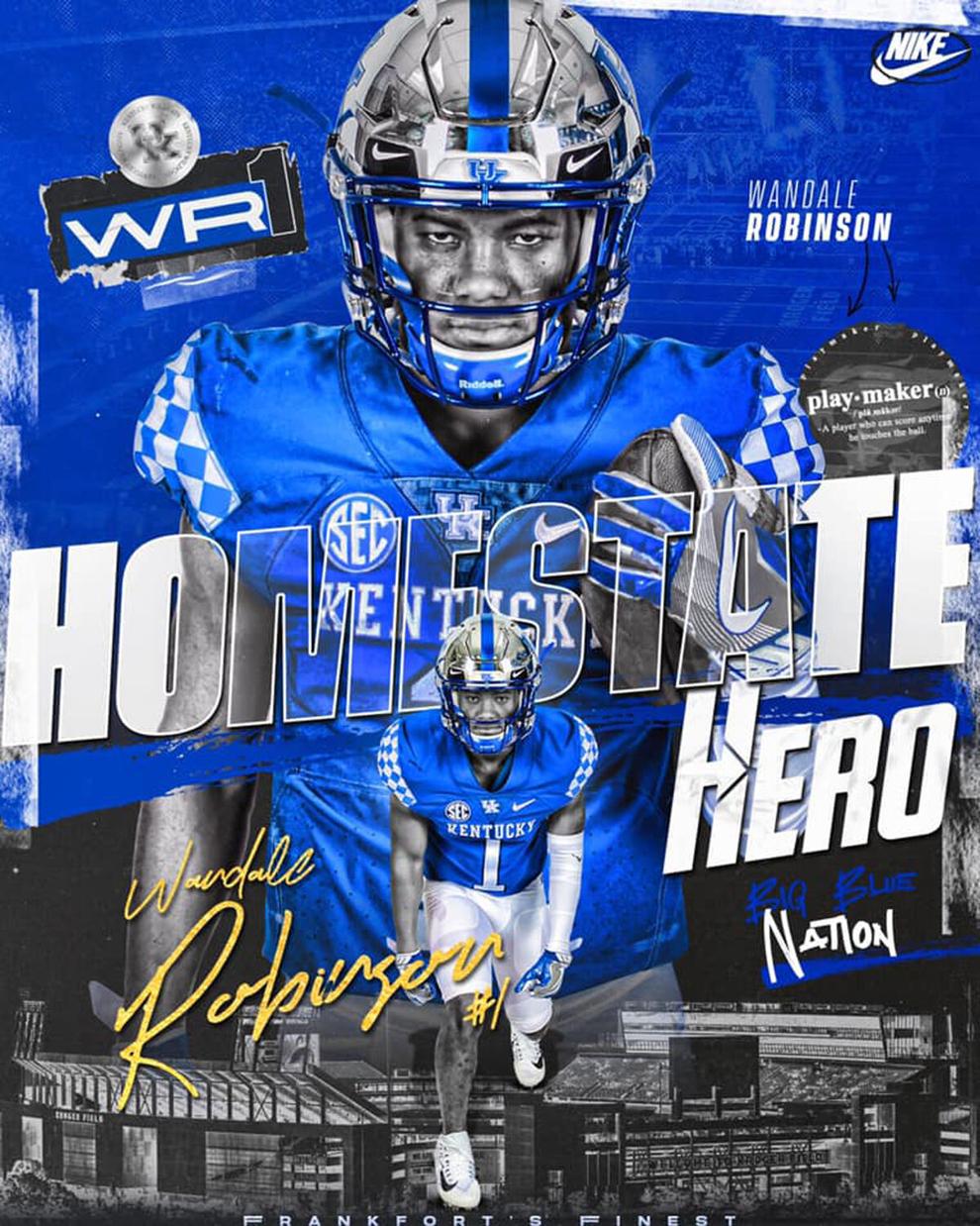 Editor's note: This story was updated at 10:15 p.m. on Jan. 15 to include remarks from Dale Robinson, Western Hills football coach Don Miller and Michael Hawkins.
After days of speculation, Wan'Dale Robinson posted on Twitter Friday morning that he's transferring to Kentucky.
Robinson, Kentucky's Mr. Football in 2018 and a graduate of Western Hills, spent the last two seasons at Nebraska. He originally committed to UK in 2018 but decommitted a few days later and signed with Nebraska.
"We're grateful to have Wan'Dale come back home to Kentucky," UK coach Mark Stoops said. "He's a dynamic playmaker and we welcome him into our program."
Robinson's father, Dale Robinson, is happy to see Wan'Dale back in the Bluegrass.
"It'll be great to have him close to home," he said. "He can see his sister grow up and be near his mama."
When Wan'Dale posted on Twitter that he was entering the transfer portal, he stated he wanted to be closer to home because of health issues his mother, Victoria Davis, was having. He said she had been hospitalized with COVID.
Dale Robinson and his wife, Taylor, have a 10-month-old daughter, Eliza Joyce.
"Now he won't have to watch her grow up on Facetime," Dale Robinson said. "He'll get to see her grow up in person. That's one of the biggest things to me, and being closer to his mama. I totally understand. I was a mama's boy. My mama meant everything to me."
At Nebraska, Robinson was used as a wide receiver and running back. He earned honorable mention on the Big Ten all-conference team this season.
Robinson rushed for 252 yards and a touchdown on 46 carries in eight games this season, and he was the Cornhuskers' leading receiver with 51 receptions for 461 yards and one touchdown. 
He was on the Paul Hornung Award Watch List. The Paul Hornung Award is given to the nation's most versatile player. Robinson ranked fourth in the Big Ten and 23rd nationally with 6.4 receptions per game, the fourth-highest average in the country for an underclassman.
In the 2019 season, Robinson led the nation's true freshmen with 1,050 all-purpose yards. He was also one of four national finalists for the Paul Hornung Award.
Robinson first made a name for himself at WHHS, where he was the state's consensus top player as a senior. His career stats are staggering as he totaled 8,582 yards from scrimmage with 118 offensive touchdowns. On the ground, he gained 6,795 yards, averaging more than 11 yards per carry while scoring 97 rushing touchdowns. He was also a threat in the receiving game, catching 102 passes in his career for 1,787 yards and 21 touchdowns. Robinson totaled 781 career points, which ranks No. 2 all-time in Kentucky history.
"I'm very excited for him," WHHS football coach Don Miller said. "I'm definitely excited for UK and their new offensive coordinator (Liam Coen)."
He went on to win the Paul Hornung Award as the state's player of the year, Kentucky's Mr. Football and the Gatorade Kentucky Player of the Year. He also was one of five finalists for the 2019 All-American Bowl Player-of-the-Year award, which is presented annually to the nation's most outstanding high school senior.
Michael Hawkins, who has known Wan'Dale for 13 years, coached him in youth league, middle school and high school football.
"I think a lot of the Bluegrass is giddy," Hawkins said. "We're very excited to have him back. This is something we thought would happen at the beginning, but things changed and he went to Nebraska. Now they've come full circle where he's coming back home."
Robinson was a consensus four-star recruit coming out of high school, ranked as the nation's No. 2 all-purpose back and was the top player in Kentucky by 247Sports.
He is majoring in sports media and communications with a minor in business.