Two Kentucky State University football players have earned the opportunity to play in front of National Football League scouts this weekend at the Tropical Bowl in Daytona Beach, Florida.
The Tropical Bowl is an FBS Division I level college football all-star game.
Based on their performances in the FCS Bowl in mid-December, defensive lineman Chris Roberts, a graduate of Franklin County High School, and receiver Jonathan Powell, of Greenville, Alabama, earned the invitations and will be suiting up for the National team. They are the only two players from the Southern Intercollegiate Athletic Conference and two of five Division II HBCU student-athletes in the game.
Powell is a senior, and Roberts is a redshirt senior.
Roberts, who started his collegiate career as a 280-pound running back in 2014, has evolved into one of the best defensive linemen in the SIAC. He used his talents to be named the Lineman MVP of the FCS Bowl.
The learning curve for the nimble big man was definitely steep.
"It was a struggle for me at first," said Roberts. "I have never played three technique or nose tackle. I didn't really know what I was doing. I was just an athlete going to get the ball, and that is what (the KSU coaching staff) liked about me. I just had a nose for the ball. When it came to concepts, I was in the dark. I didn't know what I was doing. I didn't know about gaps or anything."
It was also a struggle to gain playing time, which had Roberts doing mental gymnastics as well. After redshirting in 2014 and taking time to focus on academics in 2015, Roberts failed to get much playing time in 2016. It was the first time in his football career that he wasn't receiving regular playing time, and the thoughts of leaving Kentucky State University were ever present in his mind.
But, he continued to push through the mental and physical barriers to finally make a splash. A seven-tackle performance in the third game of 2016 was his introduction to significant playing time, and his 10-tackle game against perennial favorite Tuskegee put him on his current track.
"I was able to dominate the best team in the conference," said Roberts.
He finished the season with 41 tackles, nine for loss and three sacks, but it was only the statistical beginning for the Frankfort native. He was one of the bright spots in an otherwise dim 2018 season as he earned second-team All-SIAC honors after being second on the team with 63 tackles and 12 for loss as the 'Breds went 0-10.
The winless season led to a coaching change, which also brought a scheme and position change for Roberts. He moved to defensive end, and he joined a defensive line rotation. It was a rotation that enabled him to stay fresh throughout the game, but it also limited his snaps. The change to a run-based, time-possession offense also resulted in less snaps for Roberts.
However, he made the most of his opportunities and led all KSU defensive linemen with 34 tackles, six for loss.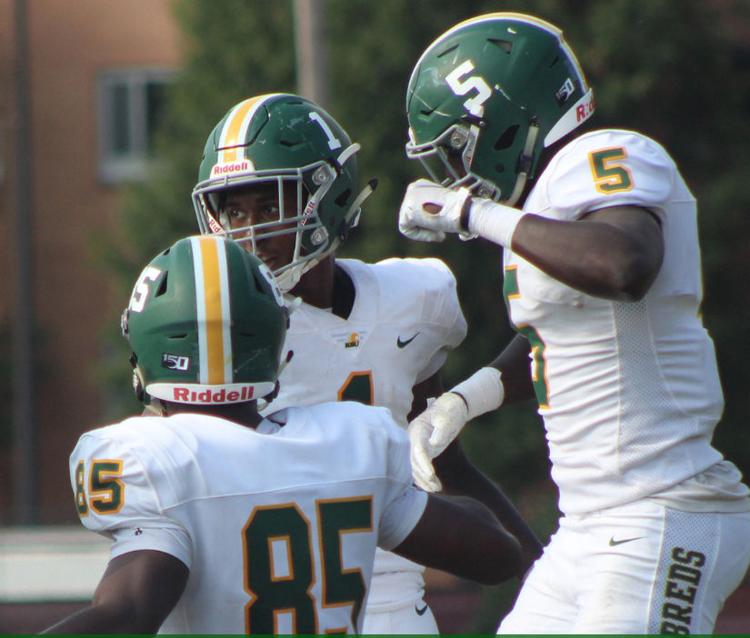 The opportunity to play in the Tropical Bowl, for Powell, is the culmination of his coming-out party. In his first three seasons, in a spread offense, the Greenville, Alabama, native hauled in 23 passes for 226 yards and two touchdowns. This season, he was the primary receiving threat with 17 receptions for 413 yards and five touchdowns. Powell was responsible for 67% of the team's receiving yards and 55% of the receiving touchdowns.
It's also an opportunity to make a bigger impact in an all-star setting because he didn't feel like he played "as well as I could."
Despite not having the chance to make a huge impact during his first three seasons, Powell never thought about leaving Kentucky State.
"I just stuck it out. I wasn't going to turn my back on Kentucky State," said Powell. "They gave me the opportunity to do what I love to do."
Powell's season could have been derailed before it really got going. With opportunities limited in KSU's triple option attack, converting your chances were at a premium, and when Powell dropped a pass in the season opener at Robert Morris, he wasn't sure the ball would come his way again.
But it did, and he cashed in. With KSU trailing the Division I Colonels late in the third quarter and facing a third-and-20, Powell went over the top of the defender for a spectacular catch that put the Thorobreds in the red zone. Kentucky State scored the go-away score on the drive, and held on for its first of seven wins.
"It helped the coaches gain confidence in me," said Powell.
However, he was quick to acknowledge that despite putting up the numbers, he wasn't the only capable receiver in the room.
"We had a lot of talented receivers — LaDarian McAllister, Marquese Livers, Carlton Swopes — to name a few, that could have put up the numbers I did."
Roberts and Powell will be leaving Thursday as festivities begin Friday morning. The team will practice Friday and Saturday before Sunday's 10 a.m. kickoff at Spec Martin Stadium on the campus of Stetson University.