Frankfort High's girls basketball team led Franklin County 3-2 with five minutes left in the first quarter Friday.
FCHS scored 14 points over the next 1½ minutes, and the Lady Flyers were on their way to a 76-47 district win at F.D. Wilkinson Gymnasium.
"We knew that was going to happen," FHS coach Deron Norman said. "Good teams are going to make a run. What you have to do is weather the storm, and I thought for the most part we did."
Franklin County (12-2) led 24-12 at the end of the first quarter and 40-19 at halftime.
"I thought we got off to a good start," FCHS coach Joey Thacker said. "We haven't done a lot in practice this week, trying to save their legs for the next couple weeks, and that's a mistake on my part."
The Lady Flyers' largest lead was 31 points, but each time they pushed the lead to 31, FHS put together a short run to cut the deficit to the 25 to 27-point range.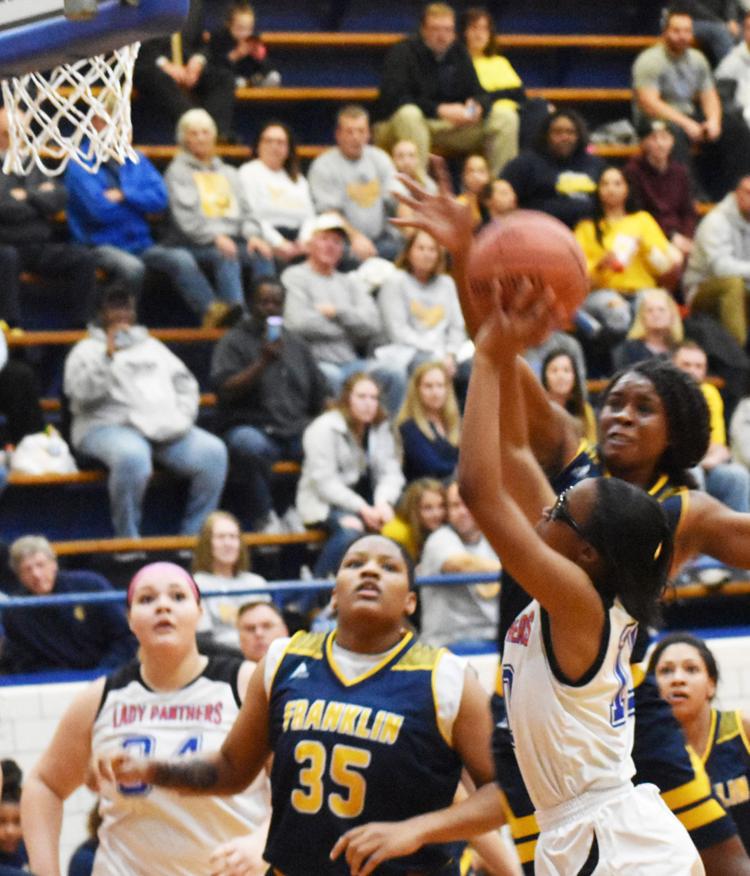 "There were points we played good defense, and there were points we played well offensively," Norman said. "We didn't quit. The girls battled, but we didn't finish like we need to."
FCHS' Brooklynn Miles finished with 21 points, five assists and four steals, and FHS' Jamya Chenault led all players with 21 points. She also had 11 rebounds for a double-double.
"We just gave up too much easy stuff in the lane, either on a post-up or on the bounce," Thacker said.
Lakin Hamblin scored 15 points for the Lady Flyers, and Nevaeh Carter scored 11.
FCHS had 13 assists, led by Miles. Carter had three assists and five steals, and Chambers and Jasmine Simpson both had four steals.
"I thought we passed the ball in transition really well." Thacker said.
After scoring 19 points in the first half, the Lady Panthers scored 28 in the second half.
"Your defense gets better, then your offense gets better, you get a little pep in your step," Norman said, "but good teams aren't going to give that to you, and we have to figure out a way to get that."
Franklin County plays Central Hardin in the Bluegrass New Years Classic Saturday at 3 p.m. at Central Hardin and returns home for games Monday against Madison Central and Tuesday against Collins.
FHS (9-5) next plays in the 11th Region All "A" Classic at Lexington Christian Thursday. The Lady Panthers play the winner of Tuesday's Berea-Sayre game.
FRANKLIN CO. (76) — Nevaeh Carter 11, Brooklynn Miles 20, Jazmin Chambers 14, Jasmine Simpson 8, Lakin Hamblin 15, Patience Laster 8.
FRANKFORT (47) — Madison Close 7, Gracie Edelen 3, Tianna Mitchell 13, Claire Irish 2, Jamya Chenault 21.