Frankfort High junior Charlie Ellis started the football season as the Panthers' quarterback.
On Saturday he was moved to the slot position and responded with two touchdowns, running 90 yards for one score and going 38 yards on a screen pass from Sam Davis for the other.
Ellis added a third touchdown on a 58-yard interception return and was named the Most Valuable Player in FHS' Dan Cummins Bourbon Bowl game with Paris, a 35-14 victory for the Panthers.
That performance has resulted in Ellis' being selected as the Traditional Bank Athlete of the Week.
Ellis rushed for 107 yards on five carries and caught three passes for 72 yards against Paris.
Ellis, who also plays baseball and basketball at FHS, is the son of Ami Ellis.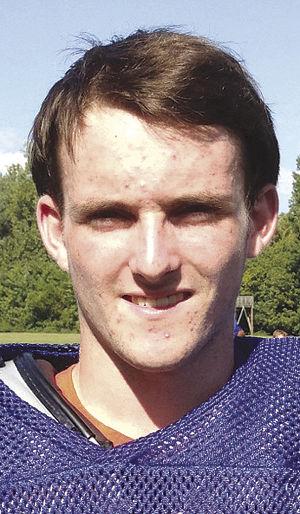 State Journal: When did you come out for the football team last year, and what made you come back this season?
Ellis: I came out about halfway through the season. I thought about playing, and JB (Jevon Bush) talked to me about it and brought me out. A lot of skill players left, and I felt like I needed to step up and be a leader for the younger kids coming in and the transfers.
SJ: What do you like about football?
Ellis: It's just fun, competitive. There's a lot of brotherhood that's not in a lot of other sports. I like that a lot. It's a different vibe from other sports for sure.
SJ: What's your favorite offensive position in football?
Ellis: Honestly, I'll do what's best for the team, but I liked what Coach (Brenton) McNear and Coach Smitty (Shane Smith) did moving me to the slot. It helped the team and our quarterback, Sam Davis.
SJ: If you had time in your schedule to add one more sport, what would it be?
Ellis: I'd say golf. It's like there are two golf seasons, one during football and one during baseball. It might not look like fun, but it is when you're playing. When I play baseball out of town, I usually go to Top Golf.
SJ: What do you like about this year's football team?
Ellis: What I do like is that even though we have a lot of younger guys, Frankfort is such a small school that we all have a close bond with each other. We lost a lot of skill players last year (FHS graduated nine seniors), but a lot of the young kids are stepping up. As the season goes along, we'll get a lot better.