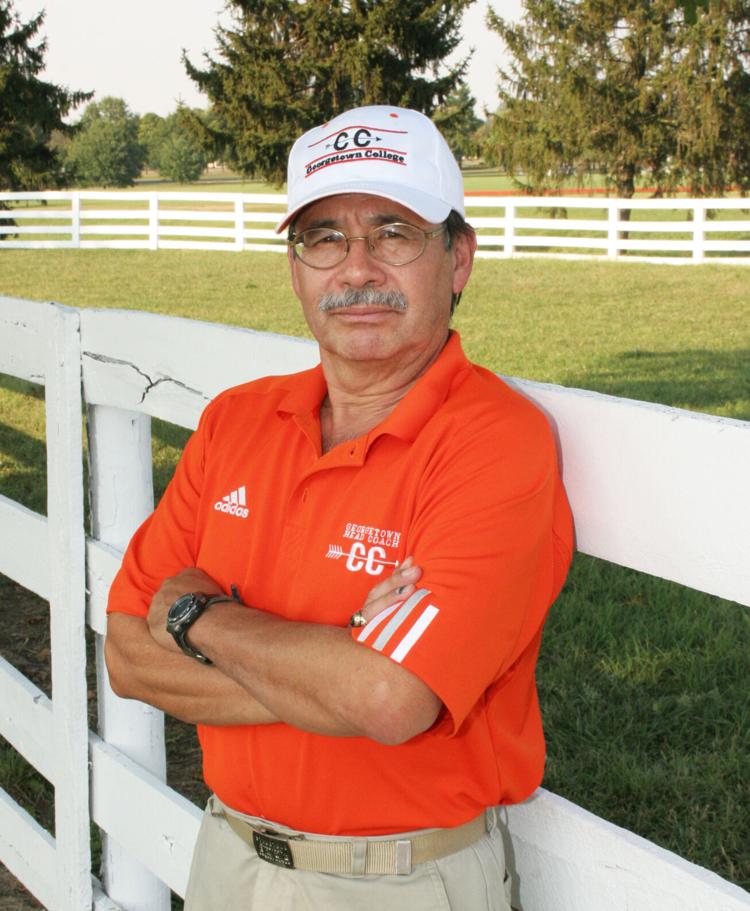 Hardworking, dedicated, passionate might be three of the best words to describe Abe Padilla — former Georgetown College cross country and track and field coach. He started to guide the Tiger harriers in 1996. From there he helped the athletic department grow as he was able to restart the GC track and field program in 2005. 
"He's one of the best men I've met in my life," said GC softball coach and former office mate Thomas Thornton. "We shared an office when I was first hired here and everything he did was for the GC student-athletes on his team." 
Friday morning was a tragic and now a sad one for so many in the Georgetown Tiger family as well as Scott County community as Padilla was killed in an accident as he walked along U.S. 421 near U.S. 460 and Schenkel Lane in Frankfort. He was 72. 
Padilla, a longtime worker at Toyota's Georgetown, picked up the coaching position as a passion to guide the coming generations in the sport and art of running. 
In his 13 years coaching cross country, Georgetown finished runner-up once on the men's side (1996) and twice on the women's side (2000 and 2001). He was also three-time Mid-South Conference Women's Coach of the Year (2001, 2002, 2004). 
"He laid the foundation for the program we have now," said GC cross country and track and field coach Luke Garnett. "Abe was my coach freshman and sophomore year. He coached his successor GC alum Todd McDaniel, and they both coached me. Abe's coaching tree lives on here at Georgetown." 
Under Padilla, McDaniel and the first four years of Garnett's era, the positions were part-time roles.
However, Garnett knows it is the foundation started by Padilla and matured under McDaniel that set the stage for him to now be a full-time coach at Georgetown.
"Coach Padilla had multiple national qualifiers after the program had a national meet drought for a few years. They include Betsy Laski (Evans), Britney Ping (Chesser), Christi Bradshaw, Ben Hall and Dustin Hughes. Scott Ritter, and Luke Garnett were all coached by him and went on to qualify shortly after his retirement," McDaniel said. "He really put GC cross country back on the map, and with Derek Sword being the first track and field qualifier of the modern era, put that program on the map."
In 2010, just two years after his retirement and under McDaniel, the men's team finished second in the Mid-South Conference, sent three runners to the national meet and set a school record for average team time that still stands today.   
"None of that would have been possible if it was not for Coach Padilla," McDaniel said.
While his team and individual benchmarks will forever stand as the frame for the Tiger program, his coaching style also has a pulse in the program. McDaniel and Laski first guided the teams and now Garnett stands at the ready, remembering how vital each team member was to his former coach.
"I will never forget how Coach always ran with the those on the team that were in the back of the pack at practice," Garnett said. "He always made sure every one of his athletes felt important, whether they finished first or last, he cared about their race equally."
It was not just how Padilla approached the sport; Garnett holds on to how sportsmanship and decency were moral compasses for his coach.
"He had these catch phrases, three in particular, but I am sure he had more: 'Common Courtesy'; 'Go, See, Do'; and my personal favorite, 'Push, Pull, Breathe,'" Garnett said. "He was really big on having respect for others and for your surroundings and always preached about having common courtesy. This speaks to his character."
His passion for running did not stop at those who run. He wanted to share the love of his sport with everyone.
Jenny Elder is sports information director at Georgetown College.