LOUISVILLE — Louisville's football team has turned its two best offensive performances of the season lately, scoring a combined 103 points and racking up 1,069 yards of total offense in blowouts of Syracuse (41-3) and Duke (62-22).
During his press conference Monday afternoon previewing the Cardinals' (6-5) upcoming showdown against Kentucky, UofL coach Scott Satterfield referred to the explosion against the Blue Devils as "incredible," adding, "harder to do much better than we did."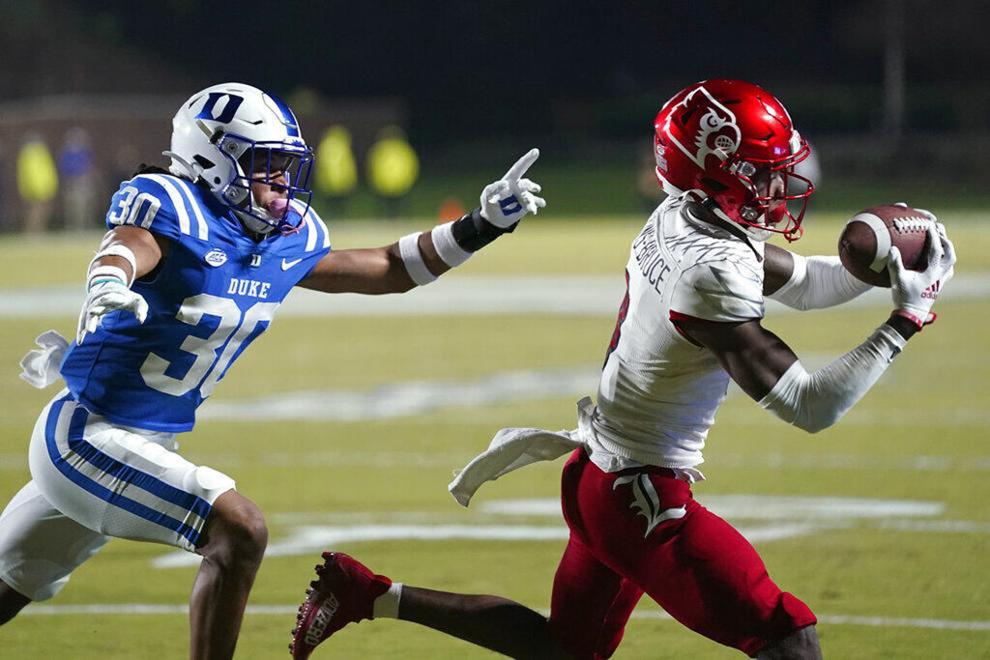 But Satterfield realizes that yardage and points could be at a premium against the much more formidable Wildcats (8-3) Saturday night in Cardinal Stadium (7:30 p.m., ESPN2) and that both those numbers are highly unlikely to even come close to be repeated against a UK defense that ranks No. 27 nationally, allowing just 335 yards per game, including only 115 yards rushing.
"One thing I remember from 2019 is the O-line and D-line were both very strong and they're still that way," Satterfield said. "Defensively, they don't give up many big plays, they keep everything in front of them, they rally to the ball, play hard. Normally, their defense keeps them in the game. So very solid football team.
"Looking forward to playing them in front of our crowd. Hopefully we'll have a packed house. We know we're in the state of Kentucky, but hopefully it will be the state of Louisville on Saturday. It's going to be a great atmosphere."
There is no hotter quarterback in the nation than Louisville's Malik Cunningham, albeit against weak competition. In the romp at Duke, he became only the second quarterback in FBS history to throw for over 300 yards and rush for more than 200 in a single game — notching seven touchdowns along the way, five passing and two rushing — a performance that, not surprisingly, earned him ACC Quarterback of the Week honors.
"Malik had an unbelievable game," Satterfield said. "He has played with great poise the last two games."
On the season, Cunningham leads all Power 5 quarterbacks with 18 rushing touchdowns and has thrown for 18 TDs with five interceptions.
The Wildcats have also won back-to-back games, defeating Vanderbilt and New Mexico State, but they are only 2-2 on the road. Louisville opened as a two-point favorite, with the over/under set at 57. ESPN gives UofL a 61.8% chance of winning. UK owns a 14-game winning streak in nonconference games, the second-longest active winning streak in the country.
The game will be just the second against UK for Satterfield because the pandemic led to the cancellation of last year's meeting after the SEC decided that its schools would not be allowed to play nonconference games.
"I've only played Kentucky one time, and the first year I didn't really know what to expect, what kind of rivalry it was," Satterfield said. "I do now, having been here almost three years, so I'm really looking forward to that game. Obviously, we want to compete for ACC championships. We want to be in the hunt in that regard. But this game is huge for us. Our guys can't wait to get out and start preparing. We've got a lot of momentum."
This will mark the 33rd meeting between the two programs separated by 75 miles on I-64. After winning five straight in the series from 2011-15, the Cards have dropped three of the last four. Since the series resumed in 1994, UofL holds a 15-11 edge.
Satterfield wants series to continue
The Louisville-Kentucky series is scheduled through 2030, but could be in danger if the SEC decides to play nine conference games with the additions of Oklahoma and Texas taking effect by 2025. But Satterfield hopes the rivalry survives.
"I like playing the game," Satterfield said. "I would advocate (UK) playing us and continue this game because I just think it's great for this region. It's a great rivalry game. I think the fans on both sides of it love it. I like it in every other sport as well. I just think it's a game that should be played in all our sports cause we're so close and we're two good programs."
However, Satterfield is aware that the SEC, or any of the other Power 5 conferences, going to nine league games makes nonconference scheduling even more complicated than it already is.
"That's been a huge debate for everybody throughout the college landscape: How do you schedule the nonconference, particularly if you have to play nine conference games?" Satterfield said. "If you're playing such a tough schedule week-in and week-out, do you want to continue to have your nonconference be tough as well? That's a dilemma and a question administrators have to figure out. As coaches, we pretty much play who they tell us to play."