No one is happier to be part of the Kentucky all-star team that will take on Indiana Friday and June 11 than University of Kentucky signee Cassidy Rowe.
"It is always a dream for Kentucky kids to play on this team and play for the University of Kentucky. I am just living out my dream and am very thankful that all my hard work has paid off," said the Shelby Valley senior.
Rowe had to overcome knee injuries both her freshman and sophomore seasons and then in late February broke her right wrist. She did not get cleared to resume full basketball workouts until last week — several weeks after tryouts for the team were held.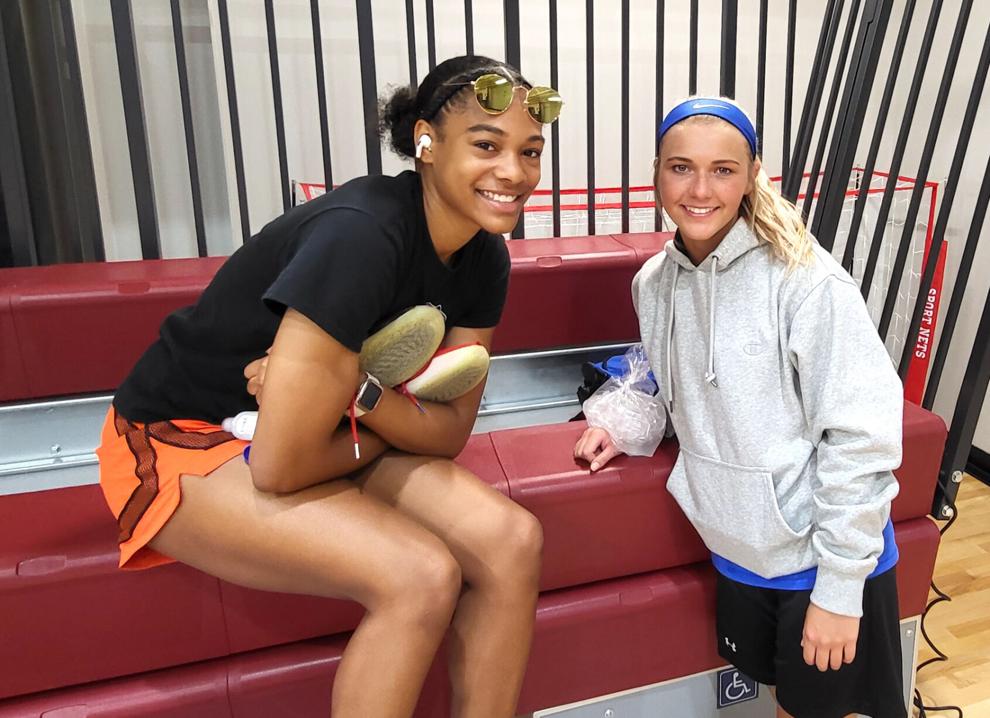 "I am so glad to be on this team. In tryouts I was not able to participate because I had a cast on. I still got to come and thankfully the coaches and (selection) committee were still gracious enough to give me this chance. I am very thankful for that," Rowe said.
The 5-5 guard certainly has impressive numbers. She finished her career with 1,544 points, 434 rebounds, 305 steals and 250 3-pointers. Rowe even took 42 charges her senior season.
Off the court, she graduated with a 4-plus grade point average and associate's degree.
Her father, Shelby Valley coach Lonnie Rowe, had to try and keep her out of the gym after her wrist injury. It didn't last long.
"I worked on a lot of left-handed stuff. I still went to the gym. I did ball handling stuff. I was not able to run for a little while because of the risk of falling and as soon as I could run I started doing that. I also did a lot of leg workouts to just keep in shape," she said.
"All this actually made me more comfortable with my left hand because I had never had to use just my left hand like this. I got used to shooting longer floaters (with the left hand)."
Lonnie Rowe said his daughter did worry how the wrist injury might impact her shooting when she was released to start shooting.
"The first couple of shots I took had no arc because I couldn't get any lift from my hand and flick it real good. After that, I was fine," Rowe said. "It didn't really worry me. I knew once I got going it was going to be fine."
She knows when she starts her collegiate career it going to be a "big jump" in a lot of ways for a player from eastern Kentucky.
"The pace is so different, the atmosphere is so different," she said.
She's glad seniors Blair Green of Harlan and Emma King of Lincoln County are at Kentucky to help her.
"They grew up close to the same part (of Kentucky) as I did. Blair just went through an injury like I did. They are both going to be mentors for me and I will need that," Rowe said.
Her current Kentucky all-star teammate, Miss Basketball Amiya Jenkins of Anderson County, is also headed to Kentucky. They will be joined by eight other new players on coach Kyra Elzy's roster next season.
"I love her (Jenkins) and I am really excited to get on the floor with her. I am glad we have this opportunity to play together before we go to Lexington," Rowe said. "We are going to have a full roster next season and I am so excited about that. I am excited to get to meet all the players on the team."
Rowe admits she was a bit "shocked" when so many players transferred after UK's season ended but she believes Elzy and her staff restocked the roster with talented players.
"I am going to be whatever coach Elzy needs me to be. I am going to work as hard as I can. If she needs me to be a shooter, I will be a shooter. If she needs me to be a role player, I will be a role player," Rowe said.
"Whatever she needs me to do I am willing to do. It's the same on the all-star team. All this is just letting me live out my dream so whatever my coaches want, that's what I want to do."
Five-star sophomore shooting guard Karter Knox of Tampa is already on the recruiting radar of both Kentucky coach John Calipari and Louisville coach Kenny Payne.
However, that's not a big surprise since his older brother, Kevin, played at Kentucky and was a top 10 NBA draft pick under Calipari and Payne, a UK assistant coach then.
ESPN has him as the No. 1 sophomore in the state of Florida and the 10th best recruit in the 2024 class. Another recruiting service has him ranked seventh overall in his class.
"Cal is keeping tabs on him. He invited us to Big Blue Madness (last season)," said Kevin Knox Sr. "They are calling just like Kenny Payne is.
"He is about 6-6, 205 and wears a size 17 shoe. He's a big boy but he can play the two guard with no problem."
Karter Knox already has scholarship offers from Arizona State, Boise State and Illinois and figures to add a lot more this summer.
Knox Sr. said his youngest son got "beat up" a lot by his brothers Kevin and Kobe, a 6-5 sophomore guard at Grand Canyon College and that made him improve.
So how does he compare to Kevin at the same age?
"I will tell you what Cal says," Knox Sr., who won a national championship playing football at Florida State before playing in the NFL, said. "He said, 'At the same age he is better than Kevin. There is no question. He has a different feel for the game.'
"I agree with him, too. Karter is thicker. Kevin came to Kentucky weighing 210 pounds. Karter shoots the ball better. He's more aggressive, has more swag. He has a different DNA. His body type is just bigger. It's easy to see why he's ranked as high as he is already."
Kevin Knox was also only 17 when he got to Kentucky. He's been in the NBA four years and is still only 22 — that's younger than some players who might get drafted next month.
Karter Knox is a "normal" age for a high school sophomore and his father says he is "trending" to be the best player of his three sons.
"When you talk about being the ninth pick in the world (like Kevin was in the NBA Draft), that's tough to follow," Knox Sr. said. "But everybody is different and has a different body type. That's why when you look at playing style at the same age, the difference is night and day between Kevin and Karter. He's just better at the same age."
Petty one of UK's newcomers
Ajae Petty was the No. 1 post player and No. 16 overall recruit in Next Sports Phenom Class of 2020 Top 100 ranking after her prep career in Baltimore when she signed with LSU. The 6-3 Petty played 31 games during the last two seasons at LSU and had a career-best 12 points against Stanford last season.
Petty has transferred to Kentucky and will be one of 10 newcomers on coach Elzy's 2022-23 team.
Former all-SEC defensive back Van Hiles lives in Louisiana and saw her play several times in person the last two years.
"She is athletic, she can run and she has a great skill set. This young lady can play," Hiles said. "She is going to up that front court presence. The difference between Kentucky and great teams has been the lack of a true post presence. We have not had a post game. Now with (Nyah) Leveretter and the grad transfer (Adebola Adeyeye  of Buffalo) along with Petty, Kentucky is going to have a post presence and depth down low both."
Even with the graduation of All-American Rhyne Howard, who has had a sensational start to her WNBA rookie season, Hiles thinks UK could be better than the team that won the SEC Tournament last season.
"They will not just be relying on one player to score," Hiles said. "I really like what Elzy has done. She is recruiting players to where now she can push the pace. The team will be young but I really believe it will be more the vision that Elzy has in mind for her program."
Wallace stars in Jordan Brand Classic
Kentucky signee Cason Wallace had 15 points, three steals, three rebounds and one assist in 24 minutes in the Jordan Brand Classic in April. His coach in that game was Kentucky native Steve Smith, the long-time coach at Oak Hill Academy (Va.) who recently announced his retirement.
"He has a great attitude and obviously is a great player," Smith said. "He is explosive. He could play both guard spots in college. He is really good."
Another Kentucky signee, Chris Livingston, had 21 points, seven rebounds and three steals in 25 minutes. He played for Smith at Oak Hill.
"He and Chris were the two best players on the team I had in the Jordan game," Smith said. "Wallace is so athletic. He can score. He can pass it. He is smart and lightning quick. I really like the way he played."
Smith said he could see Wallace and Livingston building a friendship on and off the court.
"Wallace plays hard like Chris. Fans are going to love him at Kentucky and they are going to love Chris. They are going to be very good together," Smith said.
Baker is highest-rated transfer
247Sports had ranked five players who transferred to Kentucky to play for Mark Stoops among the top 181 transfers nationally.
The highest-rated transfer was receiver Javon Baker of Alabama at No. 73 overall. He played in 21 games at Alabama and had seven catches for 101 yards. He seemed like a great addition for the UK offense and quarterback Will Levis — but that sure changed last week. Kentucky confirmed that Baker would not be transferring and it was not Baker's idea. He still wanted to come but for unspecified reasons Kentucky changed its mind about taking him.
Another receiver, Tayvion Robinson of Virginia Tech, is transferring to UK and is ranked 132nd by 247Sports. He led his team in receptions (44) and receiving touchdowns (five) in 2021 and was second in receiving yards (559). He started 30 games for Tech. He brings experience to a position where Kentucky has talent but lacks collegiate experience, one reason UK initially was going to also take Baker.
Defensive back Keidron Smith of Mississippi is No. 90 on the transfer list but he had 223 tackles, 21 passes defended, five forced fumbles, five interceptions, eight tackles for loss and one sack in the last four years. He also filled a need for Stoops.
Defensive lineman Darrion Henry-Young came from Ohio State and is rated No. 128 even though he played only sparingly in his two years with the Buckeyes.
Offensive lineman Tashawn Manning of Auburn is the lowest rated at No. 181 but could be as valuable, or more valuable, than any other transfer for what he will add to the Big Blue Wall. His arrival has made it easier to move guard Eli Cox to center knowing Manning can fill Cox's spot. He made 14 starts at Auburn the last two years and has needed SEC experience like Baker and Smith.
And how were the players Kentucky lost in the transfer portal? None were ranked among the top 247 players by 247Sports.