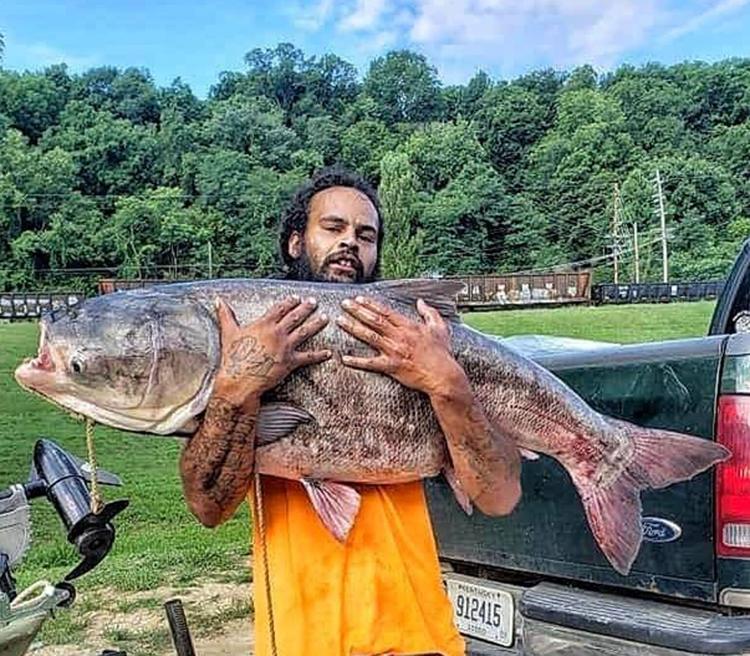 A Woodford County man caught the largest big head carp in Kentucky history last weekend.
Eddie Young hooked the 65-pound fish from the Kentucky River near Lock 4, which supports a 17-mile long pool of water, on Friday evening. The state record-setting carp was one pound larger than one caught by Drew Fulmer in 2010 and was confirmed by Fish and Wildlife on Monday.
Young, who was born in Harrodsburg but currently resides in Woodford County, has always been an avid outdoorsman — especially catfishing, which he tries to do each Friday evening after work.
It was on his final cast last Friday when he hooked the big one.
"My bait of choice wasn't working so I decided to switch to a bobber and a night crawler," Young told Kentucky Outdoors Media in an interview. "It was my last ditch effort to catch a fish. I saw it move about four minutes after I threw it out. It seemed like a gar at first, but the bobber dove and I set the hook and immediately it started pulling drag.
"I knew I had a big fish on it; I was so worried about doing everything right because I was beside a dock and a structure, and it could have easily tangled my line up. When I got away from all of that, it finally surfaced, and the first thing I saw was its tail. It looked like it was almost two foot wide."
Young fought with the fish on his line for more than 45 minutes before being able to get his hand in the fish's mouth.
"When I got it in the boat, I took it far away from the water because I didn't want to take any chances on losing it. The only way I could describe the fight of that fish is taking your rod and hooking it to a 60-pound pitbull chasing a ball," he added.
"(Catching that fish) was kind of like winning a state football championship, but a little better. It's a once in a lifetime thing that can happen. I am truly blessed, but now it's time to break it again," he said of state records.
Young eventually plans to have the fish mounted.