In the past three days, 175 local residents have tested positive for COVID-19.
On Monday the Franklin County Health Department reported 79 new cases, followed by 40 on Tuesday and 56 on Wednesday. A total of 366 coronavirus cases have been recorded in the county since the start of the month.
There are 294 active cases of the virus, according to FCHD Public Health Director Judy Mattingly.
In Franklin County, 2,440 residents have contracted the coronavirus since the pandemic began in March. Thirty-three have died while positive for COVID-19.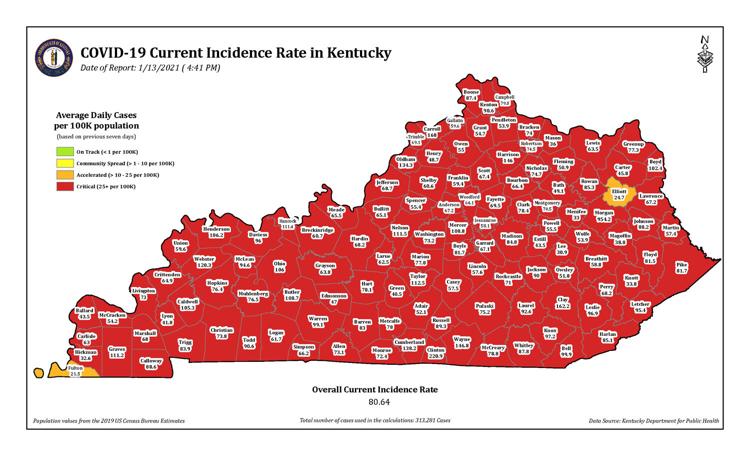 Franklin County remained firmly in the red zone, the most severe, after the incidence rate rose to 59.4 Wednesday. The incidence rate is the average daily new cases per 100,000 population over the previous seven days. Counties in the red zone have an incidence rate greater than 25. All but two of the state's 120 counties remain in the red zone.
The good news is that the health department has administered 1,482 doses of the Moderna vaccine and will learn Friday how many doses it will receive for next week.
"No doses are wasted," Mattingly stressed, adding that the department continues to prioritize and closely monitor state and federal guidance for vaccine distribution.
"We, along with Frankfort Regional Medical Center, have covered most health care workers in Tier 1A," she said, adding there are still a few residential facilities left to vaccinate that FCHD learned about last week. "We will vaccinate as soon as we receive more vaccine doses."
The director also said that most local first responders in Tier 1B have received their first dose and that vaccinations for those over 70 has begun.
"If anyone over 70 in our community would like to receive the vaccine they should sign up at fchd.org to provide their contact information," she said. 
Those without internet access should ask a family member or friend for assistance or call the health department at 502-564-7647.
Also in Tier 1B are K-12 school personnel. Tier 1C, which follows, includes essential workers.
Mattingly cautioned that without advance notice of the number of doses the health department will receive it is difficult to determine a timeline for the remaining tiers.
"Please be patient and know that as soon as we receive vaccines we will distribute immediately," she stated.