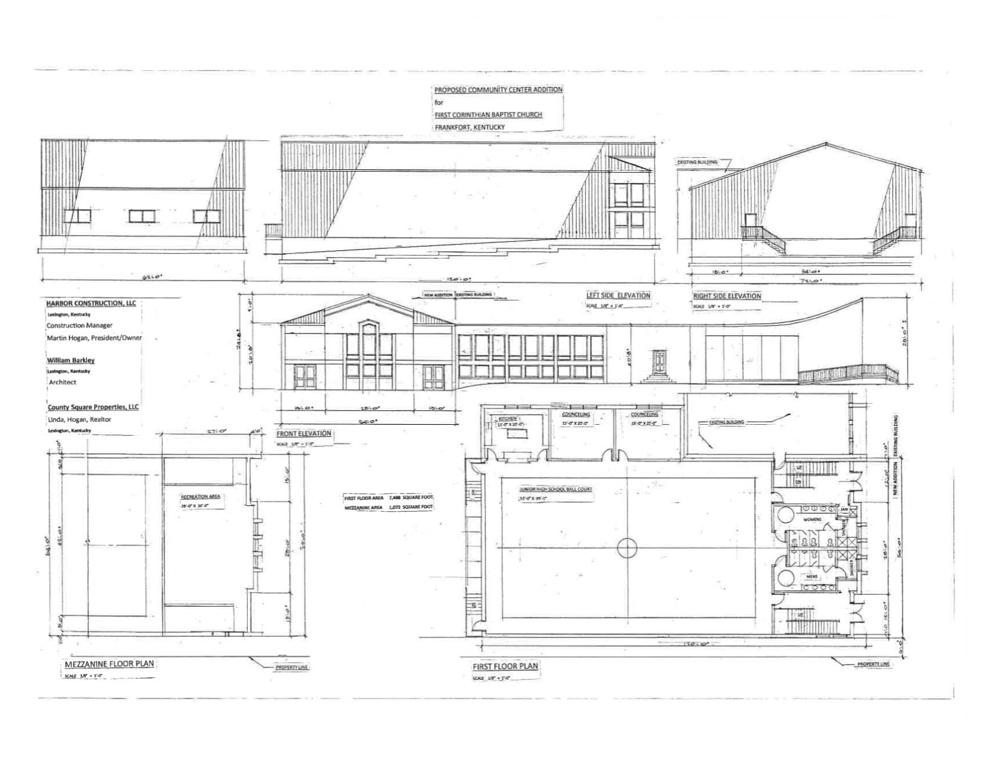 In a unanimous vote on Tuesday, Frankfort's Architectural Review Board (ARB) decided to allow the movement of an old house to a nearby empty lot.
Moments later, the board also approved an initiative made possible by that house's moving: the construction of an attached community center to South Frankfort's First Corinthian Baptist Church.
The community center will stand 30 feet tall and take up 6,540 square feet, per First Corinthian Missionary Baptist Church Rev. Leslie Whitlock. It will extend the church's physical footprint south along Murray Street.
According to Whitlock, the community center will give the church several additional spaces: a three-quarters-sized basketball court, a portable stage, seating for 350 people, an industrial kitchen, meeting rooms, restrooms and a small mezzanine. For now, Whitlock is referring to it as a "Community Life Center."
Whitlock said the structure would aid the church in efforts to further engage youth and adults, potentially housing programs for youth sports, as well as drug rehabilitation programs.
In particular, Whitlock mentioned the church's New Day Ministries, which uses a 12-step program to aid those who are trying to kick drug or alcohol addictions. With some of those operations happening at a farm that Whitlock rents out in the county, he said he'll be happy to expand the existing work at the church's current location.
He emphasized that the building would not just be for those who attend First Corinthian, but for all in the greater Frankfort community.
"It's for anybody who wants to come by to exercise, or for the youth to have something to do, or those to use the meeting rooms — anybody," Whitlock said. "People who need a meal, including those underneath the bridge, can come in and we'll give them something to eat."
In short, Whitlock said the space will be key in providing the community with something to do.
"It's really about encouraging some type of activity to keep people's minds occupied," Whitlock said. "An idle mind is the devil's workshop."
The center will have employees or volunteers at the entrance, and will have regular operating hours.
Whitlock said the construction would cost around $660,000, with an additional $140,000 cost for adequate equipment. He said that the church is attempting to raise $1 million for the effort to ensure that the center can last and be high quality.
According to Jen Williamson, a local architect and treasurer of the Franklin County Historic Trust, the house moving is set to take place in February pending coordination with the Frankfort Plant Board.
The Historic Trust also noted that they will be purchasing a lot adjacent to the lot on which the house will sit that was once home to the historic Winnie A. Scott Hospital. That hospital was constructed in 1915, when segregation left few medical treatment centers for Black people.
Scott, a Kentucky State University graduate, was early chairman of the hospital's board of directors.
First Corinthian used to be located in the Capital Plaza area — the neighborhood formerly known as "The Craw" — at 324 Mero St., but was acquired in 1965 by the city's "Slum Clearance and Redevelopment Commission," according to Hatter.
A potentially historic home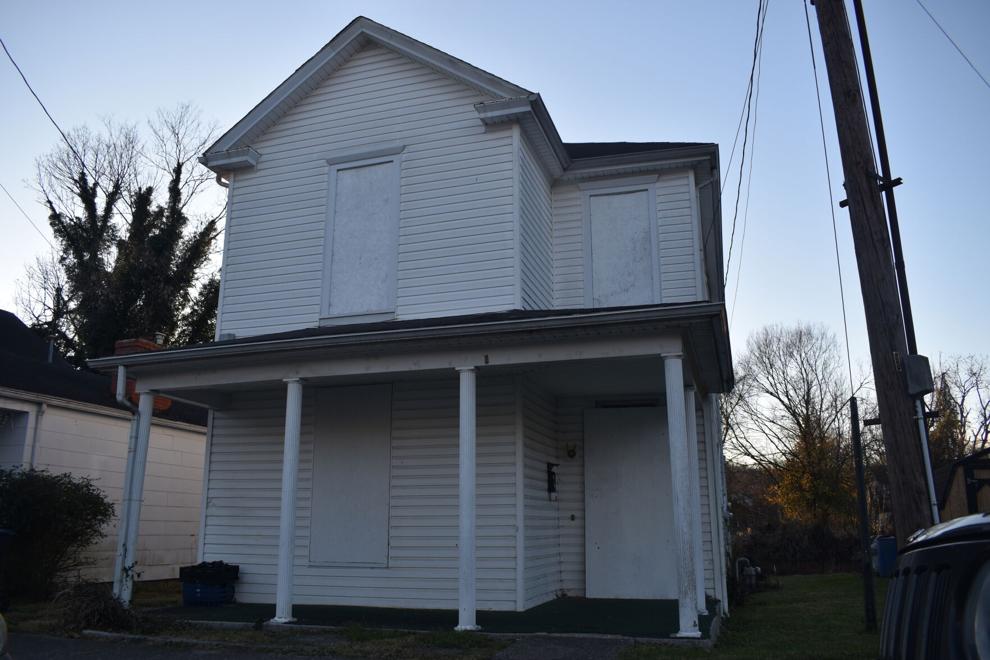 The house, which is being moved by the Franklin County Historic Trust, could have serious historical significance per research conducted by Frankfort resident Angela Fitzpatrick.
According to a series of articles from the New York Times, the Associated Press and the Courier Journal, the house was possibly home to Rev. Charles Newton King, a longtime pastor of First Corinthian Baptist Church.
King was the first Black man to hold a post in the traditionally white Southern Baptist Convention. He was vice president of the organization at the time of his death in March 1975.
Wearing several hats throughout his life, King was also a chemist, a World War I veteran, a newspaper editor and a high school principal.
In a 1971 interview with the Courier-Journal after his election as a vice president of the Southern Baptist Convention, King reflected back on his past accomplishments, making note of his first time speaking at the convention on behalf of a resolution to oppose prejudice and racial discrimination.
Some of the white pastors at the convention were against the resolution.
"I got recognition and I said 'Brother moderator, I came all the way from Frankfort, Kentucky, to add some color to this convention,'" King said. "There was silence a minute and then they broke out into laughter."
King argued strongly in favor of the resolution, which later passed.
In the interview, King also wished for a more racially harmonious America.
"If we're going to stay in this country, we ought to learn to live together," King said. "If we're apart, we tear down. We're destructive."
"No two people can stay in the same place — where one has all and the other has none — in harmony."
Celebration
All parties — the trust, the ARB and the church — celebrated the ARB's decision to approve the community center's construction.
"This has been a dream of the church for quite some time," church attorney Richard Murphy said. "They came to me well over a year ago to try and further this project. We've had a lot of help from your all's staff and especially the Franklin County Historic Trust. It's going to be a true community outreach center. It's for the church's mission, for God and also for the community."
ARB member Irma Johnson made the motion to approve the church's certificate of appropriateness and conditional use permit. New member Brittany Sams seconded the motion, which passed unanimously.
ARB Chair Patti Cross said that she was "thrilled" to please all parties in this situation.
"This has been a very productive meeting," Cross said. "I'm just thrilled that we could all work this out."
Whitlock looked forward to the fundraising campaign ahead of him and the rest of the church, as well as the building's eventual completion.
"It's a win-win for the whole city of Frankfort," Whitlock said. "And, it's a dream and a vision that's going to come true."