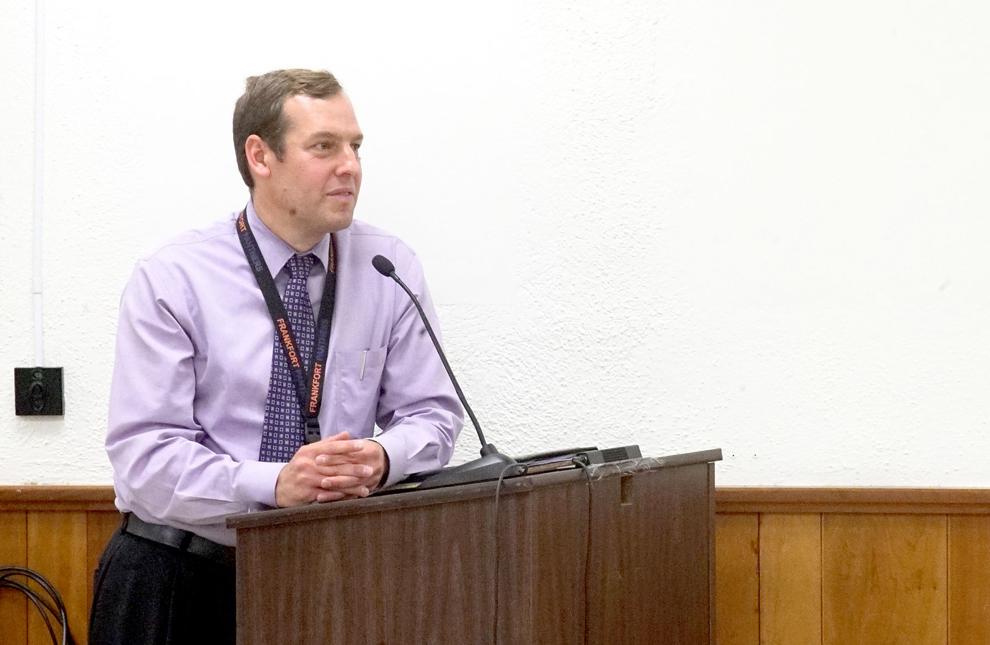 Frankfort Independent Schools Superintendent Houston Barber, who wears numerous hats in the community, received the Frankfort Area Chamber of Commerce's Community and Civic Leadership Award on Thursday.
In addition to leading the school district, Barber, a graduate of Marquette University, serves as president-elect of the Kentucky Association for School Superintendents; vice chair of Kentucky Capital Development Corp.; board member of Bluegrass State Skills Corp.; and co-chair of the board of managers for the Kentucky Chamber of Commerce Institute for School Principals.
He also mentors new school superintendents through the Kentucky Association for School Administrators and was tapped to serve on the Kentucky Education and Workforce Development transition team by Gov. Andy Beshear.
"This award is really special because I believe that it represents what my leadership is about, which is inspiring a vision and helping others to reach out and achieve those goals and visions," Barber said in his acceptance speech.
"I am passionate about getting students opportunities. I'm also committed to them wanting to be in Frankfort to support what we're doing in Frankfort and to provide a lifetime of experiences for kids to come."
Barber earned both a PhD in educational leadership and organizational change and a master's in educational leadership in administration from the University of Louisville.
Lisbon Hardy, city president for WesBanco, which sponsored the award, said that Barber is known for his communication and collaborative skills, equity focus, fiscal management, policy development and instructional effectiveness.
"He's ensured safe modes of teaching, provided learning opportunities for every child regardless of circumstances, partnered with Cumberland Family Medical Center to counsel and support students and worked with T-Mobile to provide internet access with hot spots," Hardy added. "His creative work also includes working with Kentucky State University to provide early college for students."
Barber thanked the many people who helped make the award possible, including students, families, school board members, staff and his wife, Darra, and their four children, McLain, Preson, Kenzie and Parker.
"My family supports the work I do and that we do together, so I wouldn't be here if it wasn't for my family — my four kids and my wife, who has been a rock through this pandemic and the many years we've been together," he said.
Barber also challenged others local folks to get more involved.
"It is our civic duty and responsibility to serve in the community where we work and live," he added.
The Chamber will announce the winner of the final award, Business of Year, on Friday. The Chamber's awards normally are presented at the group's annual meeting and dinner, but the awards were presented virtually this year because of the COVID-19 pandemic.