A few dozen local folks flocked to the U.S. 127 intersection near Kroger West Friday afternoon, but it wasn't doorbusters and sales they were after — it was to advocate for climate change.
"My generation helped create the climate crisis in the first place," Frankfort resident Charles Schimmoeller explained. "The least we can do is support the younger generation to straighten this mess out."
Franklin County High School junior Natalie Dufour, who helped organize the Black Friday Climate Strike, said the date was chosen to make a point about climate change on a day when people are focused on themselves.
"We are trying to show that the issue of climate change is so much more important than any of our individual wants," she told The State Journal. "While we are not protesting Black Friday, we are making the point that the consumerism of our culture adds to our carbon footprint."
While she was pleased with the attendance, she said many of her teenage friends were unable to make it because their parents were out shopping and they couldn't get a ride. 
"I'm really happy with the adult turnout," she said, thanking Together Frankfort for helping to spread the word.
Both demonstrations are part of thousands being held by young people across the world to protest overconsumption and draw attention to climate change ahead of Monday's United Nations climate conference.
Most motorists gave beeps and thumbs up, but there were a few who displayed a different digit. But that didn't deter the strikers.
Joyce Bender, of Frankfort, worries that most people are oblivious to the state of the world.
"The population at large needs to get its head out of the sand," she said. "It's our fault."
With Joel Dufour keeping the beat on drums, the crowd chanted, "Hey, hey, ho, ho. Fossil fuels have got to go."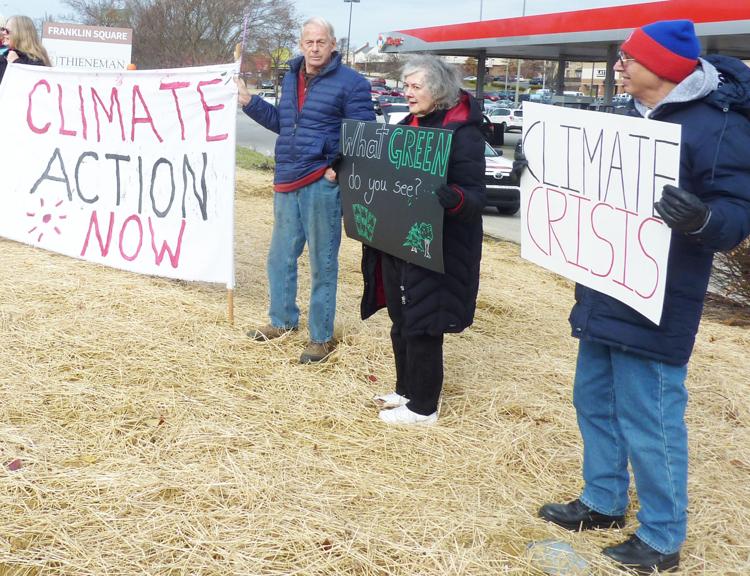 Frankfort's Ruth Magard bundled up for the brisk late November weather but made a point of showing up for the strike. She held up a black sign with a drawing of money in one corner and trees in the other. It read simply, "What green do you see?"
"We need clean air, water and soil so we can have healthy food," she said.