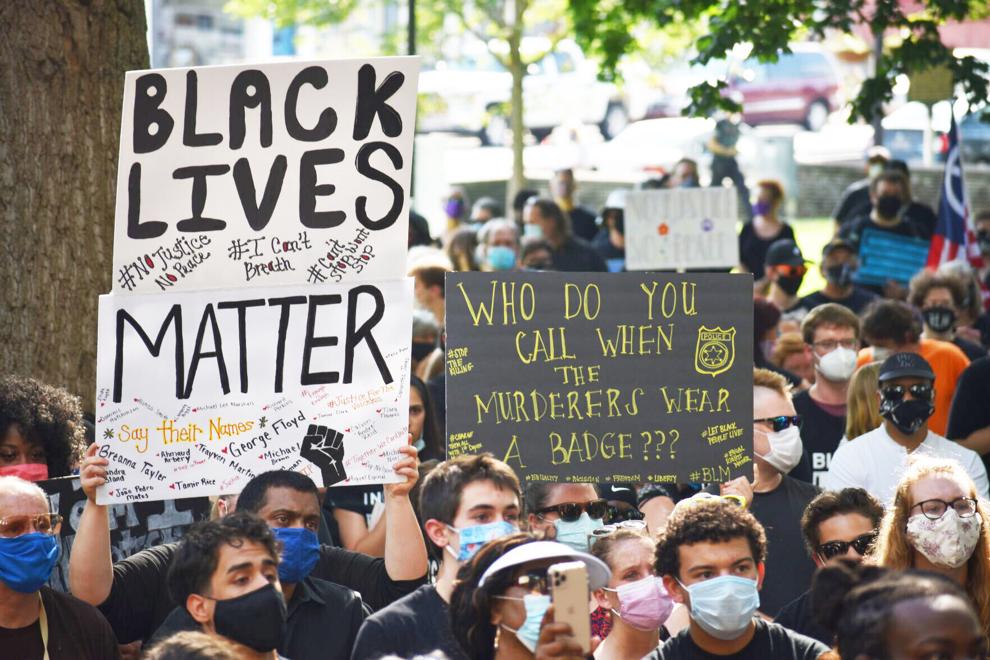 Continuing with last year's social justice theme, Frankfort's For the People Coalition is hosting the second annual Black Lives Matter March at 5 p.m. Saturday, June 5.
"By doing this march yearly and adding to the people that attend, I feel like the message will grow with the number of folks that turn out," said Katima Smith-Willis, a member of the For the People Coalition. "The more the merrier."
Other members include Natalee Cleveland, Barbara Petty, Trish Freeman, Jordon Smith-Willis, Molly and Erik Jarboe and Isaiah Johnson.
"It's always so amazing to me when I look back on pictures of last year's march. It was sort of a big deal for us, for Frankfort, for Kentucky, for Black Lives," Katima Smith-Willis told The State Journal.
"We did that and we want to continue to do so."
However, it takes more than just eight people to organize the march.
"We do rely on volunteers for donations of all sorts to be able to pull this completely off," she added.
Held on what would be Breonna Taylor's 28th birthday, the march is about bringing awareness not just to social justice issues but also inequality and police brutality.
Taylor was shot and killed by Louisville Police who were executing a no-knock warrant at her apartment on March 13, 2020. Gunfire erupted as police, who were searching for two men suspected of selling drugs at a house nowhere near her apartment, shot Taylor eight times.
Thousands participated in the 2020 inaugural march and organizers are hoping to meet or beat those attendance numbers this year.
The march will begin at the Old Capitol on Broadway and over the Capital Avenue Bridge to the Capitol. Participants will place flowers on the sidewalk in front of the Governor's Mansion before gathering on the front steps of the Capitol.
Guest speakers are expected to attend, but the For the People Coalition is keeping the identities of the speakers a secret until the day of the march.
The For The People Coalition will also be selling T-shirts for the event. 
"Every year that we do this, we want to find a way to donate to different causes that support the children and families in our community," Katima Smith-Willis explained.
This year, donations will be made to Franklin County, Frankfort and Western Hills high school's youth service centers.
As for progress, she said some entities have shown improvement in the year since the first BLM march. But, she argued, because the problem is systematic, the root must be changed.
"Progression is far and near in Frankfort and mainly because Frankfort is still in a place of thinking racism exists because it's being talked about," she added.
"Saying Black Lives Matter should have never been controversial to begin with. Frankfort, in specific, needs to be more progressive."