In mid-September, retired Air Force veteran Kay Scheffler was working the Civil Air Patrol booth at Aviation Day at the Capital City Airport when she had the pleasure of meeting Lt. Col. James Nolan, a fellow veteran who served as a B-17 aircraft commander with the 8th Air Force, 401st Bomb Group during World War II.
Scheffler was captivated by the stories the spry 98-year-old remembered of the 30 combat missions he and his nine-man crew flew over Germany while stationed at an airbase in Deenthorpe, England.
After reading more about Nolan's wartime service in The State Journal, Scheffler decided to combine her two passions — honoring veterans and quilting — into a project.
She recruited fellow quilters with the Anderson County Extension Homemakers and the group set out to create a Quilt of Valor for Nolan, who is originally from Weymouth, Massachusetts, but has lived in Frankfort with his daughter, Patti, for the past nine years.
"I thought if anyone deserved a Quilt of Valor it was him," Scheffler told a small crowd who attended the quilt presentation at Civil Air Patrol headquarters Sunday afternoon.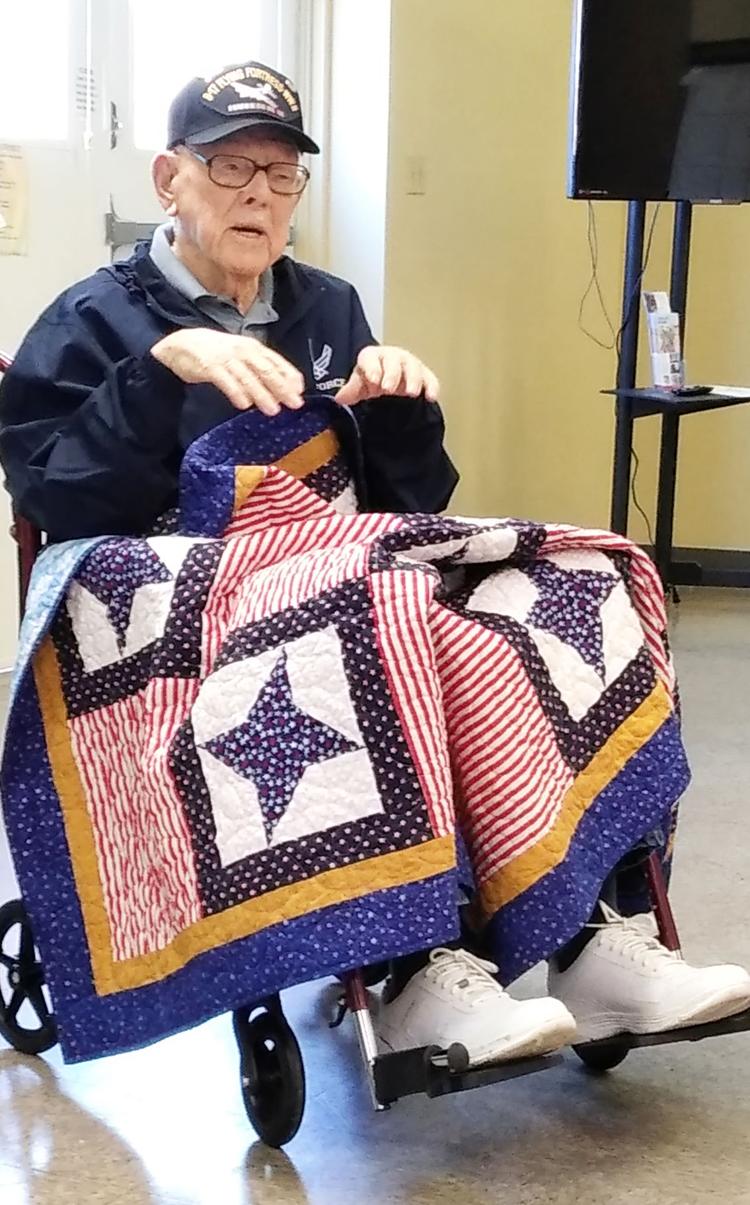 Quilts of Valor was started by Catherine Roberts, the mother of a serviceman who was deployed to Iraq in 2003, after she had a dream of a despaired young man in a war zone hunched over the side of his cot in the middle of the night. She said she then witnessed a feeling of hope come over the same young man while he was wrapped in a quilt. She took the message from the dream — quilts = healing — and made it her mission in life to comfort military veterans.
Volunteers donate their time and materials to create the personalized quality-made quilts, which include the name of the recipient on the label.
Since its start 16 years ago, more than 227,000 Quilts of Valor have been sewn by 11,000 volunteer quilters. On Sunday afternoon, Nolan received his.
"This is not a gift," said Carolyn Elliott, who presented the quilt. "It cannot be purchased, nor is it handed out. It is a lifetime award and a gesture of gratitude from a grateful nation."
Elliott added that when Nolan was asked to serve and sacrifice everything — even his life — for his country, he stepped up to the plate. She also thanked him for his service.
"You are welcome," the veteran responded before delving into a few war stories for the Civil Air Patrol cadets in the audience.