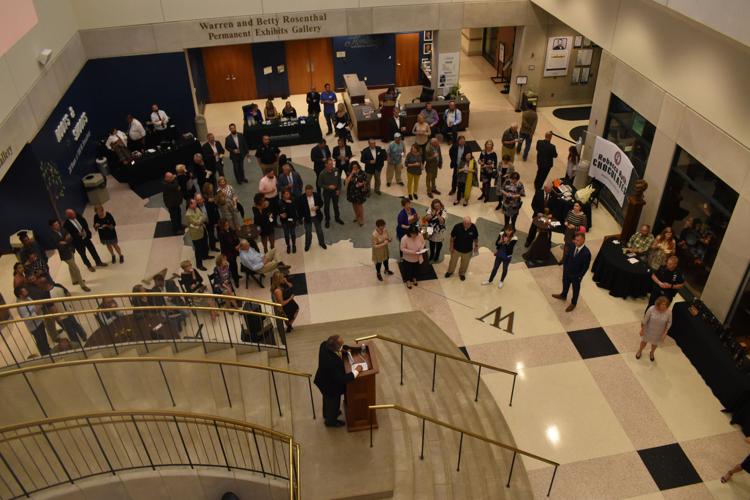 Barring any further COVID-19 restrictions, Frankfort's annual Bourbonanza will still take place Saturday at the Grand Theatre in downtown Frankfort.
The main event of the evening will be the auction of 24 rare or collectible bourbons. The famed Pappy Van Winkle bourbons, of varying ages, will be available as well as W.L. Weller Full Proof Bourbon, according to DFI President and Frankfort Bourbon Society Treasurer Rene' True.
True also highlighted that the groups involved, as well as the Grand Theatre, will work to ensure that the event complies with Centers for Disease Control guidelines.
Still there's a possibility that with COVID-19 cases and deaths on the rise, the event could have to go online, True said.
"We are taking several measures to be CDC-compliant," he said. "Everybody who comes will be temperature-checked, masks are required and provided, food is pre-packaged. The seating has already been done manually by the Grand to ensure that the distance is right."
"Unless the governor comes out and says that we cannot have any events above a certain number, we are continuing with the bourbon event at the Grand. If that (a gubernatorial order) happens, we'll do a virtual auction of some sort but at another date."
True also pointed out that the Beam Suntory Cocktail Stroll, an event that includes a walk through downtown, is still slated to take place.
On Saturday, participating venues — Mortimer Bibb's Public House, Goodwood Brewing, Bourbon on Main, The Cooperage, The Brick Alley, Serafini's Restaurant, Trifecta BBQ and Capital Cellars Wine & Spirits Market Cafe — will feature cocktails created with Beam Suntory products.
The stroll will take place 5-10 p.m. and guests will be asked to wear a mask at all times and maintain social distancing.