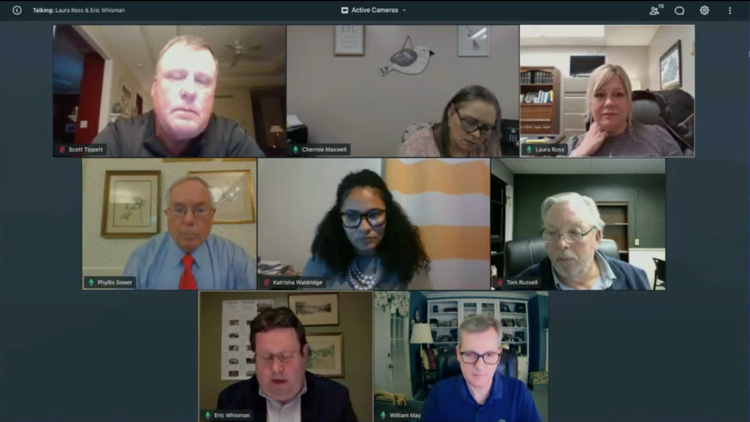 The Frankfort City Commission continued to move forward Monday on adopting an ordinance that creates a city historic preservation officer, this time moving to increase the position's pay grade.
The first draft ordinance for the position, which was passed over when it initially appeared on the agenda at a prior meeting, described the position as director-level with a midpoint salary of $115,830. That was later tweaked to a potential midpoint pay of $51,597.
At Monday's meeting the proposed midpoint salary first was $58,110, but Commissioner John Sower made a motion to up the salary by four pay grades, making the midpoint $65,384.
"At $65,000, I just think we're going to get a much better person to fill that important job," Sower said.
Mayor Bill May and all commissioners except Commissioner Katrisha Waldridge voted in favor of the higher salary. The ordinance creating the position will have a second, and potentially final, reading at the city's next meeting.
Commissioners Eric Whisman and Scott Tippett said that past and current projects merit the position's creation.
"For some time we've needed someone with expertise to work hand in hand with our property owners and residents," Whisman said. "There are innumerous issues where we've needed that expertise level to do our due diligence … all of that together creates more than what probably one commissioner can do."
Waldridge questioned the current pay grade's high point of more than $79,000. She also asked staff what comparable salaries are in the marketplace.
Interim City Manager Tom Russell said that he and Human Resources Director Kathy Fields researched it and found that the industry standard is near $55,000.
"We should certainly be able to attract the best of the best with that pay range," Russell said.
Whisman indicated that Frankfort's pay would be in the ballpark of what the state pays its historic preservation officer, saying that pay ranges for state historic preservation officers vary from $60,000 to $80,000.
In an extended discussion related to that agenda item, Tippett presented a letter from Philip Mink, an assistant director at the Kentucky Office of State Archaeology.
Tippett said that Mink, Kentucky Archaeological Survey Staff Archaeologist Jay Stottman, Whisman, Frankfort Parks Director Shawn Pickens and Frankfort resident John Carlton have all visited Fort Hill recently to evaluate its historic properties.
A multiuse trail at Fort Hill has been the subject of heated debate since last year. The trail currently goes through an abandoned stone fence. Mink's letter pointed to potential paths forward.
"If mountain biking is permissible on the trail, then that activity would certainly have a major effect to the fences that should be mitigated beforehand," Mink wrote. "While on-site we discussed a couple of options: (1) building a wooden bridge over the stone fence, or (2) removing a small portion of the fence where the trail crosses and then restoring and capping the ends of the fence on either side of the trail."
Tippett indicated that if a historic preservation officer were on staff, the controversy surrounding the park could have been avoided.
"We've finally reached a point here where we can best address all the needs of the community," Tippett said. "(Parks) Director (Shawn) Pickens is now equipped with the appropriate knowledge that will include the expansion of connectivity and trails, which we are all for."
Those comments also were not read at the following meeting, despite being relevant to the consideration of the ordinance establishing the officer position.
Kentucky Capital Development Corp. (KCDC) President and CEO Terri Bradshaw emailed the commission immediately following the Nov. 9 meeting complaining that the comments were not read when they should have been.
"The Board of Commissioners has, as many times, refused to read those comments even though the mayor assured Commissioner Waldridge and the public listeners they would be read at the meeting in which the topic was discussed," Bradshaw wrote.
Those comments — from developer Taylor Marshall, recent city commission candidate Diane Strong and former City Commissioner Robert Roach — were read at the beginning of Monday's meeting.
Other business
May addressed recent comments by philanthropist Richard Rosen about a potential tree plan that Rosen, along with others, was working on.
The city said that it was putting the plan on hold in order to update it.
"We've got a mayor who should be embracing this kind of work … instead he's like a dog walking by a tree lifting up his leg to pee on it," Rosen said.
May addressed those comments during Monday's meeting, defending his history of promoting tree planting across town.
He touted his own record as mayor, citing that Frankfort had won awards for its tree canopy in the past.
"I find it disappointing that people make comments based on innuendo and not fact," May said. "… Any confusion was something that would not have been done through the proper channels and not been contacted through the city. It bothers me when I see false information being put out, and the facts will speak for themselves."
May also criticized former City Manager Keith Parker, whom he and two other commissioners voted to fire in August, for allegedly cutting the tree-planting plan from the city's budget without notifying him.
The city also adjusted an ordinance regarding mask-wearing, allowing for residents to continue wearing masks in perpetuity. The ordinance previously prohibited mask-wearing for the sake of identifying potential criminals, with an exception for those choosing to do so for health reasons.
"After the pandemic, there will be people who continue to choose wearing masks," Frankfort Police Chief Charles Adams said. "We're just cleaning that up to make sure it's not a problem later."
The commission also accepted a donation from Overlook Beargrass LLC for property at Spaghetti Junction, the intersection of East Main Street and Versailles Road. 
The 3.594-acre tract sits across from Green Hill Cemetery and is valued around $930,000, according to Whisman's motion to accept the donation.