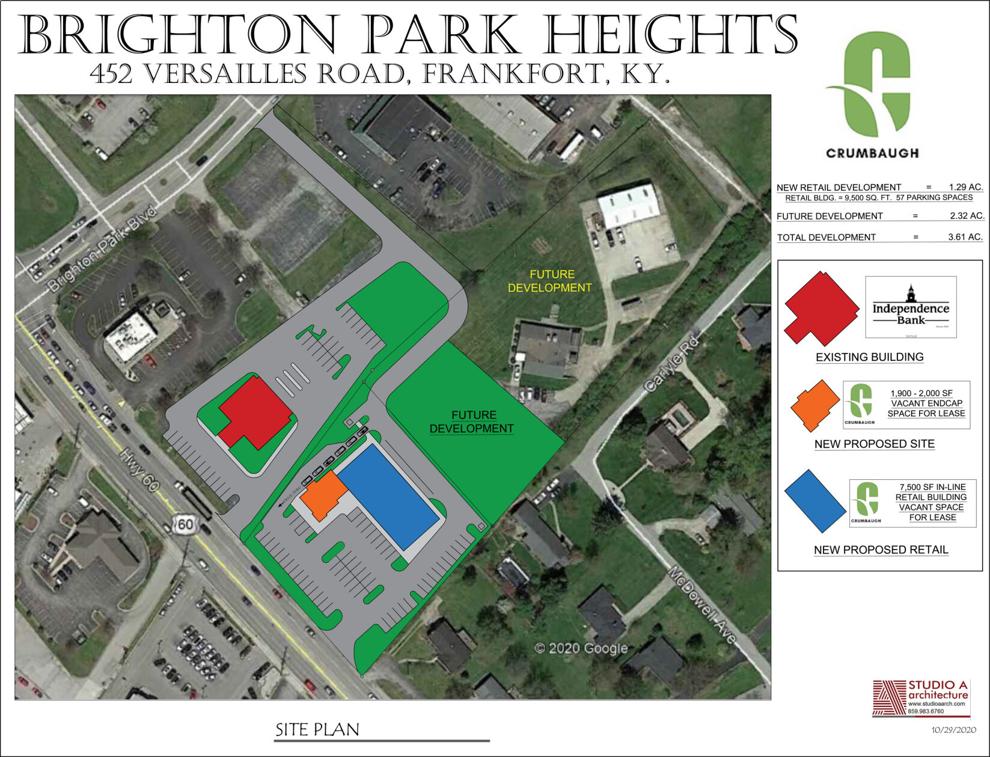 The Frankfort City Commission will have the final say Monday on the rezoning of 3.62 acres on the site of the former Frankfort County Club on Versailles Road.
Last month the Frankfort/Franklin County Planning Commission unanimously approved the zoning change at 452 Versailles Road from Limited Commercial District (CL) to General Commercial District (CG) with the condition that the body must OK all future development plans.
The applicant, Kip Co. LLC of Lexington, is seeking the zoning change in order to add retail frontage on the property, which is located next to Independence Bank.
In its concept plan, the company sought to raze all three structures on the land — the main brick building constructed in 1949, a secondary 5,770-square-foot building and a 3,285-square-foot warehouse — to allow for a 40-unit townhome development on the rear portion of the property.
Neighbors in the area raised concerns about the project and in November, Kip Co. amended its application to rescind a requested zoning change to High Density Multifamily.
"The proposal is to take down the front building, and leave the two back buildings," Charles Jones, attorney for Kip Co. LLC, said at that meeting. "So there are no plans to have the townhomes constructed."
According to Planning Commissioner Keith Lee, the body wanted to add the condition requiring approval of future development plans on the property because it may be phased in and questions regarding storm sewer runoff remain.
"It's right next to a community and I think coming back to this board, the people who are in that area will have an opportunity to speak, see what's coming up and have input on how it's put in," he said at the meeting.
The city commission meeting begins at 5 p.m. Monday. Public attendance is not permitted due to COVID-19. The meeting can be watched on Frankfort Plant Board Cable 10 and the city's Facebook page.
Public comments for agenda items only will be accepted until 4 p.m. Monday by emailing Blair Hecker at bhecker@frankfort.ky.gov