City leaders got a closer look at occupational tax revenue over the past three fiscal years during Finance Director Alicia Boyd's financial analysis presentation at Monday's meeting.
The amount the city collected from state workers fell from $7.75 million in FY20 to $4.8 million in FY21 — a $2.95 million decrease. Boyd said the difference can be traced to spring of last year when state employees began working remotely due to the COVID-19 pandemic.
According to the numbers, the city collected $1.2 million between April 1-June 30, 2020, compared to $2 million for the quarter starting Jan. 1, 2020, and ending March 31, 2020.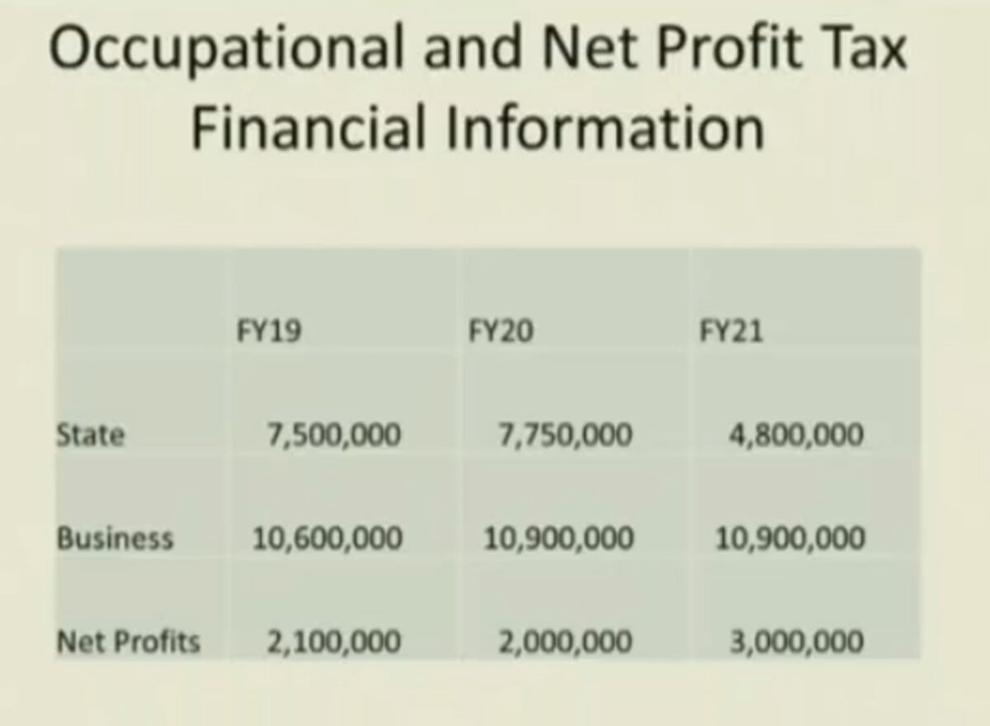 Boyd stressed that the city doesn't know ahead of time how much the state is going to send each quarter.
"We don't want to be so reliant on one employer," Boyd stated. "This is a good conversation to have — not relying so heavily on the occupational tax from the state."
For example, in July the city received $1.21 million and in October it collected $1.37 million from the state — down $1.2 million from the same quarters in FY20. Budget estimates reflect that the city expects to receive a total of approximately $5.5 million in state occupational taxes for FY22, the current fiscal year.
The good news is the city collected the same amount — $10.9 million — in occupational tax revenue from businesses in FY 20 and FY21. In FY19, businesses accounted for $10.6 million.
Commissioner Kelly May pointed out a silver lining.
"From just looking at this data, it looks like this community is sustaining itself on a local level," he added.
Net profits rose from $2 million in FY20 to $3 million in FY21. Net profits for FY19 were $2.1 million.
Boyd noted that in FY21 the city spent $2.5 million in CARES Funding on first responder salaries.
Other General Fund monies spent during FY21 include: $966,000 in small business grants; $100,000 in utility assistance; $15,000 on tourism; $25,000 on the women's emergency shelter; $15,000 to the Salvation Army; $105,000 on the local gift card program; and $25,000 on senior citizens.
The General Fund is considered the city's main fund and is driven heavily by collected taxes. Boyd's comparison of the past three fiscal years saw a $300,000 decrease in revenue from FY20 to FY21 falling from $35.9 million to $35.6 million. In FY19 revenue equaled $35.5 million.
"Our expenditures have gradually increased from year to year to year," Boyd added.
In FY19, the city spent $34.8 million and had an excess of $700,000. The following year the city had an excess of $500,000 and spent $35 million. In FY21 the city had a $906,000 deficit — bringing in $35.6 million in revenue and paying out $36.5 million in expenditures.
The current fiscal year is FY22 and Boyd stressed the importance of building the city's unreserved or carry-forward fund balance. Over the past three fiscal years the fund balance has fluctuated from $17.9 million in FY19; $18.1 million the next year; and $17.2 million in FY21.
"Each excess and deficit directly relates to the (unreserved fund balance)," Boyd explained. "If you consider it from a personal perspective, this would be the savings you might have to bridge the gap between your income and expenses."
She also recommended that the city adopt a rainy day policy for a four-month minimum fund balance — roughly $12 million. Boyd said that, if available, restricted funds should be used first to cover expenditures first and that any funds above the rainy day minimum not used to cover a current fiscal year deficit could be used for one-time purchases or capital asset improvements.
As for the current fiscal year numbers, Boyd estimates $35.6 million in budgeted revenues — including a budget amendment that is set for a second reading at its next meeting. Through October, the city has brought in $13.9 million.
Budgeted expenditures are estimated to be $38 million with $11.6 million spent through October — meaning there is an estimated budgeted deficit of $2.4 million.
American Rescue Plan Act (ARPA) and CARES funds of $3.7 million are included in the budgeted and actual revenues.
"We would be hurting with out the ARPA money," Boyd added.
Important city items include a $1 million donation to the Franklin County Humane Society; $100,000 donation to the women's shelter; a $2.5 million donation to the YMCA; a Request For Proposals for a classification, compensation and benefit study; a 12% increase in pension costs each year through 2028; Parcels B and C and other potential development; increased property tax revenues; potential expenditure reductions; and potential new revenues generated.
"We need to be thoughtful and methodical on what we spend on big ticket items," Boyd said. "We need to be thinking about the future."