Weekend golfers and season passholders will be paying a bit more to tee it up at Juniper Hill Golf Course next year.
On Monday the city commission unanimously voted to approve an increase greens fees for season passes and those who golf on weekends.
"We were trying to find a happy medium from public feedback," explained Frankfort Parks, Recreation and Historic Sites Director Shawn Pickens, who called the rate hike "a modest increase."
Weekday rates will stay the same regardless of whether a cart is leased or the golfer is walking. For adults the rate is $33 to play a round with a cart and $18 for those who walk. Nine holes with a cart for adults cost $20 and walkers pay $12.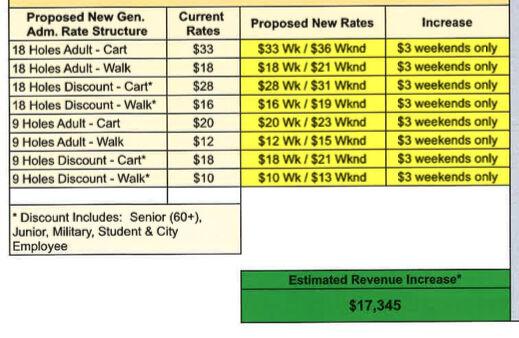 For seniors 60+, juniors, military, students and city employees who qualify for a discounted rate, a weekday 18-hole round with a cart is $28 and walkers pay $16. The nine-hole rate for those who qualify for the discount is $18 with a cart rental and $10 for walkers.
Weekend fees are an additional $3 across the board.
The projected revenue produced by the increase is $17,345, based on the number of rounds sold in 2019.
City leaders also OK'd a hike in season passes. Adults, seniors and those in the military will pay $25 more than last season. A seven-day adult pass will cost $525. Seniors and military members will pay $435. There is no change in the five-day senior pass, which will cost $325.
Students ages 18-24 and city employees can expect to pay $325 for a pass — $50 more and $135 more respectively. There was no increase in season passes for juniors, 17 years old and younger. Junior passes cost $190.
This measure is expected to increase revenue by $8,570.
Season cart rentals rose from $800 to $850 for individuals. Each additional family member can expect to pay $325 — a $100 hike. A five-day cart pass costs $700 — a $50 increase.
This could raise an additional $3,600 in projected revenue.
"You can never make everyone happy," said Commissioner Kyle Thompson. "I hope this is a means to an end at some point and I'm happy to see we're reviewing things after a few years of not (reviewing costs)."
In 2019, Juniper Hill Golf Course lost roughly $350,000. Last month, the city asked local golfers for their opinions on ways to save money on the municipally-owned course with the hope of gaining $50,000 in revenue over the next year or two.
"We're not trying to close the $50,000 gap just in fees," he said Monday night. "We're not going to put it all on the consumer."
Even with the increases, the rates at Juniper Hill are considerably lower than other nearby courses in Shelbyville, Scott County and Lawrenceburg.
"I support this 100 percent," added Mayor Layne Wilkerson who likened the rate hikes to inflation. "This is just barely keeping up with where we should be."
Pickens also identified other policies and procedures that could potentially help decrease the deficit. Those include:
• receiving bids to move to an online tee time system;
• working on limiting no-shows for tee times;
• limiting the number of rounds for cart leases;
• requiring two people per cart when necessary;
• running various specials from time to time;
• limiting the number of events/benefit scrambles to reduce impact on daily play availability;
• looking into buying off state contracts;
• updating pro shop, deck areas and social room;
• looking at potential amenity upgrades, such as a driving range or function space;
• working towards rebuilding greens throughout the course;
• increasing marketing efforts and outreach;
• working with local hotels and restaurants for specials;
• managing golf cart usage better;
• looking into the possibility of allowing private carts;
• budgeting and planning for new carts in the next one to two years;
City Manager Laura Hagg said these items will help increase efficiency and lower costs as well.
"I'm probably more excited about what we can do to enhance the golf course," Commissioner Leesa Unger stated.
In other business, city leaders unanimously approved a request for staff to begin negotiations to enter into an agreement with the Lexington Recycle Center to accept recyclable materials.
City staff recommended to continue using the Lexington Recycle Center after touring that facility and competitor Westrock. Not only is Lexington closer, but it also charges a hauling fee of $75 less per load.
"Franklin County has a contract with Lexington through 2023. We thought it'd be viable to stay with Lexington," Hagg explained.
Unger agreed and said the move is in the best interests of local residents.
"It's the best financial decision for the city right now," she added.
The Lexington Recycle Center will begin collecting glass recyclables early next year and is expected to restart paper recycling in the spring. Hagg stated that city and county staff will reach out to the public once glass and paper recycling begins in earnest.
"I'm excited for the day when we can recycle everything at the curb," the mayor said. "This is a start in the right direction."