Editor's Note: A previous version of this article stated that comments regarding the proposed trail along Schenkel Lane could be mailed to 215 W. 2nd St., Frankfort, KY. The correct address is 215 W. 2nd St., Frankfort, KY 40601.
A trail meant to enhance connectivity to Cove Spring Park and increase the walkability of Schenkel Lane could be in the works if the city of Frankfort receives grant funding from the state.
The trail would run along a stretch of Schenkel Lane, a primary entrance to the Indian Hills neighborhood, from the Thornhill bypass to Northwood Road, according to city Public Works Director Katie Beard. 
The city recently sent out a survey for citizens to express support for or opposition to the trail. City Grants Manager Rebecca Hall said the Federal Highway Administration grant applied for through the state Department for Local Government would cover $250,000 of the project.
The city's match is $50,000. Approval to apply for the grant was unanimous by the city commission.
WalkBike Frankfort President Diane Strong said that the trail, an 8-foot-wide paved path, would greatly benefit parks access and quality of life in the nearby neighborhoods.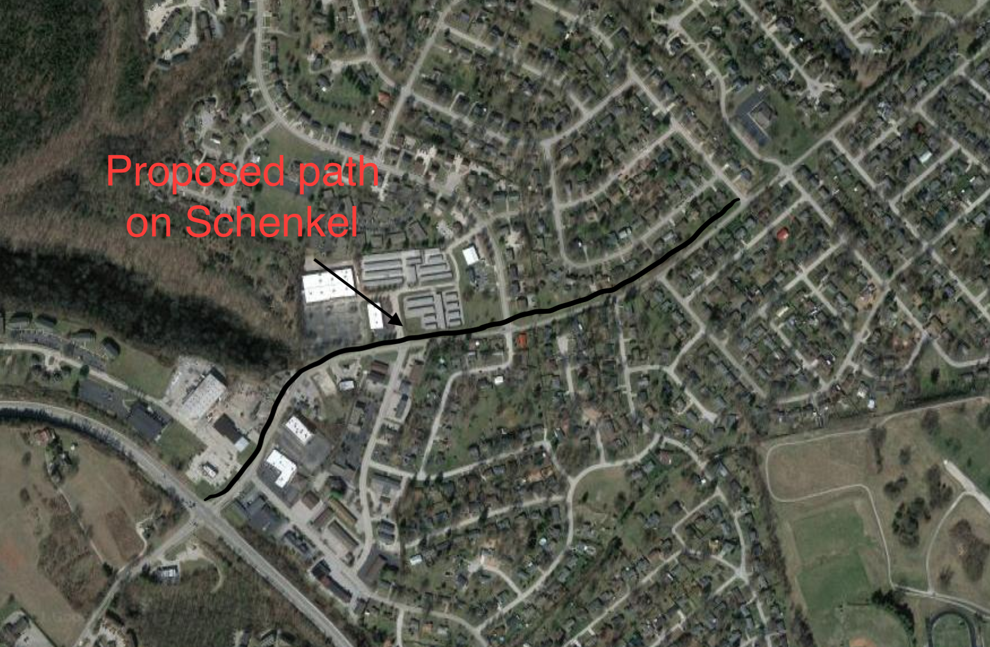 "That is a section of trail that is on the WalkBike master plan to improve connectivity of all the parks," Strong said. "That section will give access to the top of Cove Spring, where there's a connecting trail that comes out at the top of Schenkel Lane."
The "shared path" would be traversable by foot and by bicycle, Strong said.
Previous State Journal reporting showed that residents nearby wanted sidewalks northward along Schenkel, where sidewalk access stops at Comanche Trail.
Beard said that she has fielded several requests for sidewalk access along Schenkel, and that this path could be a significant step forward in that regard.
"We get a lot of requests for sidewalks, and we'd ultimately like to have something all the way to Steadmantown Lane," Beard said. "With this grant, we're looking at replacing the idea of a sidewalk with a shared path there."
Beard said that her department's roughly $250,000 budget for sidewalks most often prioritizes existing walkway repairs, leaving little room to consider expansion.
Beard said that while an official study has not been done, her staff believes the $300,000 would be enough to create the path from Schenkel all the way to Northwood Road.
Strong said she hopes the trail will eventually help connect the neighborhoods to Lakeview Park as well.
Hall said that her office will finish and submit its grant application by May 30. She added that in a typical year, this specific grant program lets municipalities know whether they have received grant funding in the Fall.
In late 2016, the city completed a four-year, three-phase installation of sidewalks on the opposite side of Schenkel Lane from Thornhill Bypass to East Main Street. That project also included a pedestrian bridge.
Citizens wishing to comment can fill out a version of the form attached to this article and send it Rebecca Hall, at 315 W. 2nd St., Frankfort, KY 40601 by May 30.