It was a clean sweep for history as the Frankfort chapter of the Daughters of the American Revolution volunteered at the historic Sullivan House on Fort Hill on Wednesday. Four volunteers swept, dusted, mopped and cleaned windows for about two hours on the chilly morning.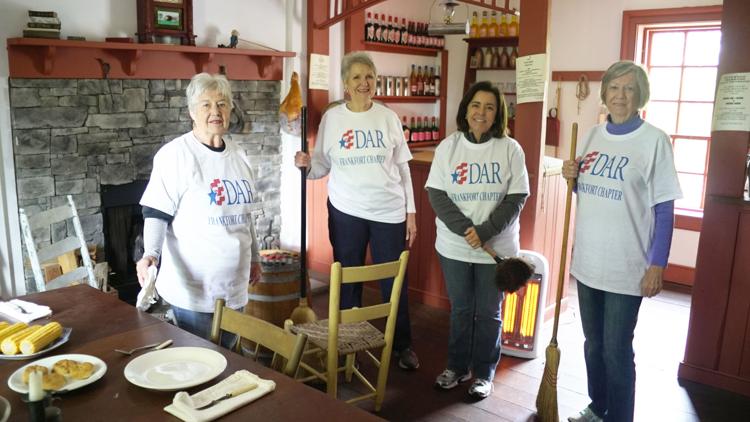 The Sullivan House was built in 1810 and originally stood around eight miles away in the Peaks Mill area. The Sullivan family lived there from the early 19th century to the end of the 20th century when Theodorick Noe Sullivan died in 1995. He was the last family member to reside in the farmhouse.
The Sullivan farm became a nature preserve operated by the Kentucky Department of Fish and Wildlife. The department decided to demolish the old house, but workers were surprised to find the house was made of historic log when they tore off the siding.
"They stopped the demolition and looked around for who might want it," said Mike West, who currently maintains the Sullivan House and welcomes visitors annually between May and August.
Frankfort Parks, Recreation and Historic Sites obtained the house and it was moved to its current site in early 2000. It now serves as the visitor center of the Leslie Morris Park on Fort Hill.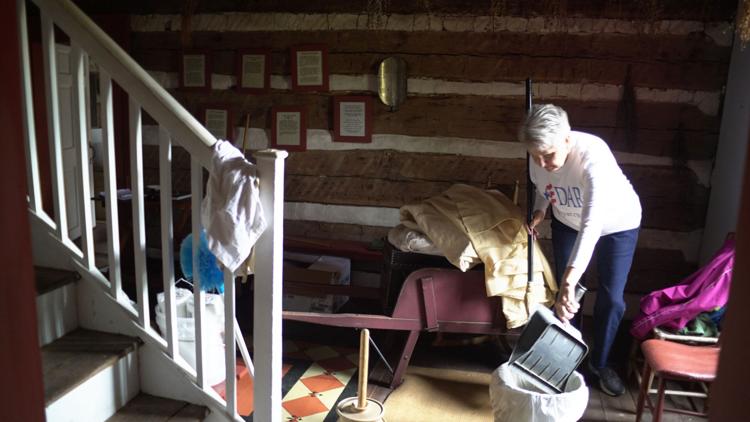 West said the home was reimagined as a 19th century inn, tavern and general store. "You can go anywhere you want and see a farmhouse from 1800," West said. "But we're able to teach more about the time." The redesigned house features an upstairs loft with two beds, and a faux saloon and sundries shop downstairs.
West estimates the Sullivan House receives around 2,000 visitors during its open season each year.
"Just like any house, it's going to get dusty," said DAR volunteer Kathy Carter as she stood in a shaft of sunlight holding a broom. "We plan on coming here once a month."
The cleanup project was initiated when City Commissioner John Sower spoke at a DAR meeting earlier this year. DAR members were looking for a community service project. Sower was looking to help preserve the old house.
Throughout the year, a handful of other groups have also pitched in a couple hours to keep the property clean. One organization, the Frankfort Explorer Scouts, uncovered the foundations of a once-prosperous dairy farm, milking parlor and old front porch.
"I love the history of this place," West said.
What does he think about the Daughters of the American Revolution coming to help?
"I think it's great," West beamed. "This is fantastic. I want more people to know about this place."