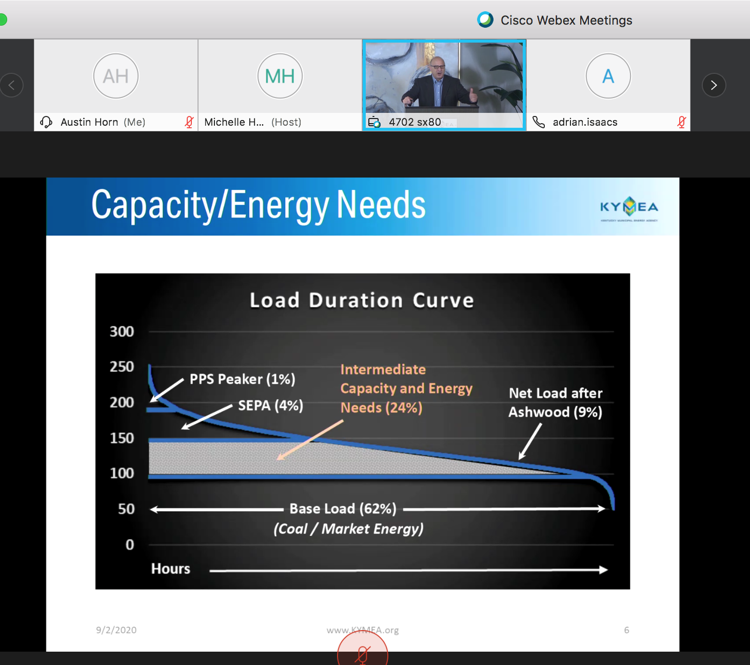 Editor's note: This article was updated on Thursday Sep. 10, 10:23 a.m. to add information on KYMEA's efforts to advertise its IRP Focus Group.
The meeting, which was attended virtually by just over 20 people, provided an update on the analysis that KYMEA is doing as it develops its IRP.
KYMEA is currently responsible for developing agreements with power suppliers to purchase capacity and energy for its members, including the Frankfort Plant Board (FPB).
FPB began purchasing its electricity from KYMEA last year after becoming an "All Requirements Member" in August 2016. 
KYMEA President and CEO Doug Buresh led the agency's presentation on its outlook for the future and potential decision markers moving forward.
One topic addressed by both Buresh and members of Envision Franklin County, who provided most of the public comment at the more than three-hour meeting, was coal. Coal, an affordable but declining-in-use fossil fuel, is the primary energy source used KYMEA. Buresh said KYMEA's power purchase agreement with Vistra, a company that operates coal plants in Illinois, will end in mid-2022. 
"The KYMEA has a unique opportunity to reduce its exposure to climate risk if it chooses not to invest in any additional fossil fuel resources," Chris Schimmoeller, president of Envision Franklin County, wrote. "Fortunately, the KYMEA has lower-cost, zero-carbon options available, including solar, wind, battery storage and demand-side management."
The utility also uses Big Rivers D.B. Wilson coal plant to provide the same amount of energy, 100 megawatts (MW), that Vistra provides.
Buresh's presentation highlighted several purported risks of relying too heavily on solar energy, citing California's energy crises, while also noting that KYMEA will begin using a solar site in far-western Kentucky in December 2022. That site, Ashwood I, will constitute 9% of the agency's total power.
Schimmoeller and Andy McDonald repeatedly asked for the agency to aim for converting to a zero-carbon-emission, 100% renewable power supply by no later than 2030.
"We've run that scenario," Buresh said. "It's a very expensive proposition and very risky … that's a very aggressive goal and no one is really considering that."
Buresh said that maybe KYMEA could consider that route later — potentially in 2050. He also said that Kentucky is not geographically suited for the generation of either wind or solar.
Buresh presented a "balanced portfolio" that touted "least regrets planning" as a way to balance the costs and risks of supplying power.
In the proposed balanced portfolio, Buresh said that the agency would easily meet the Obama administration's 2015 Clean Power Plan targets for the state of Kentucky in terms of CO2 production. He also said that its CO2 production would drop much closer to that proposed in a net-zero carbon plan.
McDonald criticized the agency's potential to enter into new contracts, as he pointed out that it has 60 megawatts of excess capacity. McDonald, who along with Schimmoeller and former FPB Vice Chair Walt Baldwin has been a continual voice advocating for green energy, also complained about the utility's efforts to make citizens aware of the "focus group" meeting.
"I believe the KYMEA needs to make a greater effort to solicit public input before finishing their IRP or signing new power contracts," McDonald said. "I am not aware of any advertising or promotions they did about this meeting, beyond their website, and the website did not make it clear how to participate in the meeting."
In response to McDonald's criticism, a representative from KyMEA later reached out to the State-Journal to point out that the agency submitted notices advertising the meeting in the State-Journal on Aug. 11 and 16 as well as the Courier-Journal on Aug. 12 and 16.