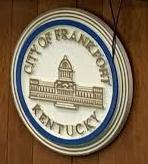 The Frankfort City Commission on Monday discussed ways to help city employees and the community due to the COVID-19 crisis.
The city commission also voted unanimously to approve a municipal order allowing three weeks of sick leave for city employees and 12 weeks of Family and Medical Leave Act (FMLA) leave that will secure a city employee's job in the event the person has to take an extended leave of absence due to a COVID-19 diagnosis.
Twelve weeks of FMLA is already guaranteed under federal law, but the order allows emergency FMLA and emergency paid sick leave due to COVID-19.
The municipal order is in response to the Families First Coronavirus Response Act. The federal government is requiring all cities to adopt the act by April 2.
City Solicitor Laura Ross said the city can be more generous with leave policies as they see fit.
The order originally allowed two weeks of emergency paid leave, but City Commissioner Eric Whisman made a motion to add an additional week so if a city staff member were diagnosed with COVID-19, the person could have an extra week to recover if needed.
Commissioner John Sower voted against the amendment, but ultimately voted in favor of the order.
"Two weeks would be sufficient and we could always change it later if it becomes a problem," Sower said. "But I think it's efficient the way it's written."
City commissioners also discussed the city's response to COVID-19 and what can be done to help small businesses.
Ross said she's already been researching ways for the city to do this through the Kentucky League of Cities.
"If we can do anything to help these folks, we should," Commissioner Scott Tippett said.
Whisman said in addition to small businesses, local shelters and food pantries are already struggling.
"I think we need to act immediately to put a pot of money aside to assist the local shelters and purchase food to distribute to the community and use those avenues we already have established in town to support our citizens," Whisman said.
Whisman suggested the city commission consider setting aside $100,000 in the event shelters need the money to purchase food for the community.
Some shelters are already seeing a decrease in food donations, he said.
Frankfort-Franklin County Emergency Management Director Tommy Russell assured the city commission that there is enough food in the supply chain to keep everybody fed and he has someone on his staff dedicated to food.
Waldridge said she agreed with Whisman and would like the city to be proactive in the event the shelters need access to some emergency funds.
"We want our community to feel safe and that the city is doing what needs to be (done)," Waldridge said.
City Manager Keith Parker said he would need another week to determine how much funds are available for a budget amendment. He expects the city will see a reduction in occupational tax revenue due to so many city businesses having to close or reduce operations due to COVID-19.
Mayor Bill May assured the city commission that Russell and the rest of the emergency management team have been working hard to make sure everything is in place to keep the community safe.
"We do have this under control," May said. "We want the community to know that our emergency management folks and myself, we've all passed certain certifications to do what we're doing. We've had to pass a test … . So a lot of training that we received then, we're applying now."
For more information about the city and Franklin County's response to COVID-19, visit franfortema.org or call 502-352-2118. The state also has a COVID-19 information website and hotline at kycovid19.ky.gov and 1-800-722-5725.