As an eighth generation farmer, the former chair of the Scott County Board of Education, and an active community member, I am the only candidate for Agricultural Commissioner who truly speaks for Kentuckians. I have spent the last few months travelling across the state listening to rural and urban communities and farmers whose lives have been affected by corporate monopolies. I've been all across this Commonwealth and I've seen firsthand the impact that unfair marketing practices have on our family farms. What have I discovered in talking to my fellow farmers? They want an Agricultural Commissioner who represents and understands them. Someone who has spent his life caring for his land, growing food for his family, and working hard to survive in an uncertain market. We're losing small farms like never before. Our great state needs someone who will do everything in his power to protect small farms from corporate attacks. 
Unlike my opponent, I do not accept donations from huge corporations like Monsanto and Syngenta. In fact, until last month my campaign was completely self-financed. I will not succumb to corporate lobbies and special interests. Unlike my opponent, I have not been given $360,000 from companies expecting me to advocate on their behalf. Instead, my donations come from hard-working folks who believe in the power of a grassroots campaign. I hope to reach as many people as I can to win this election and fight for the farmers I know and love.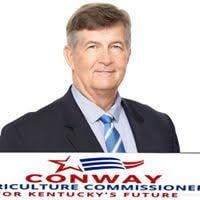 Kentucky's acclaimed reputation as a leading producer of agricultural goods has distinguished us from other states. We have a long history of feeding and providing for this great nation, but we cannot continue to do so if our farmers lack the support they need to thrive. The current Department of Agriculture discourages farmers from entering the trade by misallocating federal funds and emphasizing predatory loans. I will prioritize transparency and make sure our loans do not force Kentucky farmers into bankruptcy. The average farmer makes just over $10,000 a year. With such low revenue, our farmers cannot bear the additional financial burden caused by high interest loans. 
I understand the enormous financial stress farmers are under today. I have experienced it firsthand. I am the only candidate calling for the legalization of medical marijuana. I want to revive the small farming industry by introducing a cash crop that would change the landscape of Kentucky agriculture. Hemp is a wonderful first step, and I will continue to expedite the licensing process so that everyone gets to reap the benefits of this important plant. But I know the additional benefit legalizing medical marijuana would create for folks struggling with chronic pain. A dear friend of mine suffers from stage four cancer, and she has implored me, on so many occasions, to fight for her right to use medical marijuana to alleviate pain, and I reaffirm this commitment to all my fellow farmers and Kentuckians; I will fight for your right to grow and use marijuana for medical purposes. 
Unlike my opponent, I am not running to climb the political ladder. I am running to fight  for the issues I believe in. I am running to ensure every Kentucky farmer has access to capital. I  am running to protect our family farms from corporate control. Mostly, I am running because I believe in Kentucky's future as a farming powerhouse. 
Paid for by Conway for Agriculture Commissioner, David Davila, Treasurer