COVID-19 has claimed the life of another Franklin County resident, health officials said Monday.
Franklin County Health Department Director Judy Mattingly said during a weekly media briefing by city and county officials that a 74-year-old male died last week, becoming the county's 17th coronavirus-related death.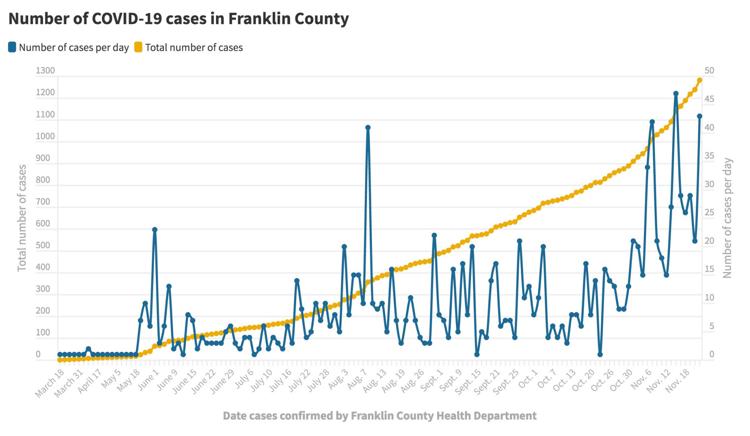 The number of Franklin Countians diagnosed with the coronavirus also continues to increase. On Monday, the health department confirmed 43 new cases.
A total of 1,283 county residents have tested positive for the virus since the start of the global health pandemic in March.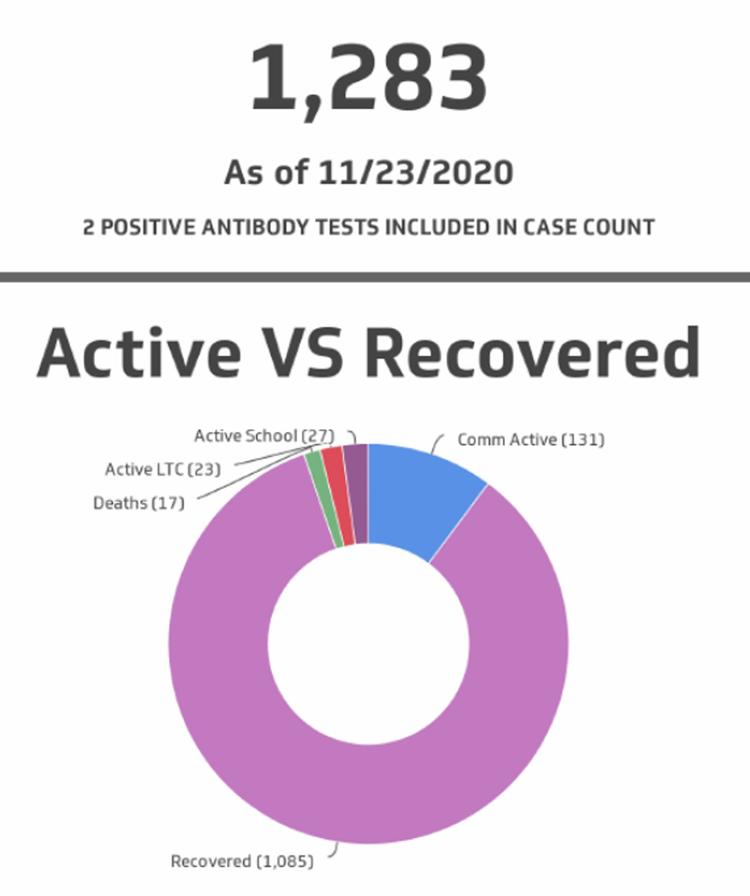 "Our testing positivity rate is the highest it's ever been," Mattingly said.
The state's current incidence rate map shows Franklin County is still in the red zone, the most severe, and the average new daily cases per 100,000 population is 38.9.
Currently, 181 cases are active, including 131 in the community, 27 in schools (K-12 and college students and staff), and 23 in local long-term care facilities.
Two of the four county residents hospitalized with COVID-19 are in the intensive care unit, according to Mattingly.
"We're seeing more symptomatic cases too," she said, adding that in August roughly 60% of patients reported symptoms compared to about 76% in November.
FCHD also reports that 1,085 residents have recovered from the virus.
Mattingly said that a coronavirus vaccine will likely be available to the community next year and that first responders would be among the first to receive it.
"With the vaccine being so close, we all need to bear down," stated interim City Manager Tommy Russell. "The end seems near with the vaccines being promised."
Mattingly also reminded residents that the next drive-thru COVID-19 testing events are planned from 2-6 p.m. on Tuesdays, Dec. 1 and Dec. 15, at the Public Health Center on the East-West Connector. Registration opens at 8 a.m. the Friday before testing day. Register online at fchd.org; click on the teal button.
Those with transportation needs are urged to call the FCHD clinic at 502-564-7647 to discuss options with staff.
The health department will be closed Thursday for Thanksgiving.
"If anyone has an urgent COVID need on Thursday, someone will be monitoring the COVID messages," FCHD Deputy Director Brittany Parker said.
To leave a message, call 502-564-7647 ext. 126. Calls will be returned Friday.
"If you test positive and know you are positive, please go ahead and self-quarantine and contact your contacts to quarantine until someone from the health department reaches out to you," Parker added.
Local leaders stressed the importance of adhering to the governor's coronavirus guidelines this Thanksgiving by not gathering in large groups indoors.
"We understand this is a different Thanksgiving — a more different Thanksgiving than anything we've ever had before," said Judge-Executive Huston Wells. "Look on the sunny side of life and find something you can be grateful for."
They also preached proper social distancing, wearing facial coverings and proper hand-washing.
"Think of others," said Frankfort Mayor Bill May. "It's not that much to ask people to wear a mask."
Mattingly also reminded residents that the health department administers flu shots.
"Let's not forget that flu leads to many deaths annually," she said.