The number of confirmed COVID-19 cases in Franklin County rose by five Wednesday.
The new cases, reported by the Franklin County Health Department, bring the county's total to 524 since the pandemic began in March.
Local deaths attributed to the virus remain at 14; 439 people who tested positive for the virus have recovered.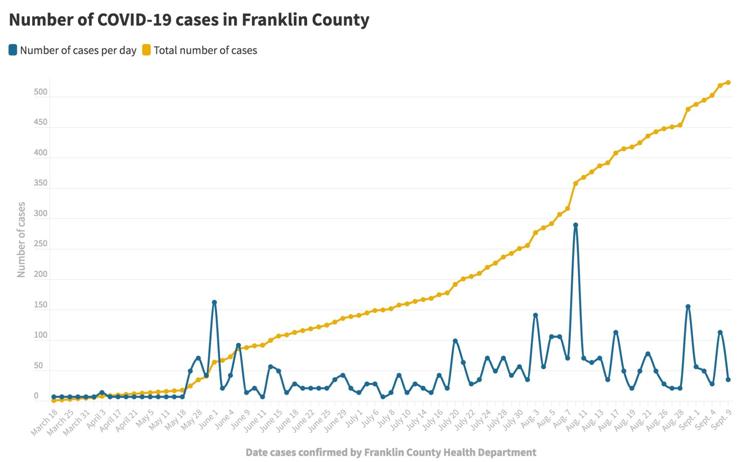 The age group with the largest number of confirmed cases in the county is 20-30 with 101 cases. Ages newborn to 19 have had 87 confirmed cases, and the 31-40 age group has had 72 cases.
Gov. Andy Beshear announced Wednesday the state has gone over 1,000 deaths attributed to COVID-19.
The 16 new deaths reported put Kentucky at 1,004.
Beshear has directed that flags at all state office buildings be lowered to half-staff for one week as a tribute to those who have passed away because of virus.
"I am ordering that flags at all state office buildings be lowered to half-staff for one week beginning tomorrow," he said. "Families across Kentucky are hurting as a result of the tragic losses brought by this pandemic. We are lighting our homes and businesses green and ringing our bells daily for these victims, but this is one more way we can show our support for these members of our community as they mourn their loved ones."
Flags at state office buildings should be lowered to half-staff beginning at sunrise on Thursday and remain there until sunset on Wednesday, Sept. 16.
The weekly White House report has Franklin County in the yellow zone for a testing positivity rate between 5% and 10%. Counties in the red zone have a positivity rate of 10% or over. Over 50% of Kentucky's counties are in the red or yellow zones.
For the second day in a row, the state's positivity rate was under 4% at 3.84%.
There were 667 new confirmed cases announced Wednesday by Beshear for a statewide total of 53,977 since the pandemic began.
There are currently 558 Kentuckians hospitalized, with 153 in ICU and 76 on ventilators.