COVID-19 has claimed the life of a 15th victim in Franklin County.
The health department reported Monday that a 78-year-old man died from the virus.
"This is a reminder to all of us that the virus is still very much here," said Franklin County Health Department Director Judy Mattingly.
"We must, must, must wear our masks."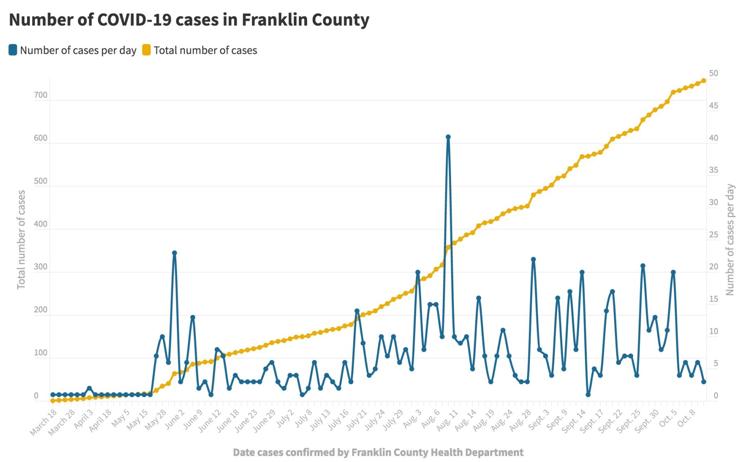 She also said that three new COVID-19 cases were recorded over the weekend and four additional cases on Monday.
A total of 746 Franklin Countians have tested positive for the virus since the pandemic began seven months ago. There are 62 active cases and 665 patients have recovered.
Mattingly also announced two upcoming COVID-19 testing dates: 9 a.m. to noon on Tuesday, Oct. 20, and Tuesday, Oct. 27, at the Public Health Center on the East-West Connector. She said FCHD strategically planned those dates for testing for those who may have traveled during the schools districts' fall break last week. 
Registration is required and starts the Friday before the testing dates. To register online, visit fchd.org and click on the blue button for COVID-19 testing.
FCHD is also administering flu shots on Fridays at its clinic building, 100 Glenns Creek Road. Registration is required and can be done by clicking the green button on the health department website or by calling 502-564-7647.
Gov. Andy Beshear gave his daily press briefing from the Governor's Mansion on Monday after he and his family were possible exposed to COVID-19 by a driver who tested positive over the weekend. None of the Beshears has tested positive, but the family is quarantining.
He reported 643 new coronavirus cases statewide — the largest number of cases ever announced on a Monday — bringing the total number of Kentuckians ever diagnosed with the virus to 80,930. Of the newly confirmed cases, 94 are in children 18 and younger.
"Our escalations continue," the governor said. "We've gotta do better."
Currently 672 state residents are hospitalized with COVID-19; 180 are in the ICU; and 93 are on ventilators.
Beshear also confirmed three new deaths. A total of 1,255 Kentuckians have died since the start of the pandemic.
The state's testing positivity rate is 4.37%.
"We're happy that it's under 5%, but we need to continue to push that down," the governor added.