Editor's Note: This article was updated at 1:22 p.m. on May 28 to name the long-term care facilities impacted by COVID-19 and to update the number of cases from 36 to 35 after the health department provided new information. This article was updated again at 3:34 p.m. on May 28 to include a statement from Frankfort Care and Rehabilitation. This article was updated again at 12:54 p.m. on May 29 to include a statement from Bradford Square. 
Franklin County's COVID-19 case count grew by 10 late Wednesday, bringing the county total to 35, according to a Thursday press release from the Franklin County Health Department.
This is the largest one-day spike of confirmed COVID-19 cases Franklin County has seen since the pandemic hit the community in March.
Two local long-term care facilities have been hit by the virus. To date, four facility employees and six residents have tested positive for COVID-19. 
According to the state, Bradford Square Care and Rehabilitation Center, 1040 US 127 South, and Frankfort Care and Rehabilitation, 117 Old Soldiers Lane, have had confirmed positive cases of COVID-19 as of Wednesday.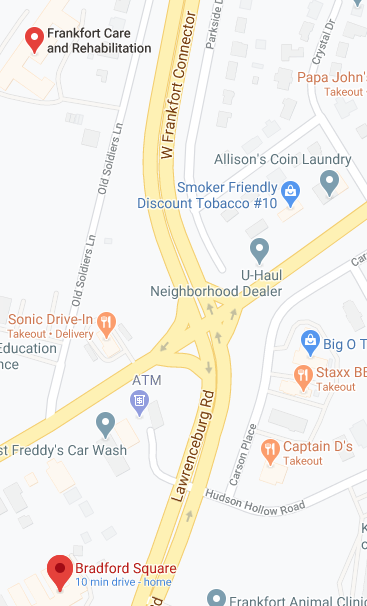 "At Frankfort Care and Rehabilitation, the health and well-being of residents and staff are our highest priority amid the COVID-19 (coronavirus) pandemic," said facility spokesperson Ashley German. "Frankfort Care and Rehabilitation has closely followed Centers for Disease Control and Prevention (CDC) and the Kentucky Department for Public Health recommendations while implementing all guidelines and protocols since early March."
According to German, comprehensive COVID-19 testing was completed at the facility on May 21 and 22.
"Frankfort Care and Rehabilitation currently has three confirmed COVID-19 positive residents in isolation that are being monitored 24/7," German said. "Out of an abundance of caution, residents with any symptoms that could be related to COVID-19 are being treated as if positive."
The facility is continuing to prohibit visitors and non-essential healthcare personnel from entering the building. Essential personnel are being screened for the virus before, during and after their shift. Group activities have also been suspended and residents are being kept in their rooms.
"We have prepared for the possibility of coronavirus appearing in our facility and have provided clear guidance for our staff in responding to and controlling the spread of illness," Executive Director Jeff Stidam said. "We are working diligently to protect our residents and staff."
Lori Mayer, a spokesperson for Bradford Square, told The State Journal on Friday that the facility had one positive case of COVID-19 on April 23. The patient recovered on May 3. 
"We were in constant communication with the local and state health departments during this time," Mayer added."... Since that time, we have completed full house screening with all negative results two weeks ago. We have also continued with Zoom calls for the families twice a week to keep them up to date."
Of the total 35 cases, 18 are active and 17 victims have recovered. Only five of the county's COVID-19 victims have been hospitalized with two patients requiring a stay in the intensive care unit.
No one has died due to complications from the virus in Franklin County as of Thursday afternoon.
"FCHD is continuing to work with the Kentucky Department for Public Health, Frankfort Regional Medical Center, Franklin County long-term care facilities and Frankfort-Franklin County Emergency Management to identify and contact all those who may have come in contact with infected persons," the release reads.
If you are not contacted by FCHD or by the long-term care facilities, you are considered having no more risk to contract COVID-19 than the general public at this time.
If you have a loved one in a long-term care facility that is experiencing a COVID-19 outbreak, the facility has likely already notified you or you will be notified soon.
"Franklin County LTC facilities are continuing to work diligently to ensure the safety of staff and residents," according to the release. "These facilities are applauded for their fast reaction and thorough testing of both staff and residents to help contain and mitigate the spread of COVID-19 among our most vulnerable populations."
The 10 new cases are a 22-year-old woman, 42-year-old man, 47-year-old woman, 50-year-old man, 53-year-old woman, 61-year-old man, 82-year-old woman, 87-year-old man, 87-year-old man and 88-year-old woman.
Two of the confirmed 35 cases are positive antibody tests, meaning someone has had the virus in the past.
"The increase in cases was also due to the increased drive-thru testing opportunities that have occurred in our county," FCHD Director Judy Mattingly said. "Community members, whether or not they are experiencing symptoms, are encouraged to utilize available testing options."
FCHD will host a free drive-thru testing event on Wednesday from 9 a.m. to 4 p.m. at the Public Health Center at 851 East-West Connector. This event is for adults-only and by appointment only at fchd.org/COVID19testing.aspx.
Parents of children in need of a COVID-19 test are asked to contact their primary care provider or a local urgent care facility.
For information about COVID-19, contact the COVID-19 community hotline at 1-800-722-5725. Those sick and in need of medical attention should contact their health care provider or the hospital before visiting for additional directions.
FCHD encourages everyone to follow social distancing and mask guidelines when in public to help mitigate the spread of the virus.