With the addition of 21 confirmed cases of the coronavirus on Friday, the Franklin County Health Department has reported 129 cases since Monday.
On Thursday, the health department reported 29 new cases of the virus in addition to 26 cases that were announced Wednesday, 24 recorded on Tuesday and 29 confirmed on Monday.
There are 204 active cases of COVID-19 in the county. That number includes 159 cases in the community, 31 in schools (K-12 and college) and 14 in local long-term care facilities.
Since the global health pandemic began in March 1,240 Franklin Countians have tested positive; 1,020 have recovered and 16 have died.
With 10 days left in November, the FCHD has recorded 341 cases of the coronavirus.
The state's current incidence rate map shows Franklin County is still in the red zone, the most severe, and the average new daily cases per 100,000 population jumped from 25.5 on Thursday to 35.9 on Friday.
The health department will be closed Thursday for Thanksgiving.
"If anyone has an urgent COVID need on Thursday someone will be monitoring the COVID messages," FCHD Deputy Director Brittany Parker said.
To leave a message call 502-564-7647 ext. 126. Calls will be returned Friday.
"If you test positive and know you are positive, please go ahead and self-quarantine and contact your contacts to quarantine until someone from the health department reaches out to you," Parker added.
FCHD will be conducting drive-thru COVID testing on Dec. 1 and Dec. 15, both Tuesdays, at the Public Health Center on the East-West Connector.
Testing will be 2-6 p.m. each day, and registration opens at 8 a.m. the Friday prior to the testing date. Register online at fchd.org, click on the blue button.
People with transportation barriers are urged to call the FCHD clinic at 502-564-7647 to discuss options with staff.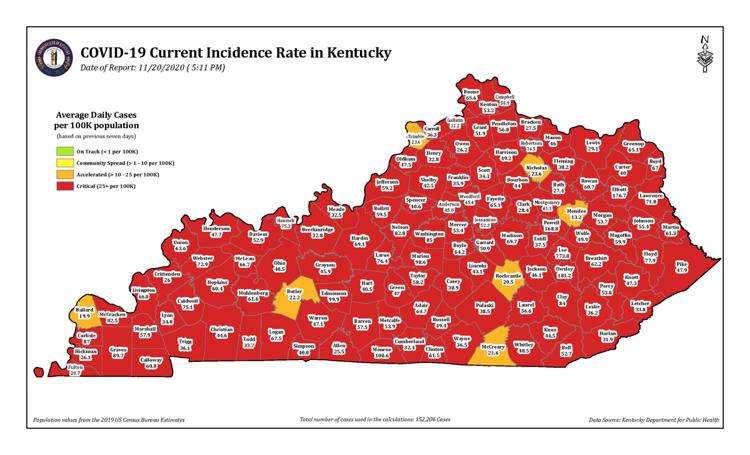 Gov. Andy Beshear's office announced 3,825 new COVID-19 cases on Friday — breaking Thursday's single-day case record by nearly 200 cases.
"This is exponential growth. It is shattering records over and over until we stop it. That's why we are taking action – we have to," Beshear said. "We've got more than 10,000 students quarantined right now just based on the last two weeks alone. We've got to do so much better."
As of 4 p.m. Friday, 1,544 state residents were hospitalized with the coronavirus with 366 in the ICU and 188 on ventilators.
The total number of Kentuckians ever diagnosed with the virus is 152,206.
"We've got new restrictions in place to help us slow down this speeding train and prevent avoidable death," the governor added. "Remember, your decisions are going to be what determines how many people live or die. Do your part."
Beshear also reported 20 newly confirmed COVID-19-related deaths, bringing the total number of Kentuckians lost to the virus to 1,762.
The state's testing positivity rate is 9.15%.