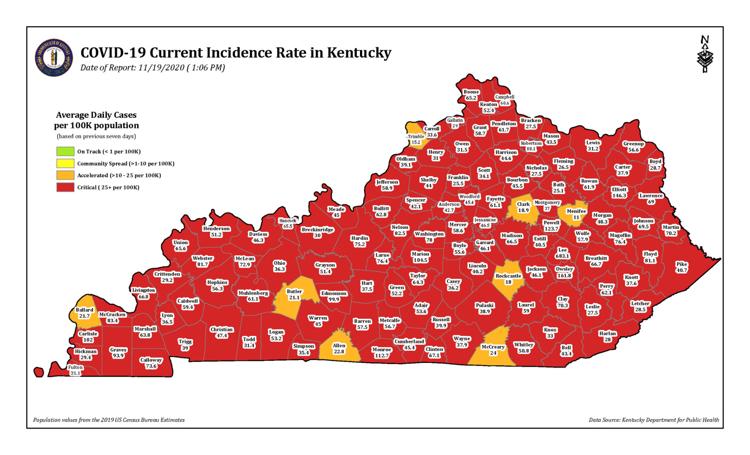 The Franklin County Health Department has confirmed 108 new cases of the coronavirus just since Monday.
On Thursday, the health department reported 29 new cases of the virus in addition to 26 cases that were announced Wednesday, 24 recorded on Tuesday and 29 confirmed on Monday.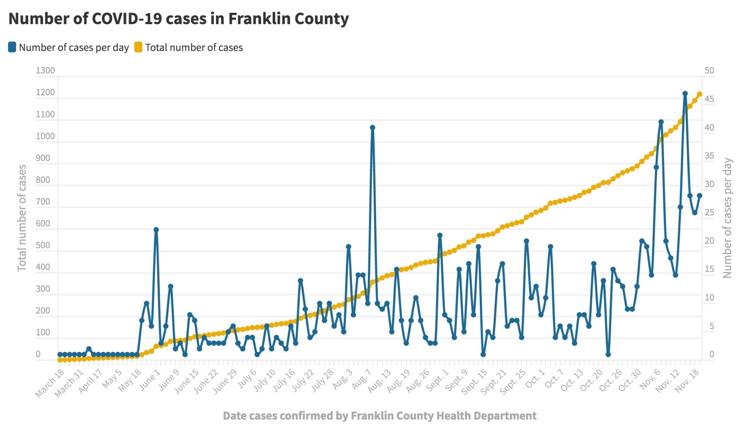 Currently 196 COVID-19 cases are active. That number includes 153 in the community; 30 in schools (K-12 and college) and 13 in long-term care facilities.
Ten Franklin Countians are hospitalized with the virus and one patient is in the intensive care unit.
Since the start of the pandemic eight months ago, 1,219 county residents have tested positive for the coronavirus.
"So far in November we have reported 320 cases — our highest month by far," FCHD Deputy Director Brittany Parker told The State Journal. She said the second highest monthly case total was 223 in August.
Deaths from COVID in the county remain at 16.
The state's current incidence rate map shows Franklin County is still in the red zone at 25.5 average new daily cases per 100,000 population.
FCHD will be conducting drive-thru COVID testing on Dec. 1 and Dec. 15, both Tuesdays, at the Public Health Center on the East-West Connector.
Testing will be 2-6 p.m. each day, and registration opens at 8 a.m. the Friday prior to the testing date. Register online at fchd.org, click on the blue button.
People with transportation barriers are urged to call the FCHD clinic at 502-564-7647 to discuss options with staff.
Kentucky set a new single-day record for confirmed COVID-19 cases on Thursday.
Gov. Andy Beshear announced 3,649 new cases, bringing the total number of Kentuckians diagnosed with the virus since March to 148,390.
"This is a staggering high number of COVID-19 cases," Beshear said.
Currently, 1,550 state residents are hospitalized, including 358 in ICU and 199 — 23 more than Wednesday — are on ventilators.
"The top five highest (single-day case count) have all been recorded in the last week," Beshear said.
With 30 more COVID-19-related deaths — the second most ever reported in a single day — the statewide death toll has reached 1,742.
"We have had 78 deaths in the past three days," Beshear added. "The whole state is on fire with COVID."
The state's testing positivity rate is the highest it has ever been at 9.18%.
Of the state's 120 counties, all but eight are in the red zone, which indicates heavy spread of the virus.