The Franklin County Health Department confirmed 17 new coronavirus cases Thursday, bringing the total number of new cases this week to 38.
There was no report Monday due to the Labor Day holiday.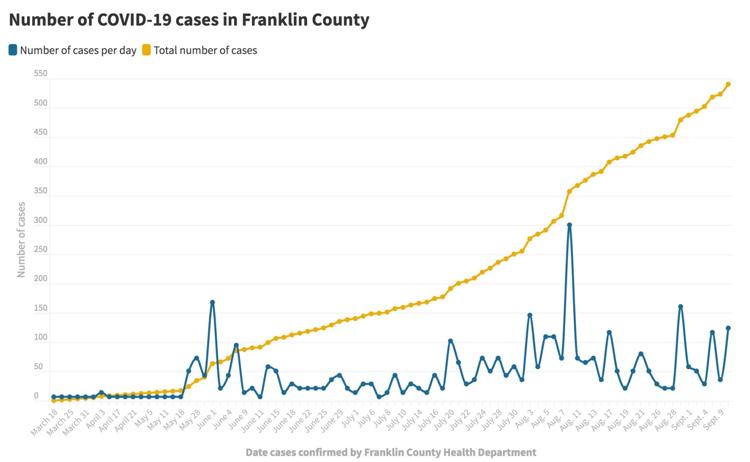 Since the start of the global health pandemic, 541 Franklin Countians have tested positive for the virus.
Currently, 36 cases are active in the community and 36 are active at Kentucky State University.
However, according to data on the state's website kycovid19.ky.gov/, KSU has 44 active cases, including 41 students and three staff. Three students have recovered.
Fourteen county residents have died due to COVID-19, and 455 have recovered from the virus, health officials say.
FCHD continues to offer free drive-thru COVID-19 testing each Tuesday from 9 a.m. to noon at the Public Health Center, 851 East-West Connector. Participants must pre-register at fchd.org
Gov. Andy Beshear announced 805 newly confirmed cases Thursday — 122 of whom are children 18 and younger.
A total of 54,772 Kentuckians have been diagnosed with the coronavirus since the pandemic began.
Beshear also reported 22 new deaths, raising the total number of state residents lost to the virus to 1,035.
The state's testing positivity rate was higher at 4.14%.
The weekly White House report, released Wednesday, has Franklin County in the yellow zone for a testing positivity rate between 5% and 10%. Counties in the red zone have a positivity rate of 10% or over. Over 50% of Kentucky's counties are in the red or yellow zones.
At least 10,791 Kentuckians have recovered from the virus.