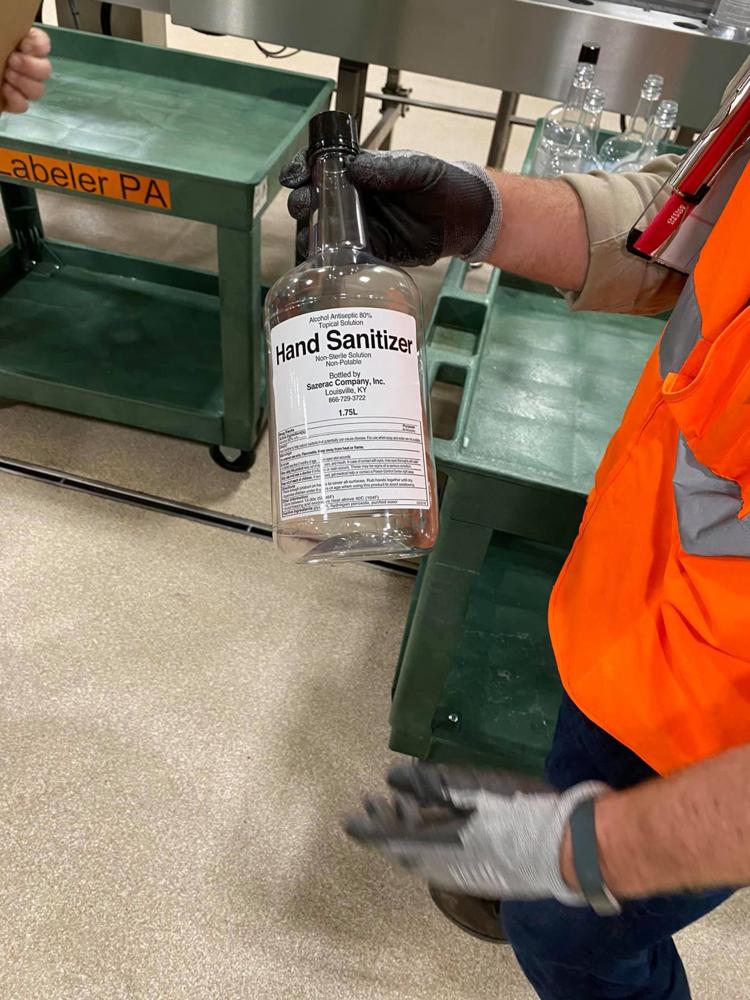 Like many distilleries across the country, Sazerac Co. — the largest producer of distilled spirits in the U.S. and the parent company of Buffalo Trace — has started production of hand sanitizer to fill a need during the COVID-19 pandemic.
The Frankfort distillery began mass-producing hand sanitizer on Friday afternoon after previously donating the maximum amount of allowed alcohol to first responders earlier in the week, according to Terri Bradshaw, president and CEO of Kentucky Capital Development Corp.  
The hand sanitizer will be provided to some of the world's largest health care, government, military, retail, distribution, pharmacy and banking industries, said Sazerac Chief Operating Officer Matt Maimone, who added that production capacity has been increased to keep up with demand.
"We have seen the great need for hand sanitizer from industries across the board — many of these organizations are desperate, as supplies have dwindled," he said. "We have received requests to date for over 5 million bottles of sanitizer, which we are prepared to meet, and possibly more, across our sites in North America."
While the initial run was completed in Frankfort, Sazerac's other plants nationwide are gearing up for production, as well.
"A very well deserved shout-out to goes to our workforce who have stepped up to meet this significant challenge in addition to continuing to produce many of the world's best whiskeys and spirits; their desire to contribute to helping those in need has been inspiring and very much appreciated," Maimone added.
Organizations and businesses in need of industrial hand sanitizer can fill out a form at https://forms.gle/ywtypRX5iDqBHbMS7 or email info@sazerac.com.
Area first responders will be the recipients of half-gallon containers of hand sanitizer being provided by Jim Beam later this week, said Bradshaw, who told The State Journal that KCDC sent a letter to local manufacturers requesting help with any donations they could provide — from personal protective equipment (PPE) to producing hand sanitizer during this COVID-19 pandemic.
"We had immediate responses from many promising that any excess PPE they have will be donated," she said. "When I made the request, John Phillips, at Montaplast, immediately responded and said he needed to know how and whom to get their extras to." 
Bradshaw put Phillips in contact with Frankfort-Franklin County Emergency Management Director Tommy Russell, who is arranging for pickup and distribution of the much-needed essentials.
Russell said those who have resources to share with the community or would like to volunteer can fill out a form on the Frankfort Emergency Management website.
"It has a place to register as a volunteer and what you want to donate if you have something," he said. "We will contact you as a product is needed."
On Monday, the Franklin County Career & Tech health science program donated 350 surgical masks and 55 surgical gowns to medical personnel in the county.