The Frankfort High School class of 2020 spoke and education leaders listened.
"The majority of the class didn't want to sacrifice their traditional graduation with their classmates, so we've done our best to put forth options to honor their wants," FHS interim Principal Tyler Reed explained.
Those two choices consist of a July-August plan — if social distancing protocols allow and the 2020-21 academic year starts on time — as well as a December option, in case mass gatherings are still prohibited in the summer.
Under the July-August plan, graduation would take place at Kentucky State University's Exum Center at 6 p.m. on Friday, July 31. Prom would be at Capital City Christian Church on Saturday, Aug. 1, and the senior campout is set for Sunday, Aug. 2.
Both the 2020 senior clap out and the 2021 senior clap in are scheduled for Monday, Aug. 3 — the first day of school for returning students.
Should the start of the new school year be delayed, the district has also reserved the KSU Exum Center for Friday, Dec. 18.
"If that's the case, the school will put together a 2020 grad-2021 senior social, a winter social in place of prom," Reed added.
FHS has built a website — sites.google.com/frankfort.kyschools.us/2020seniors — that includes all the important dates and senior recognition events.
Seniors can pick up their caps and gowns and turn in their Chromebooks and hot spots via drive-through service at FHS from 10 a.m. to noon on Wednesday. All balances must be paid in order for caps and gowns to be distributed.
Cry Day videos will be taped by appointment in the FHS auditorium. Speeches will be capped at five minutes. Students must sign up for a recording slot on the senior website. Parents who are quarantining with seniors may attend the taping session.
Cry Day videos are due to Mac Yocum by Monday, May 25, so they can be edited together.
On Saturday, May 30, seniors will participate in a driving parade. Students are encouraged to decorate their vehicles. Line up begins on Shelby and Fourth streets at 11:30 a.m. and the parade starts at noon.
"We want as many people as possible to come out and celebrate our seniors," Reed said.
"We will have to stay in our cars, but we love signs, noisemakers, anything we have to celebrate our students."
Seniors can ride alone or with those they have been quarantining with but must wear their seatbelts at all times and follow the speed limit set by the escorting officers.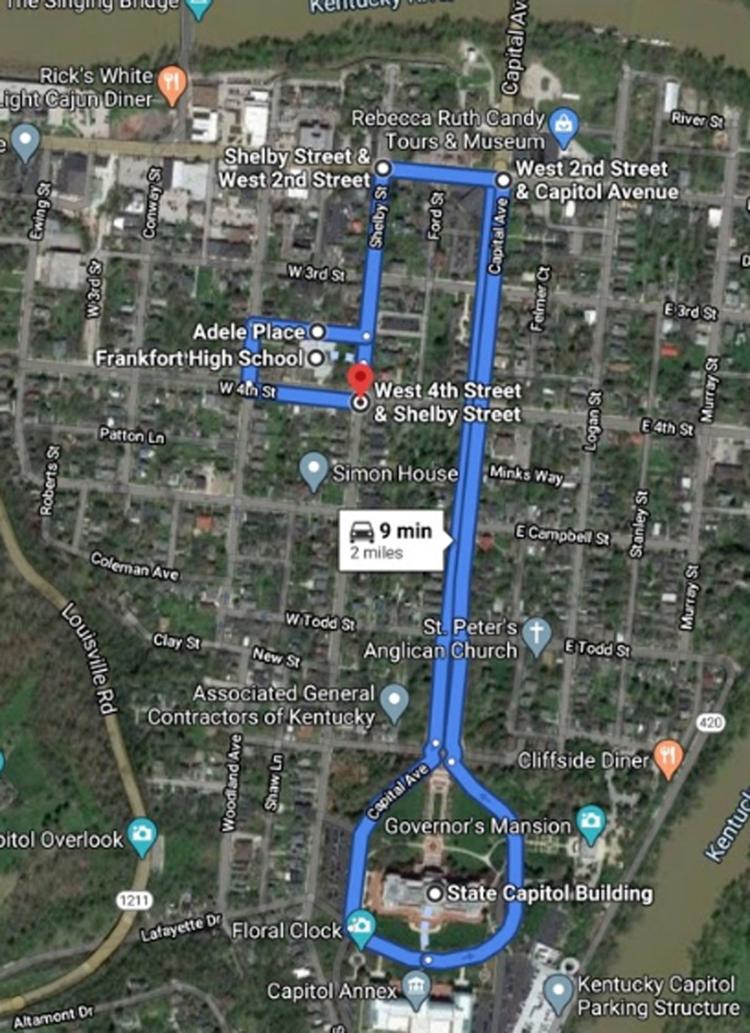 The route will take participants down Shelby to Second Street, up Capital Avenue, around the Capitol building and past the Governor's Mansion. It will continue down Capital Avenue, turn left on Second Street and into Adell Place.
Those viewing the parade should park along the route, remain in their vehicles and follow social distancing and Centers for Disease Control and Prevention guidelines.
When the procession stops at Adell Place, students will individually have their photos taken in cap and gown in front of FHS.
A virtual recognition of the senior class will air on Frankfort Plant Board Cable 10 on June 5, which was originally graduation day. A photos of each student as well as their accomplishments, accolades and future plans will be included in the recognition. Students must complete a form on the senior website to ensure the information is included.
Each senior will also receive a flash drive that contains the edited Cry Day compilation video, senior awards presentation video and the individual senior portrait taken after the parade. A delivery plan for the flash drives is still in the planning phase.