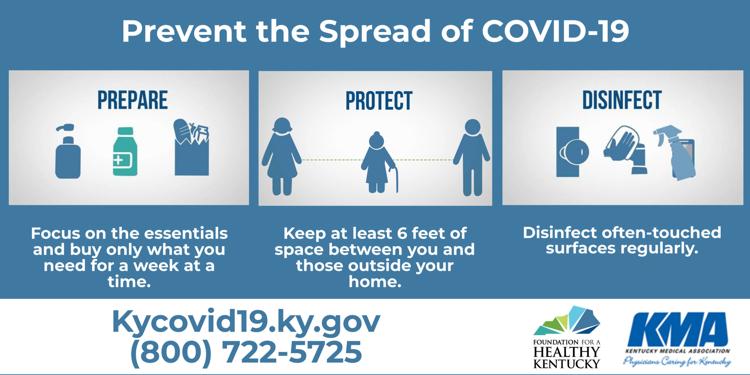 Editor's note: This story was updated at 6:45 p.m. on Saturday to add a new death was reported.
Kentucky saw its largest jump in confirmed coronavirus cases Saturday, including two new cases in Franklin County.
Gov. Andy Beshear announced there were 92 new cases, bringing the total statewide to 394.
"We knew there would be more cases and that they would escalate," he said. "We need to make sure we are absolutely committed to flattening the curve."
The good news, Beshear added, is that an estimated 64 of those confirmed cases have recovered. At his daily press conference, he said no new deaths were reported but following the conference he released a statement saying a 66-year-old Kenton County female died.
One of the newly confirmed Franklin County cases is a 30-year-old woman who is in self-isolation, according to Brittany Parker of the local health department. The age and gender of the other patient is unknown. There have been a total of five confirmed cases in Franklin County.
Beshear stressed the importance of Kentuckians obeying his order to cease public gatherings.
"We need to take pride and responsibility for the actions we take. With 92 new cases being healthy at home is the most important thing you can do," he added. "It's your patriotic duty as a Kentuckian and an American."
The governor said he has had good discussions and will likely have an announcement regarding drive-through testing for COVID-19 early next week. He said earlier in the week that a pilot drive-through testing program would begin in Frankfort next week.
"Most of the testing available right now are for the most vulnerable, first responders and health care workers. We don't have enough testing, but we are really working on an opportunity to ramp it up, but I want it to be firm before we announce it," he said.
Beshear expects many more positive cases in the state and wants to ensure that the health care system can handle it.
"The coronavirus won't last forever. We know it's temporary, but our individual actions as we move through this impacts the health and safety of others," he added.