Franklin is closing in on Woodford County for bragging rights to the highest percentage of the population that has received at least one dose of the COVID-19 vaccine.
According to the latest state data, 53.7% of Franklin Countians had been given at least one vaccine dose, compared to 54.86% of Woodford residents.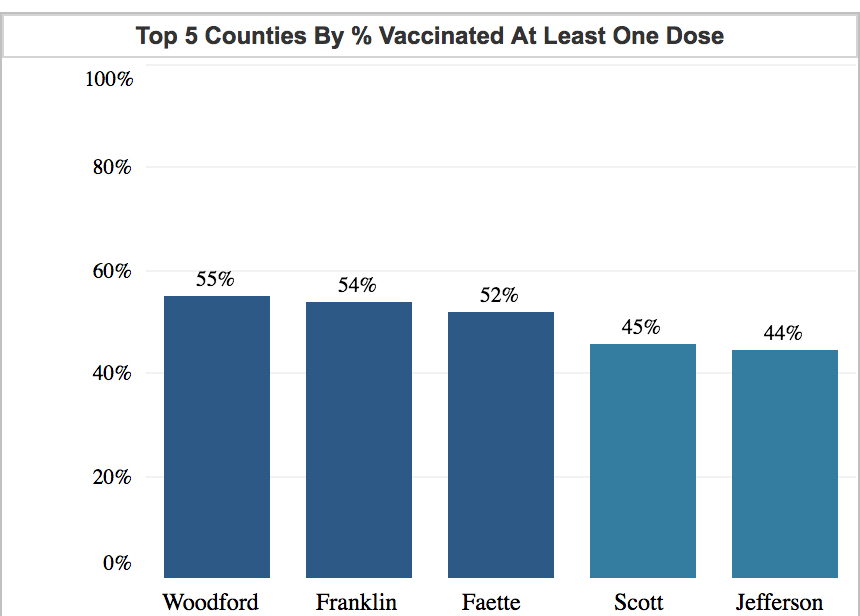 An opportunity to narrow the gap is planned from 4-6 p.m. Wednesday at First United Methodist Church, where the Franklin County Health Department will host the first of five scheduled walk-up vaccine clinics. The church is located at 211 Washington St. No appointment is necessary.
"We will have 100 Johnson & Johnson vaccines available and will be offered on a first-come, first-served basis," said Brittany Parker, FCHD deputy director.
The Johnson & Johnson vaccine is a one-dose vaccine, and those who receive it are considered fully vaccinated two weeks after getting the shot.
Other events this month are May 16 at First Corinthian Missionary Baptist Church, 214 Murray St., 1-3 p.m., and May 19 at South Frankfort Presbyterian Church, 224 Steele St., 9-11 a.m., and at Paul Sawyier Public Library, 319 Wapping St., 4-6 p.m.
The health department also has slots available for COVID-19 testing. Registration at fchd.org/covid19testing is required.
Parker gave a daily update on virus numbers. Thirty coronavirus cases are active — 20 in the general population and 10 in schools.
Since the pandemic began, a total of 3,903 Franklin Countians have tested positive for COVID, 3,812 have recovered and 61 have died.