Less than two weeks into January, the Franklin County Health Department has already reported 310 new cases of COVID-19.
FCHD officials announced 40 more cases Tuesday. There are 243 active cases in the county, including 193 in the general population, 27 in schools (K-12 and college students and staff) and 23 in long-term care facilities.
Since the global pandemic began 10 months ago, 2,384 cases of the virus have been recorded in Franklin County, 2,108 patients have recovered and 33 have died while positive for COVID-19.
Franklin County remained firmly in the red zone, the most severe, with an incidence rate of 52.4 Tuesday. The incidence rate is the average daily new cases per 100,000 population over the previous seven days. Counties in the red zone have an incidence rate greater than 25. All but one of the state's 120 counties remain in the red zone.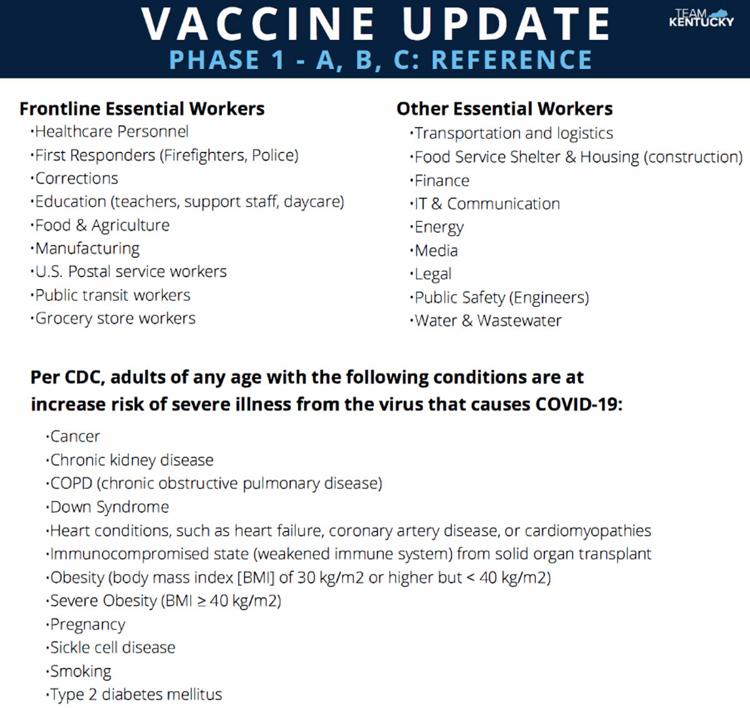 The health department has administered 1,060 doses of the COVID-19 vaccine in four clinics since Dec. 23 and have two more clinics planned this week at which it anticipates administering another 440 doses, according to Brittany Parker, deputy director.
She told The State Journal that she understands the community's frustration seeing other counties vaccinating beyond Tiers 1A and 1B.
"However, at this time, we are not there yet and not moving beyond Tier 1B," Parker said, adding that Tiers 1A and 1B include health care workers, clinical staff, people with direct patient care, emergency personnel, some assisted living facilities that do not fall under long-term care facilities, as people age 70 and older.
"We have just began to scrape the tip on an iceberg for those who are 70-plus," she added. "The interest list of 70-plus has nearly 3,000 residents who have completed the survey in a little over 12 days. We ask for everyone to be patient, be kind and we will get to you and your tier as fast as we can."
Visit fchd.org and click on the COVID vaccine interest link that fits your tier and as the health department receives additional vaccine doses and can move forward through the tiers, it will contact you through an automated call/text/e-mail with the information provided in the survey.
Parker said the inboxes (both email and voicemail) are full and FCHD is asking the community for patience as it works to get vaccines to everyone in Franklin County who wants one.
"Next week we will begin our first round of folks who will receive their second (and final) dose of the vaccine," she added.
Frankfort Regional Medical Center has vaccinated more than 500 frontline workers, spokesman Brad Wands told The State Journal on Tuesday.
Walgreen's is currently vaccinating those in long-term care facilities and will begin administering doses to the public in the spring. CVS said the COVID vaccine is not currently available at store locations yet.