As of Sunday afternoon, only one person per family or group is allowed in any public-facing Frankfort business, including grocery stores.
The Franklin County Health Department issued the order in cooperation with Mayor Bill May, Franklin County Judge-Executive Huston Wells, City Solicitor Laura Ross and County Attorney Rick Sparks, according to Brittany Parker, deputy director at FCHD.
The order, signed by FCHD Director Judy Mattingly, makes an exception for minors only when no other option of child care is available and for disabled and elderly individuals who need assistance in shopping.
The order is effective immediately and will remain in effect until further notice.
The State Journal visited Kroger West and Walmart on Sunday to see how stores are enforcing social distancing.
At both stores, many shoppers were wearing disposable gloves and covering their faces, whether with a disposable surgical mask or a homemade reusable one. Some people were even wearing bandanas over their mouths and noses.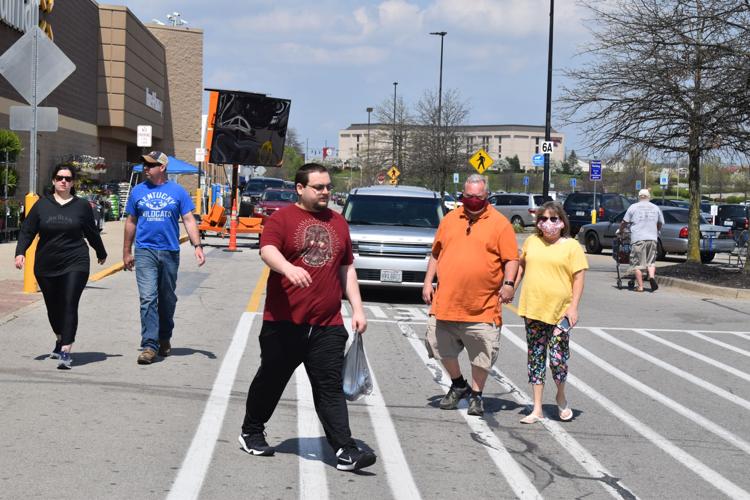 While wearing a mask and gloves in public is not a requirement, the Centers for Disease Control and Prevention announced Friday that wearing a mask in public spaces where practicing social distancing is difficult could help prevent the spread of COVID-19.
On Saturday, Gov. Andy Beshear reminded Kentuckians that wearing a face covering does not replace the need for social distancing.
At the checkout lanes inside Kroger, stickers on the floor reminded customers to stand 6 feet apart as they waited for a cashier or self-checkout lane to become available.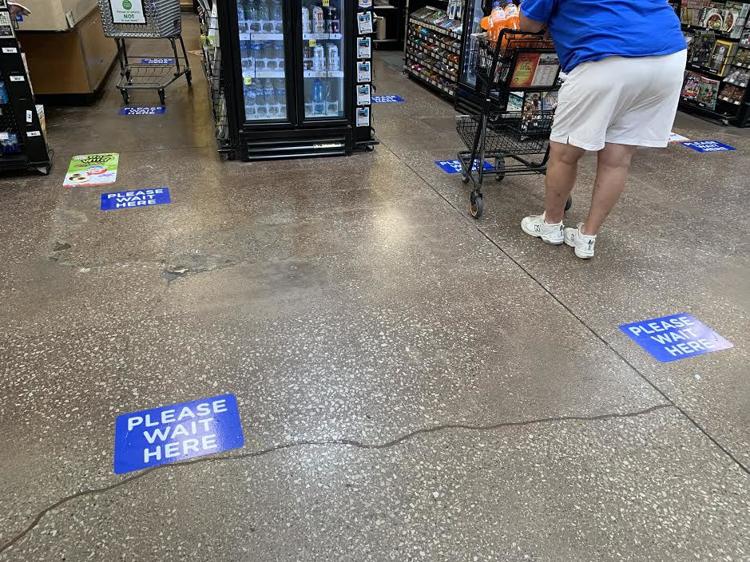 Across the street at Walmart, the store is now directing customers through the entrance on the grocery side. The entrance on the pharmacy side has been blocked off and signs indicate it is now an emergency exit only.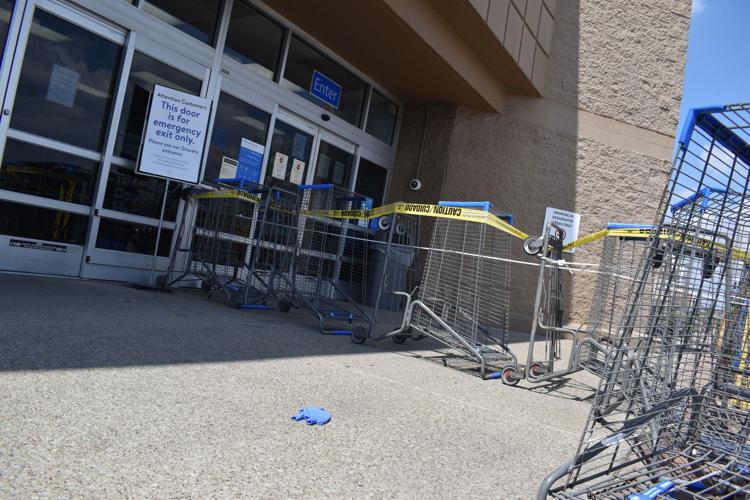 At the entrance on the grocery side, shopping carts are fashioned to create a lane for customers to use as they enter the store.
On Friday, Walmart's corporate office announced its store are limiting the number of customers allowed in the store at a time.
"Stores will now allow no more than five customers for each 1,000 square feet at a given time, roughly 20 percent of a store's capacity," the company said in a press release.
At the Frankfort Walmart's grocery entrance on Sunday, officers with the Frankfort Police Department were on site to help enforce the new rules.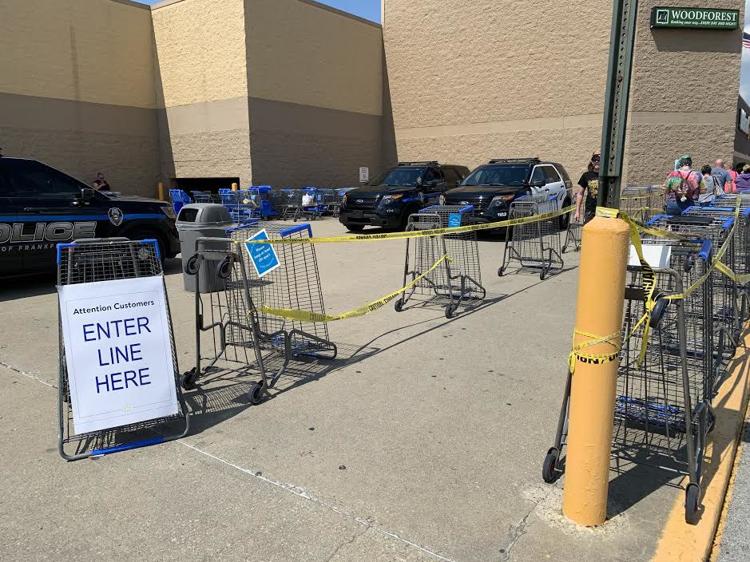 Inside, a Walmart employee stood by the grocery carts to ensure customers that the carts were properly sanitized before being brought back into the store.
There were many signs either on the floor or being held by Walmart employees reminding customers to stand 6 feet apart. Over the intercom, a message played occasionally reminding customers to practice social distancing.
Walmart also had stickers on the ground at the checkout lanes reminding customers to leave 6 feet of space between themselves.