The Franklin County Health Department reported 14 new COVID-19 cases Monday as of 5 p.m., bringing the county's total to 845.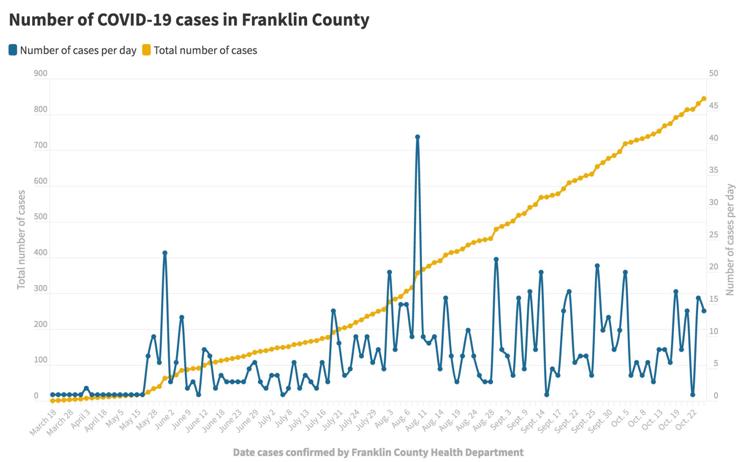 Of those 845 cases, 757 people have recovered. There are 61 active cases in the community and an additional 11 active cases in schools, K-12 and college students and staff.
Deaths in the county from COVID remain at 16.
Gov. Andy Beshear announced 953 new COVID cases at his Monday press conference for a statewide total of 97,866.
The 953 cases are the highest number of new cases for a Monday, and 55 of the state's 120 counties are currently red.
Beshear announced new red zone reduction recommendations. 
"Every Kentuckian in a red zone county needs to work together to protect one another by following these recommendations," Beshear said. "Now is not the time to give up — this is a time when more people are going to be at risk. It is a time when we need everyone to do better."
Beshear said counties should check their status on Thursday. If they are red, beginning the following Monday they should follow these recommendations for a week: employers should allow employees to work from home when possible; government offices that do not provide critical services need to operate virtually; reduce in-person shopping, order online or pickup curbside as much as possible; order take-out, avoid dining in restaurants or bars; prioritize businesses that follow and enforce the mask mandate and other guidelines; reschedule, postpone or cancel public events; do not host or attend gatherings of any size; avoid non-essential activities outside your home; and reduce overall activity and contacts, and follow existing guidance.
"This isn't too much to ask to keep your neighbors and your loved ones alive," Beshear said.
With three new deaths reported, there have been 1,410 COVID-related deaths in the state since the pandemic began in March.
There are currently 858 Kentuckians hospitalized with the virus. Of those, 253 are in the ICU, and 112 are on ventilators.
The state's positivity rate is 5.84%.