Franklin County had 203 confirmed COVID-19 cases in September.
On Wednesday, the last day of the month, the Franklin County Health Department reported 13 new cases of the virus. That followed 11 new cases on Tuesday.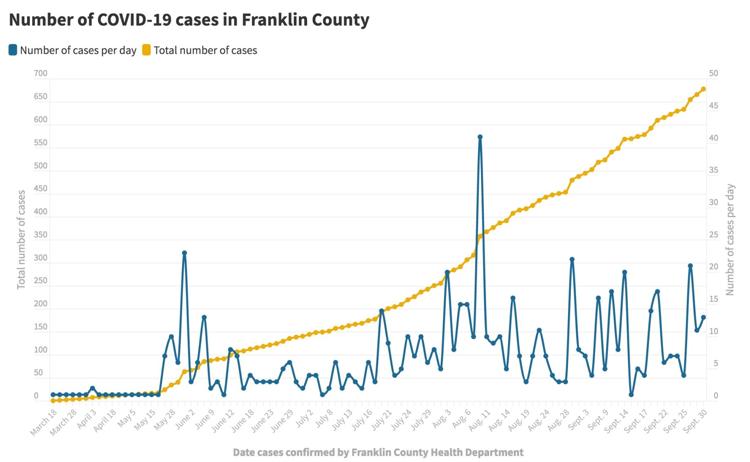 FCHD Deputy Director Brittany Parker said none of the 203 cases in September were in congregate care settings or long-term care facilities.
The county's total number of cases is 678.
There are currently 75 active cases in Franklin County, with 47 in the community and 32 of the active cases related to schools.
The number of deaths from the virus remains at 14, and 590 Franklin County residents have recovered.
At his daily press conference Wednesday, Gov. Andy Beshear announced there were 1,004 new confirmed cases of COVID-19.
It's the second day in a row with over 1,000 new cases. On Tuesday 1,018 cases were reported, the second-highest one-day total since the pandemic began in March.
That brings the state's total of confirmed cases to 68,840. 
"Today's report is a little tough,"Beshear said. "It's the first time since March 6 that we've had over 1,000 cases in two consecutive days. One thousand four cases is a problem and that means we have to be more vigilant."
Beshear also reported four new deaths for a statewide total of 1,174.
Currently, 541 Kentuckians are hospitalized with COVID-19, and 126 are in ICU.