Car lovers took to the road Sunday to cruise for a cause.
The group Kentucky Back Roads Cruisin' organized a gathering of about 50 cars that cruised from Frankfort to Midway, then to Versailles and Lawrenceburg. They met at 501 High St. before leaving for their trip.
"We have everything here from a 1930 Plymouth to a 2020 Corvette," the group's organizer Jenny Howard said. There were even a few minivans and SUVs in the mix.
The group is open to anyone who wants to get out and drive the country roads, Howard said.
Howard started to organize the cruises about three months ago after seeing classic car shows get canceled because of the coronavirus pandemic.
The first cruise was April 11. About 50 cars participated. The second cruise in May, Howard said about 125 cars participated. June's cruise got rained out. There were about 50 cars on Sunday.
During each cruise so far, Howard has taken up a donations for organizations. During the cruise in May, she raised about $1,000 for Relay for Life. She collected donations on Sunday for the Juvenile Diabetes Foundation.
"I've had Type 1 diabetes since I was 7 years old," she said.
Howard plans to pick a different organization to donate to for each cruise.
Typically leading the cruise is Franklin County Sheriff Chris Quire in his Mayberry police car, a '62 Ford Galaxy. However, Sunday's cruise was led by Franklin County Constable Richard Sandifer.
For the cruise, Howard rode in her '41 Chevy pickup truck behind her mother, Brenda Toles, who was driving her 1930 Plymouth with a sticker on the back that read "Cruisin' in memory of Walter," her late husband.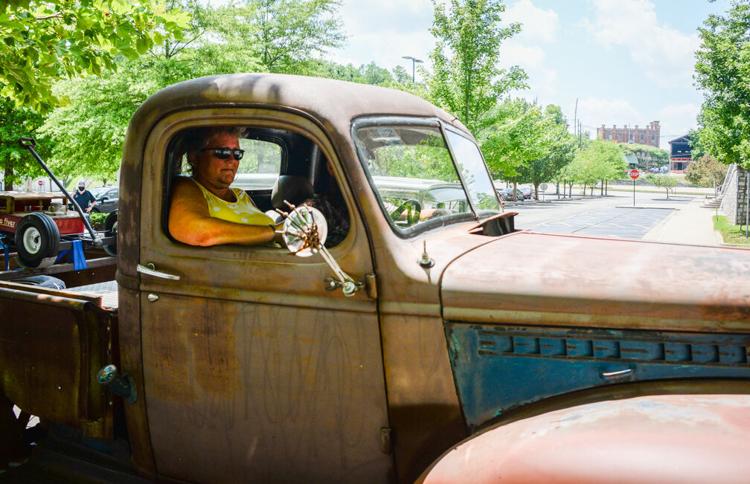 "I grew up with antique cars," Howard said. "My dad had them since I was little. They're something different and unique to have."
With the old cars come lots of old memories, and Bob Coutts, of Frankfort, holds those memories close to his heart. Coutts participated in Sunday's cruise with his '48 Ford pickup truck.
"I learned to drive in it when I was about 10 years old," he said.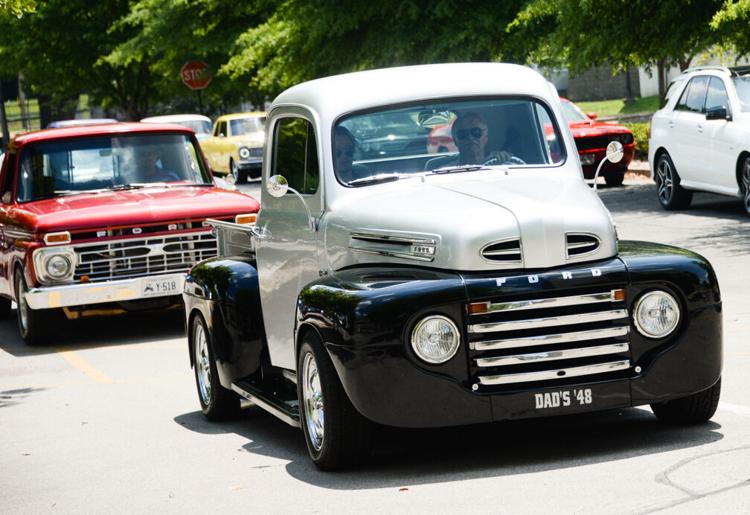 Coutts grew up on a farm in Missouri and the vehicle had been a work truck on the farm. In 1970, he brought the truck to Frankfort and began to convert it to a hot rod.
"It has a Georgetown police car underneath it," he said. "It goes fast."
Brian Russell, of Hustonville, joined the cruise in his '31 Model A. He's still working on the car, but one of his favorite parts of it is the artwork on the doors.
In memory of his father, Bill Russell, who passed away in 1993 while working at an airport in Ypsilanti, Michigan, loading air freight, he had a muscular arm painted on the side of it with the words "Strong Arm."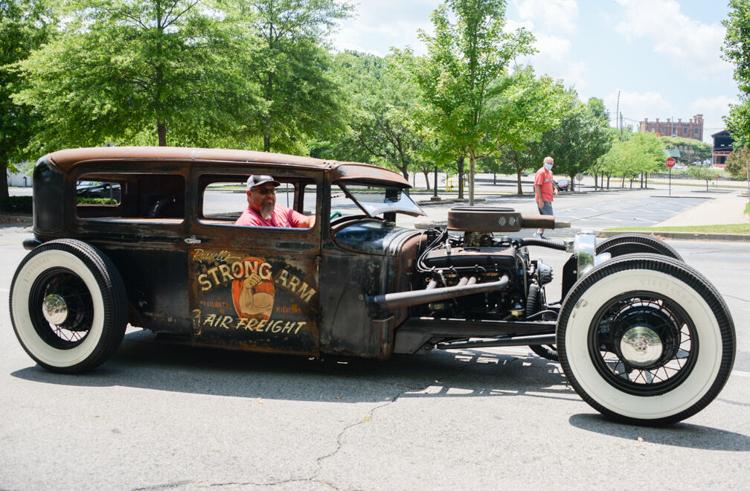 "My dad was as strong as an ox," Russell said.
Howard plans to hold a cruise every month, but hasn't selected a date for August yet.