The Franklin County Sheriff's Office has a new sergeant.
Sergeant Logan Curry was sworn in by Franklin County Judge-Executive Huston Wells on Thursday in an event attended by his grandfather, mother, father, wife and two children.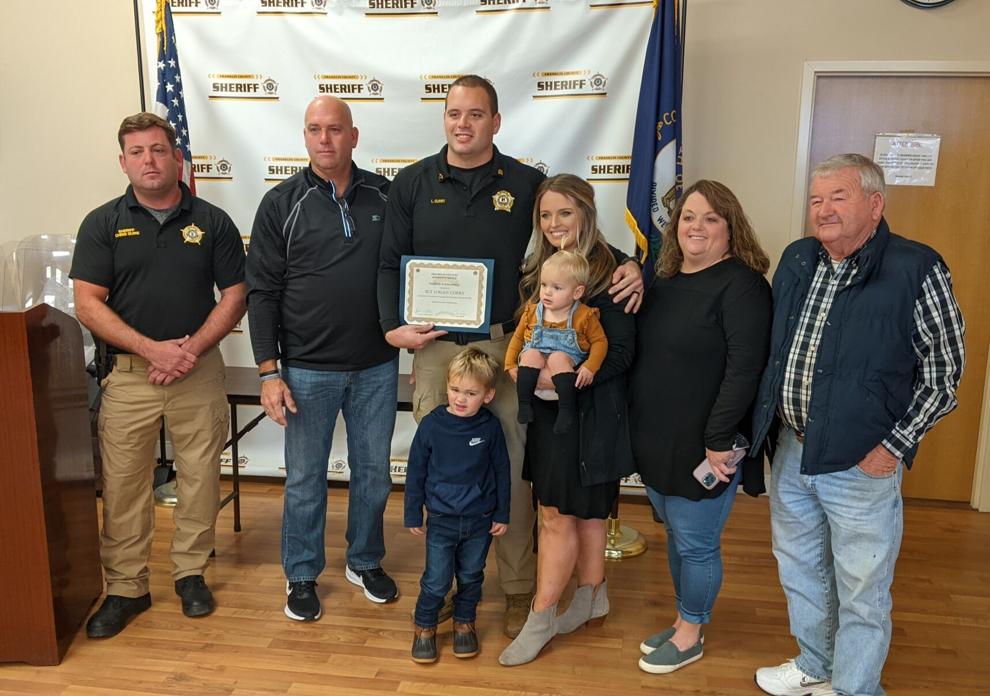 The promotion was part of a new process the department is using to find suitable candidates for new positions. It involved 14 candidates submitting a writing assignment, a resume and their leadership philosophy, followed by three finalists interviewing with a five-person panel.
Chief Deputy Dwayne Depp, who was one of the panel members, said Curry stood out from the rest because of his focus on accountability.
"What he talked about, more than anything was being accountable to all the citizens of Frankfort and also being accountable to the citizens here in Franklin County," Depp stated.
Depp added that Curry has a bright future with the department.
"I think he's gonna do a good job for us," Depp explained. "I really think he has the potential to move up even higher in our ranks here if he sticks around."
Operations captain Daniel Wills said that, aside from standing out through the promotion process, Curry would go above and beyond, both in the community and in the department.
"Logan immediately started being involved coaching football for Western Hills," Wills added. "He continued to shine as wanting to come in and offered to do anything asked of him."
Curry, who grew up in Franklin County, said his desire to work in law enforcement started early.
"I've wanted to do it since high school," Curry said. "Montey Chappell was my SRO (school resource officer) in high school, and I talked to him when I was a senior in high school and I was like, 'That's what I wanna do.'"
Curry is excited to help mentor the younger deputies and help the department realize the vision it has for the future.